After The Flaming Lips announced an Aspen performance this upcoming June 8, we couldn't help but notice a large gap in their tour timeline. With a six week break until shows continue in England, the band has us all wondering — will The Flaming Lips return to Red Rocks once more?
According to the Red Rocks concert schedule, many open nights surround the Aspen concert including June 11, 18 and 21 — and the group is certainly familiar with the venue. In 2016, The Flaming Lips took on the famous stage with the breath-taking the Colorado Symphony Orchestra to perform The Soft Bulletin in its entirety, providing a night unlike any other. Straying away from their iconic stage vices, the American rock band reminded audience members of their innate musical talents — that beyond their usual lights, visuals, balloons and even puppets, the members are ultimately musicians at the end of the day.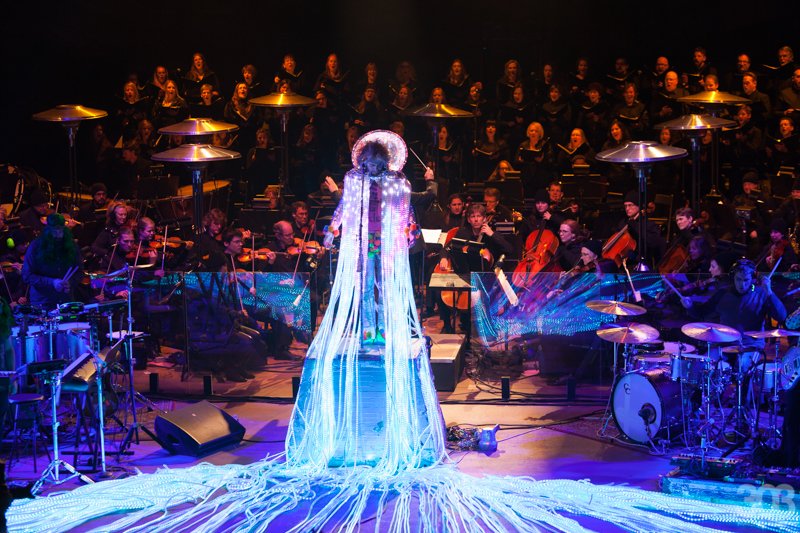 Formed back in 1983, The Flaming Lips have truly formed a fan base here in Colorado. Their compilation with the Colorado Symphony Orchestra truly stunned and thrilled the industry and Lips fans alike. Since their inception, the ensemble has always pushed boundaries and aimed to excite, meaning a Red Rocks surprise would not fall outside of their ballpark.
With an international presence, the band has won numerous Grammy Awards and was even nominated for a BRIT Award back in 2007 under Best International Group. Their current tour will hit multiple countries including Germany and the United Kingdom— but with Red Rocks being arguably one of the best venues performers can grace, we can only hope The Flaming Lips will seize this opportunity once again. Whether they bring their sex and drug antics or a classed-up symphony show, Colorado will gladly welcome this trippy, transcendent troupe.
All photography by Jacqueline Collins.