Born and raised in North Dakota in a town of 3,000 people, Darren Schaeffer never imagined that he would be designing leather handbags after studying physics for four years in college. Yet his upbringing had some foreshadowing. At six months old, Schaeffer's German parents adopted him from Korea.  Schaeffer's parents both grew up on farms so they were very hands on and he believes that their DIY mentality lead him to where he is today.
Now that he's living in a larger city, he has no doubt that the culture vacuum that he grew up in was a detriment to his creative development. No matter his circumstances, Schaeffer was bound to create the life he desired.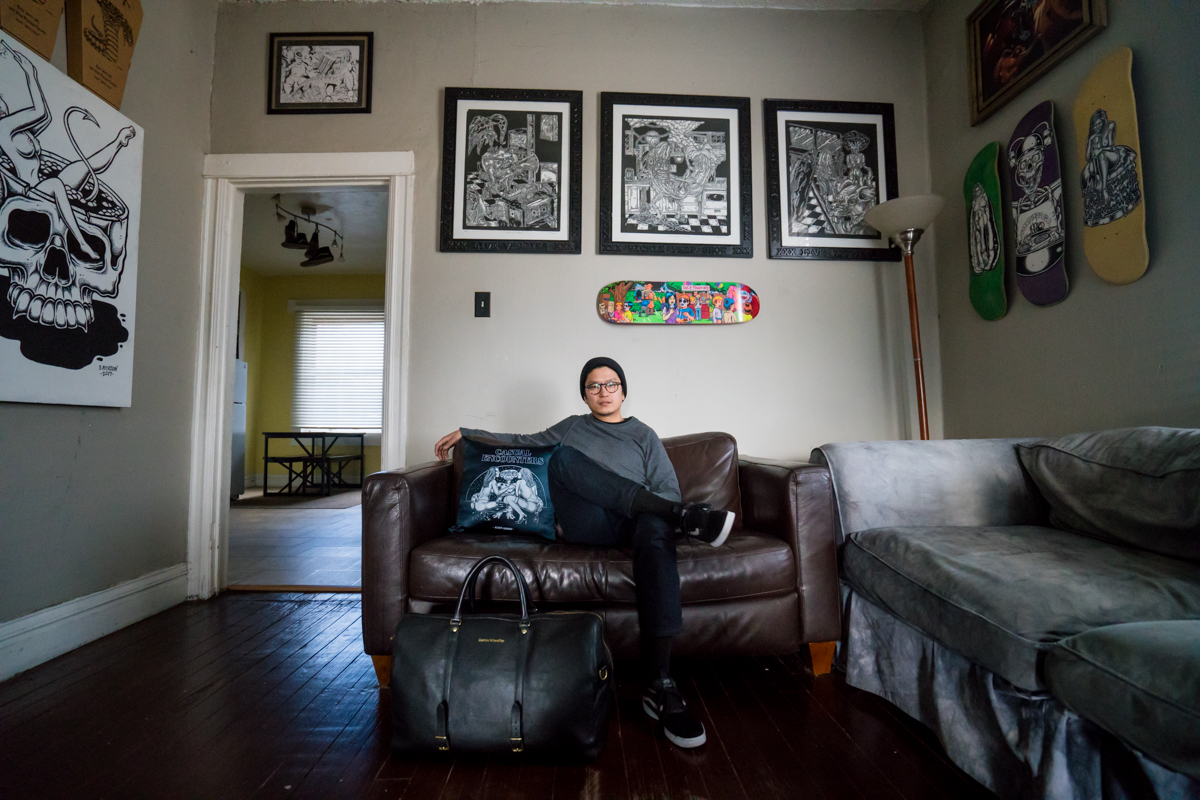 In 2012, after studying physics for four years at the University of Colorado in Boulder, Schaeffer realized that handbag design was more of his passion. Of course, there were some obstacles that led him to that decision. Schaeffer didn't want to be stuck working in a lab as a fresh 20-something so after obtaining his undergraduate degree, he opened a skate shop in Frisco, Colorado called, "Future Shock."   
Then life got real when the shop closed down in 2015. In true millennial spirit, he kept dreaming and believing. He made the decision to move to Denver envisioning a dope "Darren Schaeffer" storefront with a workshop in the back. Schaffer had been sewing for eight years and practicing handbag design for eight months. Handbag design was something he took interest in, but for a long time, he didn't have the equipment needed to make the bags he wanted. Now, sitting in the basement of his home, he creates leather handbags using the equipment he made or purchased.
Fashion design always piqued Schaeffer's interest because he enjoyed understanding how things work. "That is part of the reason I studied physics as an undergraduate. Fashion design, like physics, is solving a problem. I would build up these ideas of how I thought clothing should be, and when I couldn't find what I wanted, I decided to try to make it on my own," said Schaeffer.  In the beginning, the CU graduate only wanted to make clothing for himself but as his work accrued more interest, he decided to take a more serious approach to clothing design.

Of all the beautiful textures to choose from, Schaeffer was obsessed with how he could manipulate leather to add a personal touch. The unique construction methods of handbag making are what initially sparked his interest in the craft. In the spring of 2017, he finally obtained the specific equipment he needed to start leatherworking. He became intrigued with the creative freedom he had while making handbags as opposed to ready-to-wear garments.
"I like the idea of a piece lasting multiple generations. Finally, the willingness-to-pay of the handbag market is high enough for me to make bags in my basement and still make a living," he said.


"The landscape of 'American Made' is struggling with the closure of American Apparel and Cone Mills; however, I want the people Denver to know that locally made, luxury handbags are within their reach."
Denver's reputation as "the wild west of fashion" gives the physics specialist and his intricate designs a special market. Fashion capitals like New York and LA have a very established fashion scene, but to Schaeffer, Denver is more of a melting pot of styles. The city is overflowing with opportunity and fresh ideas.
Ideally, Schaeffer's designs would be seen around the Mile High City in specialty boutiques, art galleries and maybe even on the web. Selling his handbags isn't the priority because he doesn't want to pigeonhole himself into a single market. Schaeffer's long-term goal is a brick and mortar storefront or showroom with a workshop in the back. He has a thing for workshops.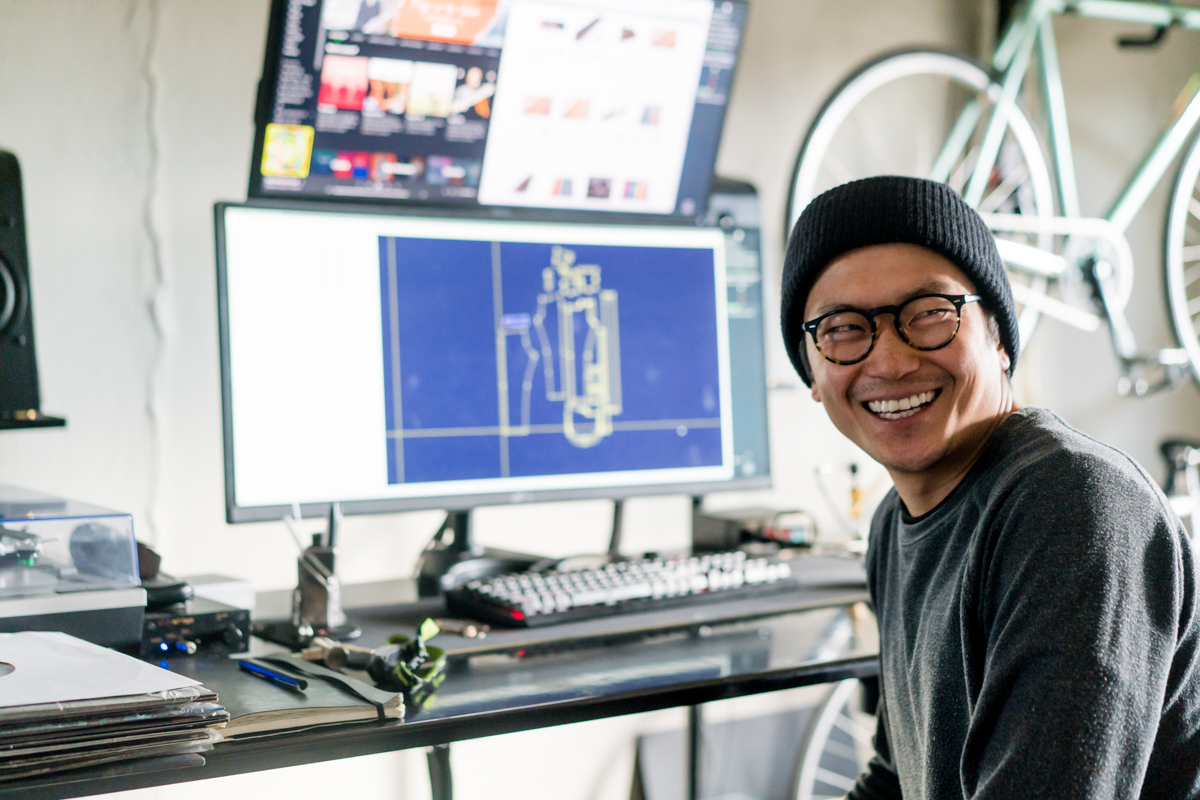 "It doesn't matter if the person appreciating a piece of mine is famous or not. I want my customers to not only appreciate the design of my bags but also how and where they are made."

When you first walk into Schaeffer's home, you become surprisingly overwhelmed that the house is covered in various types of art. He works out of a studio in his basement that he shares with his roommate Sam Pierson who is an illustrator. The "workshop" includes all of the not easily accessible tools needed for leatherwork. For most design processes, you can search YouTube and Google for "Do it Yourself" resources. Those resources don't exist for luxury handbag making.
Using his "get it done by any means" attitude, Schaeffer built or modified many of the tools he uses. He shared, "My last project was a digitally controlled, curing oven made out of cinder blocks. It has made curing paints and dyes 8 times faster! For me, figuring out how to make something is just as important as figuring out what to make."
His design process usually starts with a simple idea to base the design around. The last bag he made was initiated by the notion to make a studded bag. He created a mood board in the hopes of hashing out the rough details. From there Schaeffer created paper prototypes, fine-tuned every aspect and drafted the final patterns. Once he cuts out the physical patterns, the final steps are cutting and assembly. In the end, his masterpiece is absolutely breathtaking.
"One of the most important things I've learned as an adult is that no one knows what they are doing. Life is like a big airport. There are a bunch of people going in a million directions and you are unsure if you are going the right way. Even though everyone else looks like they know where they are going, they don't. If you are doing something and getting paid, you are a professional. Fake it, until you make it."
Darren is working on a website to sale his handbags. For now, you can slide in his DM's on Instagram @darren.schaeffer.
This slideshow requires JavaScript.
All Photography by Meg O'Neill