"Good coffee is everywhere. Excellent coffee, however, is harder to come by," said Tamas Christman, owner and founder of Boulder's Dragonfly Coffee Roasters.
He has a point — especially in Denver and Boulder — where coffee shops and cafes can be found on nearly every street. Dragonfly is setting itself apart by producing coffee that is not only praised by the local community — it's hailed by the greater international coffee community.
The Coffee
This slideshow requires JavaScript.
"We received our biggest accolade yet when our Yemen Port of Mokha micro-lot received the number 1 spot on Coffee Reviews Top 30 Coffees of 2017," said Christman. "Those lists are typically chosen from a group of more than 50,000 coffees from around the world, so it was a real honor."
Like all of Dragonfly's roasts, The Pacamara is unique, to say the least. As a hybrid of the Pacas bean (small and dense) and the Maragogipe bean (large and porous), the taste is somewhat of a dichotomy.
"It comes off with an almost candied fruit flavor, citrus rind, strawberry and floral notes of hibiscus and watermelon," Christman explained. "Then you get hit with elements of slightly savory black pepper which throws people off in a great way."
Dragonfly has delivered exquisite coffee like the Pacamara to Colorado since 2012, and after breaking its way into Whole Foods, Alfalfas and multiple other locations throughout the state, they're taking the coffee experience to a new, more interactive level.
Dragonfly's team is attempting to elevate coffee past the days of one dollar gas station cups and frappuccinos piled high with caramel and whipped cream — they're addressing coffee as many would address wine, and in their opinion, the upgrade is far overdue.
"Coffee is the most chemically complex beverage that we consume on a daily basis, it has over 1,800 different chemical compounds from phenols to oxidants and it's good for us," said Christman.  "This complex beverage should effectively be treated like wine, people have no problem going to dinner and spending $12 on a glass of wine, but in contrast, they won't pay more than $4 for a cup of coffee."
Christman argues that if you break down the unit price of each, coffee and wine have incredibly similar production costs — and while wine is revered as an elevated beverage, coffee is technically more chemically complexity.
"Coffee is so undervalued," said Christman. "The whole production process is totally antiquated and the farmers really aren't making enough to sustain, grow and thrive. Sure our coffee is $20 for 12 oz, which throws people off, but that's where we have an opportunity to illuminate them on where the money goes and how paying more for coffee will ensure the longevity and sustainability of coffee globally."
The Tasting Room
This slideshow requires JavaScript.
"The tasting room has been a dream of ours since day one," said Christman. "It offers an engaging and unique coffee experience, a place where coffee lovers from near and far can come and interact with these unique and rare coffees."
Connected to its roasting facility, the tasting room occupies what once was Dragonfly's company office space. The husband and wife team transformed it, floor to ceiling, into what now is, in Christman's words, an environment for an elevated coffee experience. 
"We officially opened the tasting room on Tuesday, January 2," said Christman.  "Transforming this space from an office into a formal tasting room was a lot of work — everything had to be redone into what now is a coffee experience, a place for people to come and get excited about this incredible beverage."
Unlike a typical cafe, Dragonfly's tasting room does not have milk or food. In fact — nothing but pure cups of coffee can be found within its walls. Christman is providing what he calls a pure coffee experience by allowing the beans and brew method to speak for themselves.
READ: 5 Under-the-Radar Denver Coffee Shops You'll Want to Check Out
With their new tasting room, Dragonfly hopes to create an environment where the community can come and gain an education and deeper understanding of the process behind their favorite morning beverage. And while the location is focused on tastings and in-depth coffee education — they are also serving craft cups to-go.
"Outside of tastings, we want this to be a place where the community can come and get a cup of coffee — essentially we want to leave it up to the customer to decide how engaged they want to be," said Christman. "I want someone to feel comfortable saying, hey, I don't really care about the story, can I just get a pour-over coffee to go? So we would brew it and off they go." 
Dragonfly's tasting room is open for scheduled and walk-in sessions. While groups are encouraged to schedule a private tasting by call or email, Christman encourages anyone curious about his coffee and coffee, in general, to stop by. Both will have the opportunity to gain an in-depth knowledge of the product from farm to cup —  and will be exposed to every aspect of the drink, from aroma to taste, brewing method, farming method, and origin.
"Guests will have options on which coffee they'd like to explore," said Christman. "We'll go through every aspect of that roast before preparing it in three different ways — from a straight up pour-over to Chemex and Blossom,  which basically combines the elements of consistency with pressure and filtration. Brew method changes everything and we really want to educate people on that." 
The tasting room is just one of a multitude of upgrades and additions that the team is bringing into 2018, and for anyone that is familiar with the "new look same great flavor," hook — rest assured Dragonfly is delivering on both fronts.
"Everything about the new label reflects the symbology behind our company," said Christman. "Five gold stars to represent quality, the dragonfly represents many things for many cultures — agility, success, prosperity, resiliency, adaptation, and advancement."
In addition to the logo transformation, the switch from a black bag to white and new brightly colored labels to signify roast— Dragonfly has added brewing recommendations to the back of each package.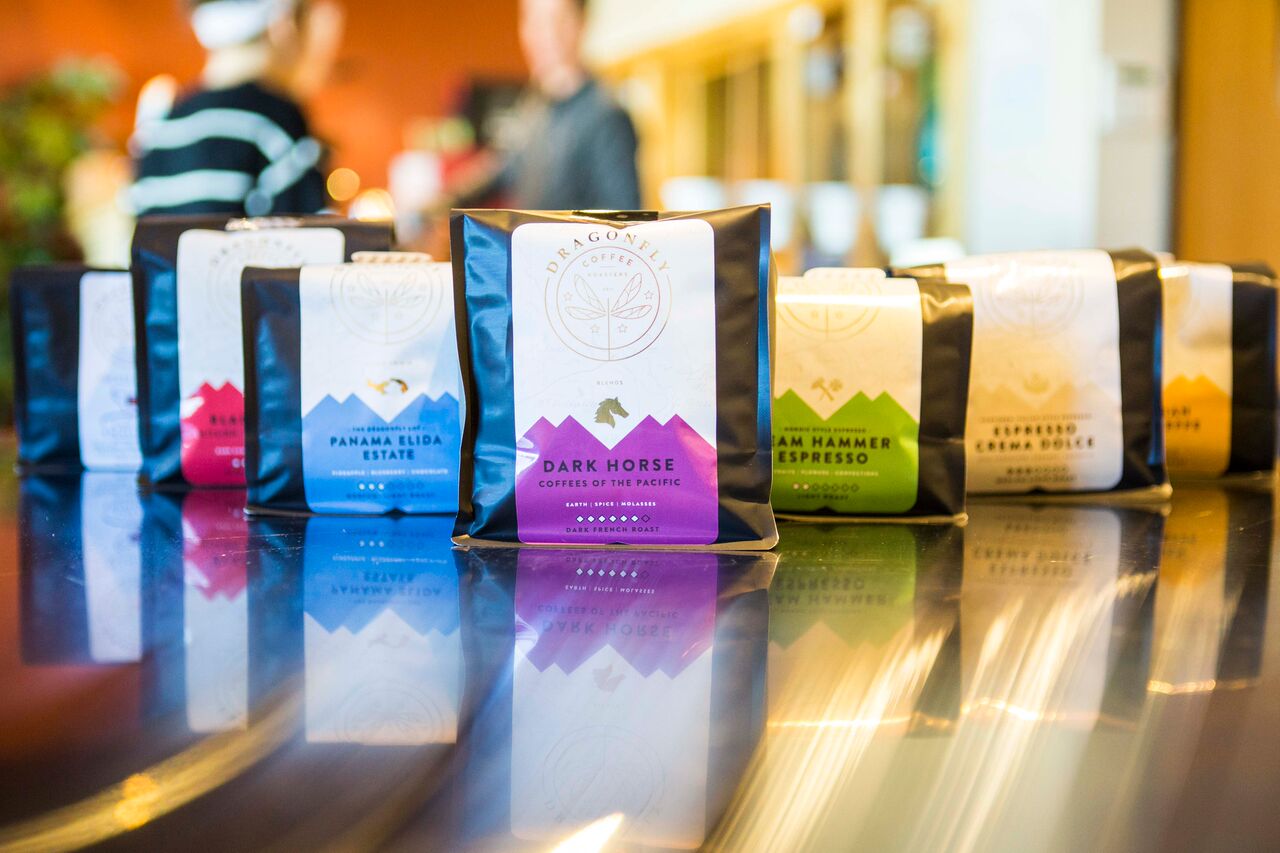 READ: Denver Cafe's CBD-Infused Coffee Might Be the Best Hangover Cure
"Like I said, the brew method changes everything," said Christman. "We want people to enjoy this coffee at home in its best form, whether that be brewing one particular roast in a French press while another really sings in the Chemex."
While the team has majorly taken on all aspects of the business on their own in the past, they confided in the expertise of a local freelance designer for the creation of their new label.
"For years I did all of the design and media on my own," said Christman. "But we've been working with a talented local freelance designer to produce a label that tells a story of sustainability, humanity, ecology, and quality through the image."
This new look is scheduled to hit shelves in March, along with another addition to the Dragonfly scene  — the first retail location, a place that Christman says will combine the science of coffee and culinary to create something that Colorado has yet to see. 
"My background is in chemical engineering," said Christman. "I have always loved food and coffee and the science of it all. I love sensory experiences from the culinary arts to the art of coffee and combining the two is my goal for our first retail location."
The new shop, hailed by Christman as a coffee-focused culinary experience, will be in Boulder's S'PARK district. Its March debut, along with the unveiling of the new packaging, is a highly anticipated date for those wondering what's next for Dragonfly.
"We've kept everything fairly secretive as far as the vision for the S'PARK location," said Christman. "However, I can tell you that nothing like this has been done in the Colorado coffee scene. I will be tapping into Australian inspiration for the culinary aspect and sourcing locally for our products, that should be a good enough teaser for now."
As if a tasting room, updated logo, and mysterious new location weren't enough— Dragonfly is actively planning to expand into more spots across Colorado that Christman has yet to announce.
"We have a lot of things to anticipate," said Christman. "I'm excited for them all."
_________
Dragonfly — 1501 Lee Hill Dr. #22, Boulder, is open between 9 a.m. and 2 p.m., Monday through Friday. Private tastings can be scheduled by email or phone, both available on the website. For more information on the team's story, coffee education, hours, purchasable coffee and more check them out here. 
All photography by Amanda Piela.