Winterwear in Colorado can mean Patagonia jackets and Ugg boots for some but for Denver's more adventurous, local brand Electric Bubblegum has the edge they crave in the form of liquid glitter. "Liquid glitter is so interactive. I want apparel and accessories to be a form of entertainment and to make you more intrigued. Most clothing you look at stays the same. But you can play with liquid glitter," said Mariah Hodges, owner and designer of the innovative Denver brand.
When asked how the unique brand name came to be, Hodges said it was born out of her love of fun and feminine things. "I've always loved bubble gum. When I went to Savannah College of Art & Design in Georgia, I did some projects inspired by bubble gum. I wanted a name that was fun but also captured people's attention." In the same way, Hodges says that while her customers are from a variety of demographics, she captures the attention of girls and women who love ultrafeminine items like Hello Kitty, glitter and the color pink as well as those that like Japanese Streetstyle and alternative fashion like plastic and vinyl.
The idea to create bold apparel and accessories was inspired by liquid glitter phone cases.
"They reminded me of the '90s toys I grew up with and started thinking where it could go from there. When I did my research, I realized people haven't really explored all the avenues with liquid glitter. It stopped with the phone cases. But people like it so much," Hodges said. Further inspiration can range from ice cream to kid's toys to Lisa Frank, anything that makes people smile. In addition, fashion designers like Betsey Johnson and Jeremy Scott have proved as muses but the more she grows as a designer, the more she looks at fashion as a whole. From sketch to pattern to the final product, Hodges designs everything you see from scratch. "I don't want it to be a copy of other people's stuff with glitter in it, I want it to be completely unique to the brand," she said. Soon to be up on the website, a puffer vest with liquid glitter in each of the puffs is one of her favorite pieces ever made.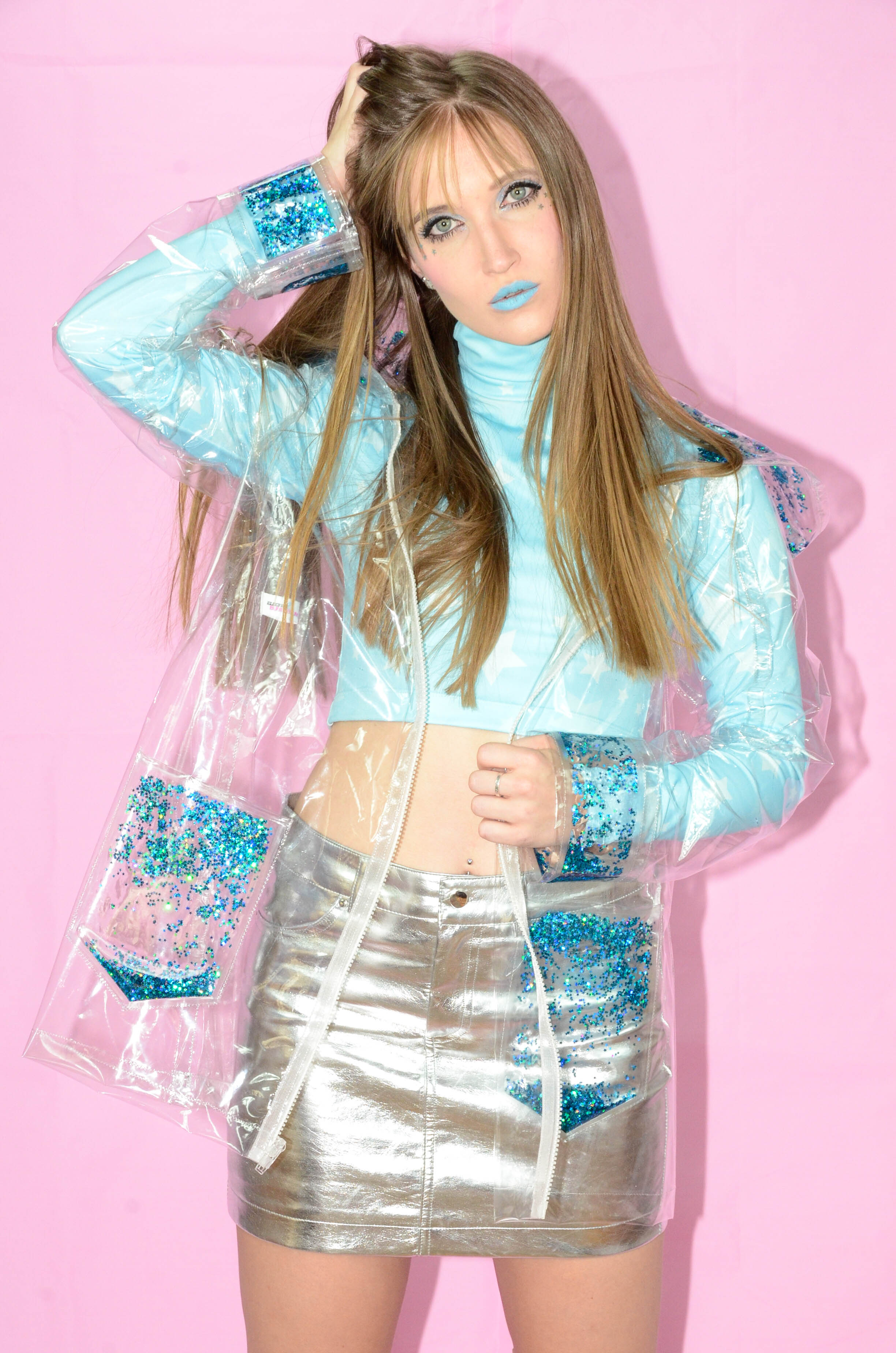 Proof that determination and action can fuel someone's passion to life, Electric Bubblegum is a fairly new Denver brand that has found success on the internet. Hodges graduated college June of this year and hit the ground running. A senior project that involved making a runway collection of six looks started the brand we see today. "I used liquid glitter in vests and raincoats and different things. After I graduated, I didn't want to stop exploring. So I began with getting on Etsy and adding things that I'd made. A lot of my success has come from Etsy and Instagram. Instagram makes it easy to connect with people who have a similar style. I've gotten a lot of good feedback and it's helped to expand the brand," Hodges recalled. Her partner, Luke Garlock, takes care of photography and marketing. The pieces are available for sale anytime a customer wants them and Hodges also takes custom orders.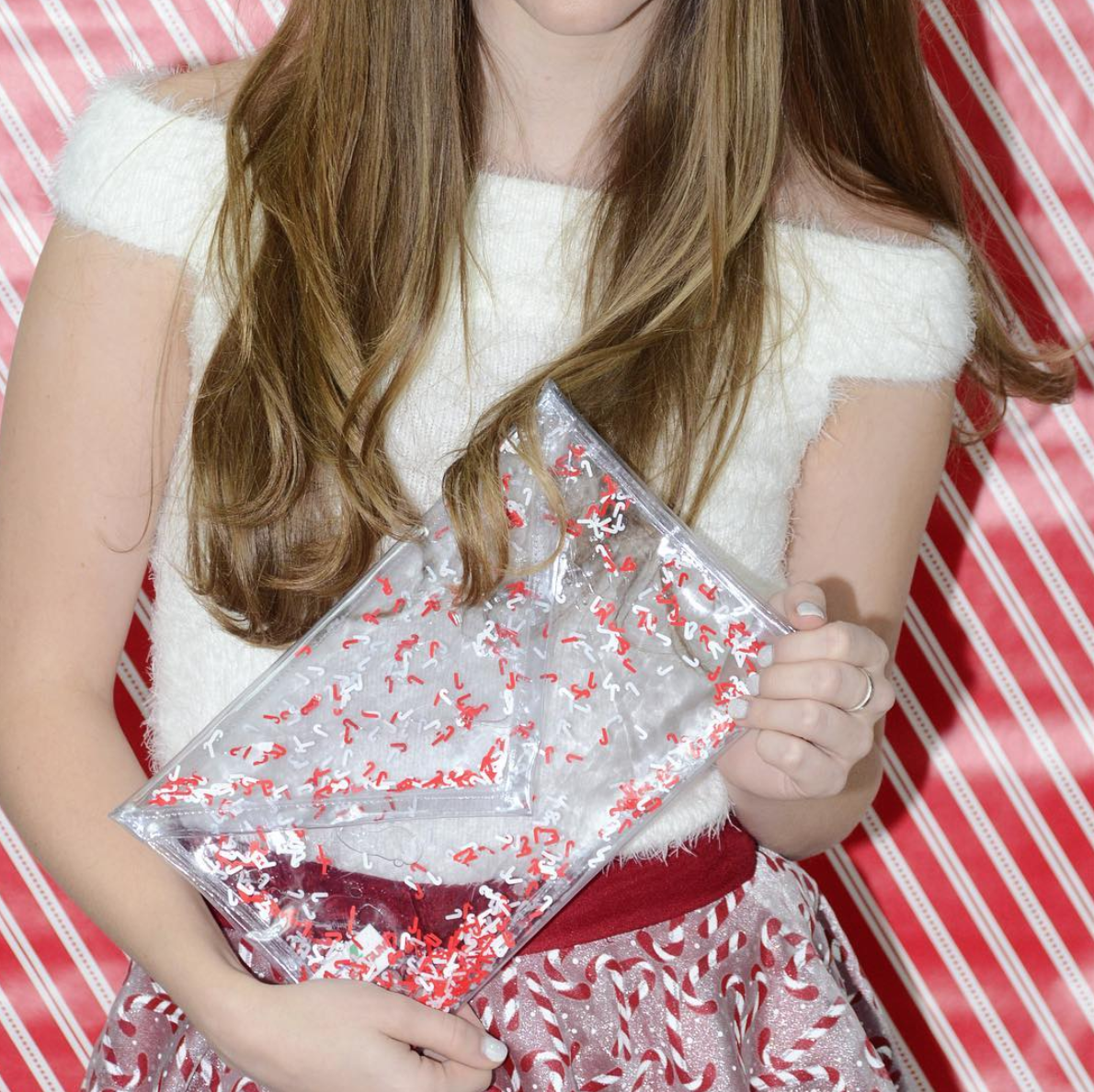 Currently, you can see Christmas accessories with candy cane glitter hit the website. In the future, Electric Bubblegum will expand into more apparel.  Stay tuned for Hodges' continued edge. "Clothes do well with my customers because it's so different. I have more ideas and designs in the process for clothing. I love finding things that aren't used for clothing but can be"
Photos provided by Electic Bubblegum.