Fashion created an element of surprise this fall season as it debuted electrifying and invigorating colors along with the use of plastic. In addition to the normal jewel tone designs for fall and winter, bright neon colored designs impacted the fashion world and runways of Balenciaga and Louis Vuitton, trickling down to high-style celebrities and "It Girls."
Electric Bubblegum — a Denver based clothing brand, known for vibrant use of color, plastic textures and liquid glitter is following in iconic designers' footsteps and making major waves of her own with the production of youthful and electric designs. Debuting a new collection inspired by lipgloss at Denver Fashion Week (DFW) presented by Mile High Luxury Real Estate on November 8, Electric Bubblegum is the perfect way to add style with stimulating color, composition and texture to your wardrobe.
SLICK ATHLEISURE WEAR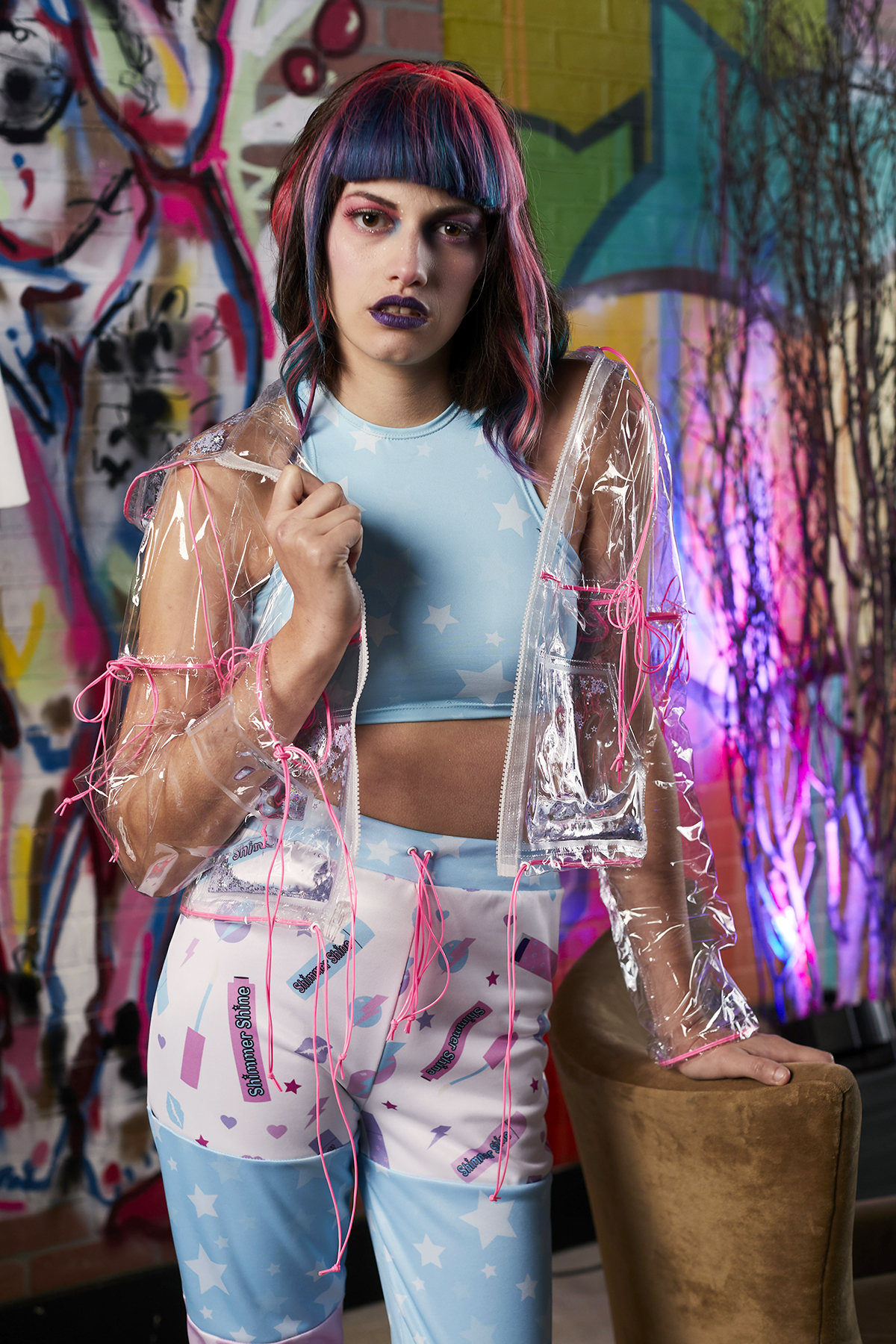 The Lowdown: Typically filled with hoodies, sweatpants and sneakers, athleisure allows unique outfits to thrive without instruction and rules and allows one to be exceptionally comfortable. With this look, the turquoise crop top and patterned sweatpants serve as the two major pieces. Taken from the runways of Chanel, Balmain and the fashion week streets, plastic is a modern and unconventional way to accessorize an outfit. Adorned with neon pink string ties, this raincoat not only offers protection during Denver's ever-changing weather, but it makes a fashion-forward statement to incorporate plastic into our closets.
REVISED DENIM
The Lowdown: Denim will always be a classic piece in the world of fashion, but there is a magic that happens when the way it looks is revised. For the first look, Electric Bubblegum designed a denim dress with attitude. Purple painted lips fall over the piece while plastic pockets filled with liquid star glitter occupy specific areas. Paired with imaginative leg warmers and sneakers, this outfit is the perfect youthful look. The second outfit pictured utilizes denim in a more classic form. The high-waisted dark denim shorts detailed with lips pair perfectly with the striking puffer vest. The clear plastic clutches are not only excellent options for a game, concert, makeup bag or night out, but are ferociously appealing and unique to the eye.
MATCHING PATTERNS
The Lowdown: Many brands this season unveiled numerous designs with matching patterns from head to toe. Rachel Zoe and Alice and Olivia just debuted entire outfits of the same patterns donned with sequin and velvet accents for winter. In keeping with this monochromatic concept, Electric Bubblegum designed this pink star crop top and skirt for those who want to feel energetic, youthful and fun while wearing it. To add additional flare, pair an opposing color of the clear plastic liquid glitter crop over the bold pink pattern and incorporate a clutch or backpack. Sneakers, daring hair and bright makeup uphold that "cool girl" vibe that is always in high demand.
INNOVATIVE OVERALLS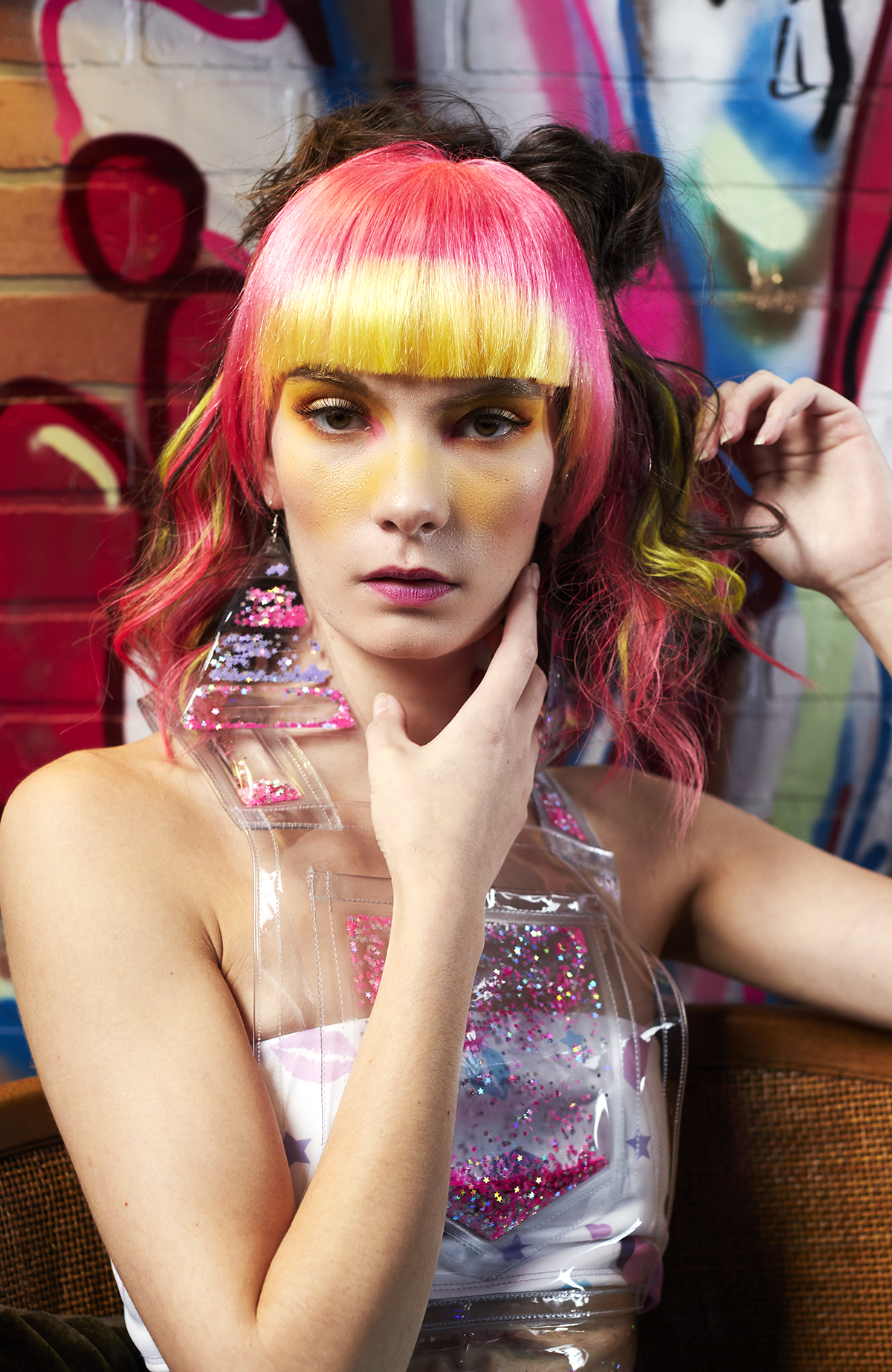 The Lowdown: Plastic clothing first made its debut in the 1960s when "It Girls" like Twiggy wore the popular texture in mostly dress form. As the use of plastic faded after those years, major designers brought it back in statement ways the past few seasons. Now, it's no surprise to see clear stilettos, boots and jackets made from this adventurous material, especially during fashion week. To keep with this old made new again trend, Electric Bubblegum added her own original spin to it and is taking it a step further — this time with a plastic overall dress. This piece makes a huge statement all the while providing depth to any outfit.
Models Ellison Craine, Joyce Green and Madison Lynch. 
Models provided by Goldie Mae Productions. 
Designer Electric Bubblegum. 
Styling by Cheyenne Dickerson. 
Hair and Makeup by Birch Salon. 
Location Yeah Baby. 
Electric Bubblegum's liquid glitter apparel is US Patent Pending.