Eric Larsen is quickly becoming a well-known name for his adventures traveling across the Arctic. He is revered for planning and executing unique-human-powered expeditions and being the only person to reach the North Pole, the South Pole and summit Mt. Everest in a one-year time span.
Born in Cedarburg, Wisconsin and now a resident of Boulder, Larsen is building a career out of traveling to some of the wildest and remote locations on the planet. He has made multiple first ascents often incorporating a variety of transportation methods. Larsen skied both the North and South Poles, participated in sled-dog races, rode his bike across the United States and led many other backcountry adventures in Canada, Alaska and Colorado.
This past week, Larsen and a small team completed a 600-mile human powered ColoradATHON, taking them from the State's eastern border to western border in just 12 days. Larsen and his team rode bikes, hiked and rafted throughout their journey in an effort to raise awareness for Big City Mountaineers "Summit for Someone" customer fundraisers.
We tracked him down near the end of his journey across Colorado and asked him about being a polar explorer, what it is like setting up his great adventures and why he is currently traveling across the State.
This slideshow requires JavaScript.
303 Magazine: You are best known for polar expeditions. How did you get started as a polar explorer, and how has it shaped your future expeditions? Can you touch on your 2009/2010 expeditions to the North Pole, South Pole and summit of Mt. Everest that made you the only person in the world to reach all three points in a one-year time span?
Eric Larsen: For better or worse, I don't have that singular moment where I became a professional adventurer. Rather my path was a progression of experiences where I tried to learn more and gain more experience. I was a dog musher for many years, then in 2002 began planning for the first ever summer expedition to the North Pole which we accomplished in 2006. After that, I realized that adventure and advocacy compliment each other very nicely and I thought that an adventure to the world's coldest places — South Pole, North Pole and top of Mt. Everest would provide a compelling narrative to discuss bigger issues like climate change. Adding the 365-day timeline created a much more difficult overall journey as well.
303: What was the inspiration for ColoradATHON?
EL: Growing up in the midwest, I didn't always have access to large tracts of wilderness. Therefore, I would always 'make up' adventures. A friend and I would go on an all-day canoe trips then portage down main street of my small town, cook meals over campfires in random spots and camp out as much as we could. As an adult, I carried that idea with me connecting different activities to make compelling and challenging adventures. I remember one time, mountain biking across northern Minnesota then swimming across lakes when the trail ended.
A lot of my expeditions are about bigger ideas as well and I've been thinking about the fact that 'adventure is everywhere' and you don't have to climb Mt. Everest to have a unique and compelling adventure.
I had been kicking around the idea of a multi-sport human powered border to border traverse Colorado for several years. When one of my expedition partners bailed on a climbing trip in Nepal, I squeezed this trip into my schedule.
303: How do you prepare for a trip like this? When does planning begin?
EL: The planning for this trip began quite simply with a map of Colorado. I knew that I wanted to cross into Utah on the Colorado River. That meant, I could either take a more 'southerly' route where we would eventually link up with the Gunnison River and then the Colorado or a more 'northerly' route where we would raft the Colorado from somewhere east of Rifle. Because I also wanted to ride through Rocky Mountain National Park (Trail Ridge Road), I opted for the northern route.
Once that decision is made, then I start figuring out all the gear, logistics and timeline. I got lucky right away and was able to secure three great touring bikes from Trek, packrafts from Kokopelli (a Colorado company) and packs from Granite Gear. There were a variety of other sponsors who donated gear for the trip as well.
303: How do you choose partners for your adventures and in what way do partners shape the expedition?
EL: Choosing partners is probably one of the hardest things on any of my adventures. Most of my expeditions (including the ColoradATHON) are fairly intense and require a variety of skill sets in order to be successful. Additionally, we are often in very stressful situations where it isn't always your best foot that goes forward. Therefore, my adventure partners need to be a variety of things: understanding, good communicators, goal oriented and thoughtful. Obviously, hard skills are important but a shared vision is often more important.
A good team is the backbone of any adventure and supports all the objectives that we are trying to reach. Generally, each of us brings a unique skill that adds additional value as well.
303: What were the most difficult parts of your trip? Were you surprised by anything?
EL: On an adventure like this, any given moment isn't overly difficult. However, eventually the accumulative effect of long days and large distances take their toll. For most of the journey, we were traveling for 12 or 15 hours each day with very few breaks. Additionally, I had a bad cold over most of the first week which was hard as well.
303: What were some of the high points of your trip?
EL: Overall, it feels really good to come up with an idea, plan and prepare and then execute and have that dream become reality.
As far as being on our trip, the Flattops were gorgeous and hiking through from the East to the Southwest gave us a unique perspective on several different environments. Also, having driven along the Colorado River on I-70, I always wondered what it would be like to paddle the river. It was amazing, and one surprise while paddling through Grand Junction, we barely saw any buildings from river level.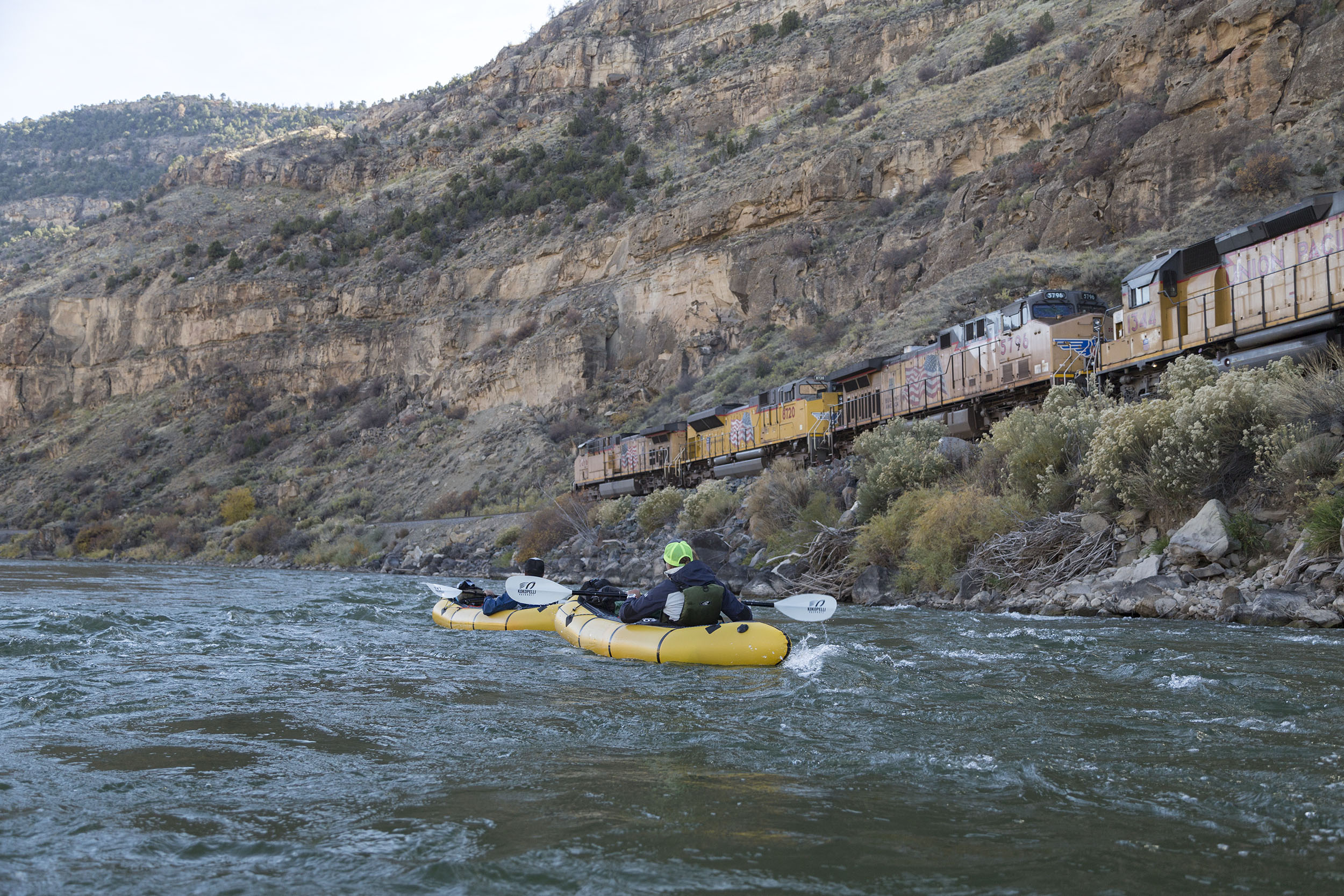 303: I'm sure you see many beautiful things on your travels — can you describe one for us?
EL: I love Colorado and traveling across the state in this fashion is one of my biggest adventure highlights. It was incredible to see the diversity that exists in Colorado. We are not just the Rocky Mountains. I really enjoyed riding across the eastern plains. In one sense, it's a lot like being in Antarctica – you can see for miles and miles.
303: Similarly, can you describe one of the most harrowing? 
EL: Well, almost getting eaten by a polar bear is definitely no joke.
303: Why Big City Mountaineers and what is the "Summit for Someone" campaign? 
EL: Big City Mountaineers is focused on transforming the lives of under-served youth through wilderness mentoring expeditions that instill critical life skills. Their "Summit for Someone" program allows individuals to use a climb or other adventure to help raise important funds for BCM programming.
I feel that adventure has given me so many things over the years… the ability to see many parts of the world that few others have seen, a better understanding of different cultures, new friends, insights into problem-solving and teamwork, self-confidence and more. Therefore, I want to give the opportunity to participate in outdoor adventures to others as well.
303: After ColoradATHON, what is up next for you?
EL: I have a variety of adventures and training trips coming up. In December, I'll be hosting a media trip in Crested Butte, Colorado where we the goal is to get people more interested and informed about being outside (and comfortable) in winter and cold.
This slideshow requires JavaScript.
All photos courtesy of Eric Larsen.
Editor's Note: Eric Larsen informed us the trip ended up taking 12 days to complete not 11. We have updated the article accordingly.