It seems like the side projects are always the ones that get big, like Jack's Mannequin and Something Corporate or From First to Last and Skrillex. Well, now we can add Brasstracks to that list. It's a known fact by now that the duo met at the Manhattan School of Music — Ivan Jackson the trumpet player, Conor Rayne the drummer from New Jersey. At the time, Rayne was producing music with Jonathan Stein while Jackson was performing with the High & Mighty Brass Band. That was in 2011. That was before Stein brought them together to produce music. That was before they produced Chance The Rapper's "No Problem." And that was definitely before winning a Grammy for said song.
But let's back up — back up to one song, the first song. "Say U Will" is how Brasstracks happened, Jackson explains over heavy commotion in a back green-room at Red Rocks Amphitheatre in Morrison. They're set to be the last opener before GRiZ's second-night sold-out show. It's Brasstracks' second time performing at Red Rocks — the first was when they opened for GRiZ exactly one year ago. Cooking up any new stuff with GRiZ, I ask. "Always," Jackson replied with a smirk.
From a distance, Ivan Jackson of Brasstracks resembles an early Justin Timberlake — a pretty boy with enough talent and energy to ignite lifetimes with happiness. In many ways, they are similar — a compliment they would probably both appreciate — booming stage presences, charisma, skilled musicians. Jackson wears a wide-brimmed wool hat on the back of his head, a gold watch and spotless blue and white Jordan's. Rayne is sporting orange circle-brimmed sunglasses and limited edition white Converse by Comme des Garcons. Both young men are speckled with tattoos. But none of these things matter to the nearly 10,000 people in the audience waiting to experience the glossy, hyper-funk sounds of Brasstracks live.
On stage, Jackson carries the personality of the duo — always checking in on the crowd during their sets — "How are you feeling out there Red Rocks? I said, how are you fucking feeling out there Red Rocks?" he demanded with excitement. But Jackson couldn't do what he does without the presence and musical collaborator, Rayne. Rayne is the pensive one — emotional, like most creative geniuses. Some of the only words he spoke to the audience during their 2017 Red Rocks performance were, "Y'all look beautiful out there. So beautiful."
"My main goal is to deliver the message from the universe, basically," Rayne explained when I ask how he wants people to feel when they listen to Brasstracks. He seems hesitant, though.
"I do think that music is the original religion… When I play music, I want people to feel connected to that ethereal, infinite kind of thing. I can't really say that I want them to feel particularly moved, just connected with themselves and connected with something greater than themselves," he explained.
The way he speaks is slow and intentional — he doesn't want to be misunderstood. "All music is very healing. That's all I have to say about that."
Although EDM sensation Avicii told Rolling Stone only days ago how invaluable learning and mixing genres in the studio is, Brasstracks has been mixing/producing the genres of funk, rock, jazz and whatever else they feel like for the last three and a half years. The two guys, now in their mid-twenties, started collaborating and producing when Stein (stage name JNTHN STEIN) unintentionally brought them together in 2013.
"That's one of my best friends out there," Jackson said, speaking about Stein on stage, whom we were watching perform on the live television in the green room. "No one plays his instruments quite like this kid. This kid is so fucking talented — he's one of my favorite musicians in the world," Jackson said, still speaking of Stein. His eyes shoot around the room when he talks, enthusiasm resonating from his body. He's buzzing, eager to take the stage next.
Right off the Red Rocks stage, Jackson is still buzzing. "I think tonight was the first night that we played a set that we felt like we didn't compromise at all. We played full songs, original music with the exception of four or five songs," he said in between heavy breaths and glances around the room. He's on the floor at this point, sitting against a screen door to the cool outside. I can barely hear him over the room's chatter. "I feel like music lovers get shuffled into different kinds of crowds — so you think the GRiZ crowd is going to want a certain thing." This pressure used to give Jackson anxiety, although it doesn't anymore, he admitted. Even after the hour-long set he had just finished, Jackson wasn't done — GRiZ had asked Jackson to play with him during his first, middle and last songs of the night.
Like all strong duos, they brilliantly balance each other — I'm talking Jack and Meg White balance, before the split. And they're not faking it. "It's a duo project and I want to convey where we are both at in our lives," Jackson explained. "That duo project is an interesting thing to talk about. That's really cliche." Maybe duos are cliche, but there's no denying their common success. Especially for Brasstracks, who plans to release part one of their new project this fall.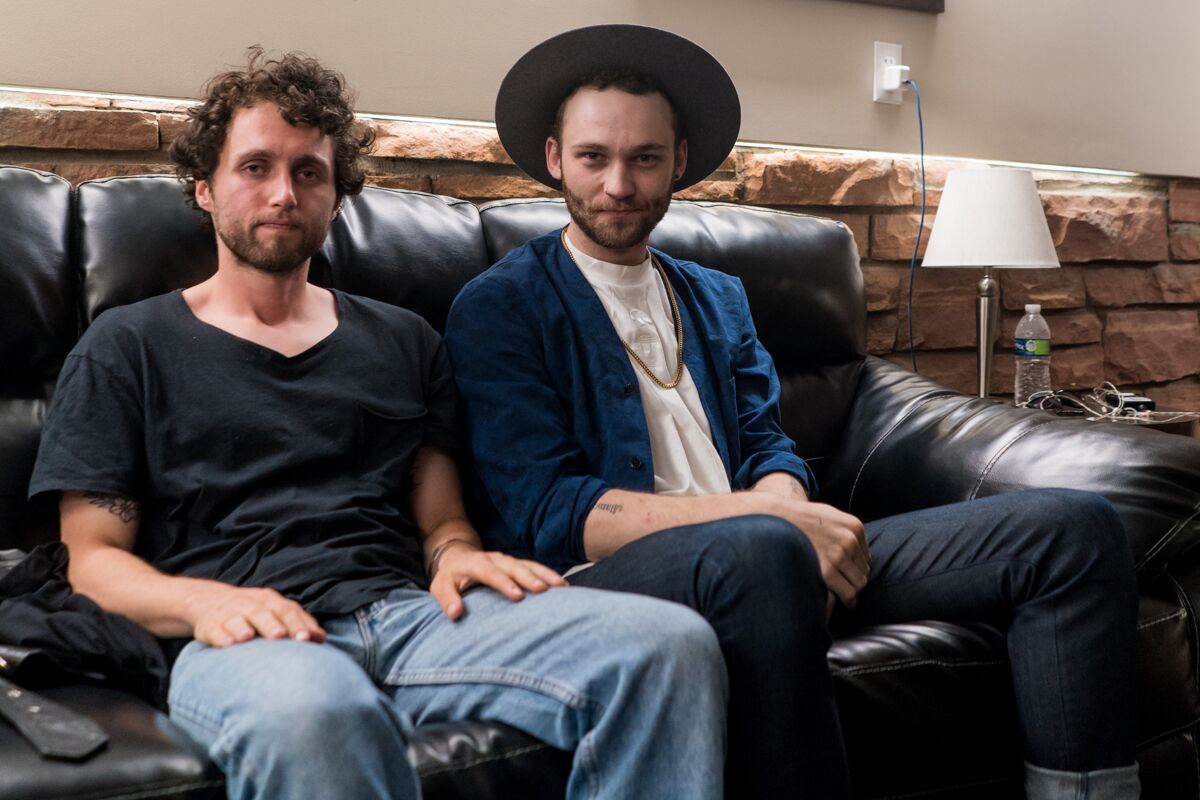 "We've been going through some shit individually and we're just coming out of it," Rayne confessed. "All of the music seems to reflect that coming out of the cave feeling. That was the goal — to be honest. It still has some uplifting elements. That's a very core part of our sound. But it's more dynamic. Less naive — older." With their newfound success, fame and fall release of their sophomore project, the duo is constantly flying back and forth between New York and Los Angeles. But Rayne is bad at collecting airline miles and they're not divas — "I could be flying first class every time, but I'm just too lazy. Honestly, we just look on Kayak and find the cheapest flights. We don't really have a system," Rayne joked. 
But for now, the duo is set to release another song tomorrow called "Those Who Know." "Conor and I really came together on this song in terms of the message, whether or not the message was the same thing for both of us," Jackson continued.
"The concept for 'Those Who Know' is about a breakup and the confusion around it, and not knowing if it was enough or not. And the conflicting feelings of guilt and ego. Conor felt a similar way in a separate situation outside of a break-up." 
No matter where their music takes the duo, they probably won't ever stop creating and collaborating. "I've realized that we have to take those leaps," Jackson said. "If we're not doing that, what the fuck are we doing?"