It's been quite a week for GRiZ. This past Wednesday he released a beer in collaboration with Great Divide, on Thursday he played a "rehearsal show" with a live band at the Ogden and on Friday he kicked off a two-night stay at Red Rocks. Luckily for his audience, the musician still had plenty of energy left for his back to back shows.
READ: GRiZ Now Has a Beer with Great Divide
Now, it's the worst when you buy tickets to one of your favorite artist's two-night stays in Denver, and they play the same show both nights (see: Portugal. the Man's 2017 Bluebird and Red Rocks shows). GRiZ made sure to not let that happen, playing two completely different sets at Red Rocks on September 1 and 2. The first was conducted with a 12-piece live band followed with a more familiar GRiZ set the next night.
Falcon Punch opened up night one with some funky dance beats. The set was fueled with strings and bass lines straight out of '80s pop music. Not only did Falcon Punch play some of his own groovy tunes, he mixed modern artists like RÜFÜS DU SOL. The Funk Hunters came next and, you guessed it, kept the funk flowing. House and hip-hop influence paired with synths and occasional drops differentiated their set from the first but it was still a hot damn dance party. The duo brought out a rap feature for a few tracks that really got the crowd pumped up.
Barclay Crenshaw came out next with his electro-hip-hop beats. He mixed in a variety of artists including Kendrick, G-Unit, Bon Iver and Run the Jewels. His dub and trap samples combined with the growing crowd brought everyone to their feet as they anticipated what came next.
Just before 10 p.m., GRiZ and his band stormed the stage. It was immediately a rock, funk and jazz jam session. They played renditions of GRiZ's tracks, all with a live band – vocalists included. There was a flute, a grand piano, an organ, backup singers, a trumpet and of course, a saxophone. But that's not all. The stage was filled from end to end with even more musicians. Hearing his songs with not only live vocalists, but a live interpretation with an array of instruments was truly a treat.
Favorites like "A Fine Way to Die" and "PS GFY" were all performed, but not like how they sound on the studio tracks. No electronic instrumentation was allowed – not even backtracks. After about 45 minutes, the band broke for an intermission.
String lights lined the air, running from the top of the stage to the sound booth. It created this cool patio jazz-feeling setting. There were no LED screens, no lasers, no fire shooting from the stage. The stage setup was simple. The wildest the decor got was the half a dozen fire-totems that lined the stage when the band came back from their intermission.
When the band came back, GRiZ played a soothing and ambient solo – laying on the ground. That was the least GRiZ moved all night. At other times, you'd see him running around the stage, getting down with the musicians and dropping it low – seriously, the guy danced a lot. His stage presence was fiery and fun, beaming happiness at every moment.
GRiZ's first night at Red Rocks transcended generations. Any music lover – young and old – would have appreciated the set. It was different – not what one would expect from the musician. The evening was stripped of electronic elements and backed with an enormous group of musicians. GRiZ proved his music is more complex than some people may guess at first glance – what one man does by himself at an ordinary show was transformed into a magnificent group effort. Electronic percussions were replaced with a live drummer, dubby drops were replaced with either an electric guitar or an organ and so much more. That group effort wasn't just about GRiZ – and I think that's what he wanted.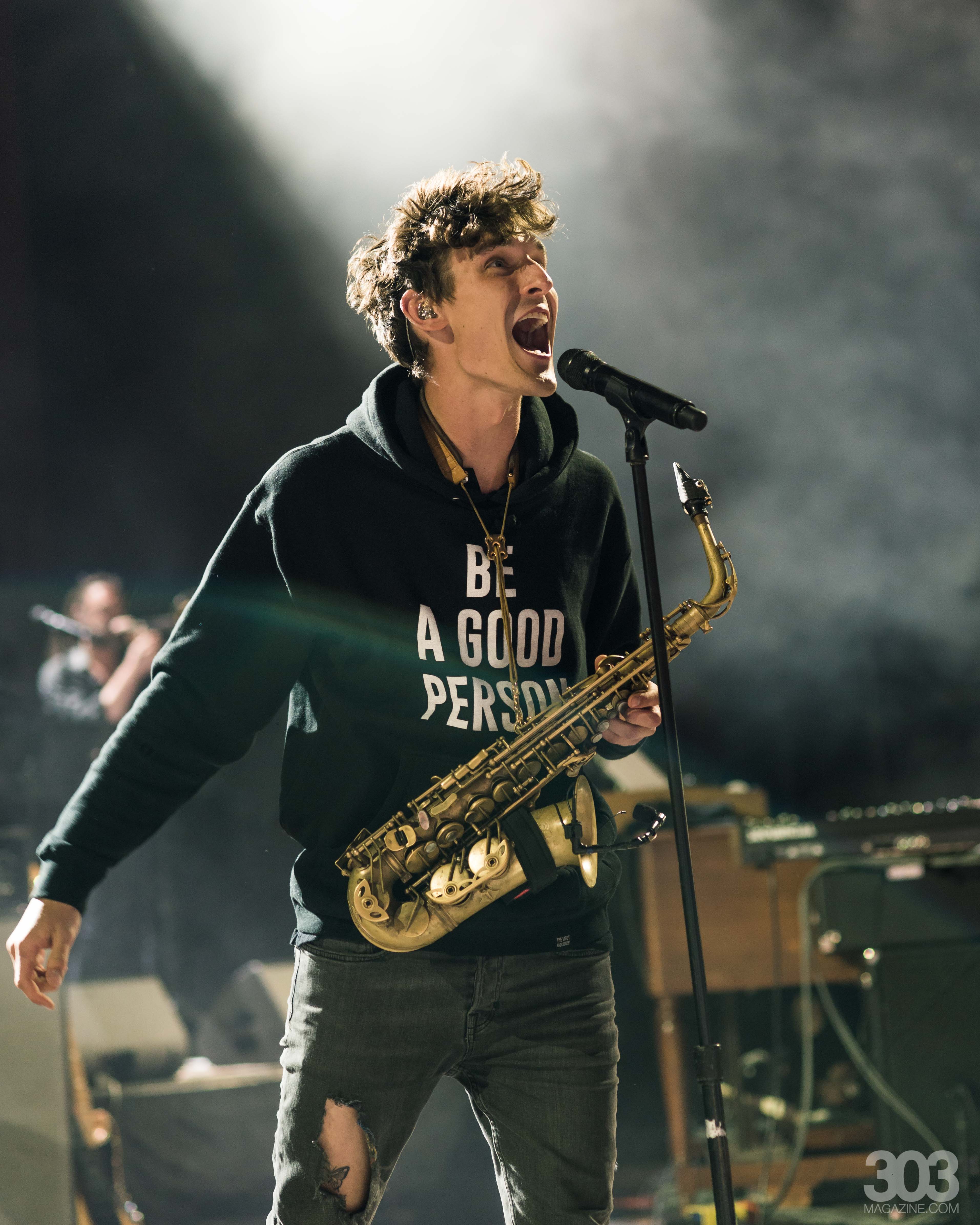 The second night was the ying to the first night's yang – although completely different, it completed the two-night GRiZ experience. Although the gates opened roughly an hour later than scheduled, the night's set list quickly made up for it. Falcon Punch started 40 minutes late, but still delivered some good EDM dance vibes to start the night.
Next, JNTHN STEIN took the stage to continue the mission of warming up the crowd for the soon to follow Brasstracks and GRiZ. JNTHN STEIN (born Jonathan Stein) made things more interesting on the Red Rocks stage with his peculiar dance moves – he took a lap around his production table, then followed by making octopus arms. He later switched to an electric bass guitar, showing the crowd his true musical abilities.
The duo Brasstracks came on right at 8:25 p.m. with Ivan Jackson on his signature trumpet, playing a slow and solemn jazz hymn. "We're Brasstracks from New York fucking city. How y'all doing tonight? I said how y'all fucking doing?!" Jackson demanded of the crowd. Cheers rang out in return. They played a hot R&B beat, then their most popular song off of their new album (and song title) "Good Love."
For their fourth song, Brasstracks brought out their first special guest BXRBER (born Kenny Barber) from London. BXRBER graced the audience with his fervent melodies on a new track with Brasstracks that the crowd adored. Next, the duo brought out budding rapper S'natra for a performance that sounded like something from a seasoned veteran. S'natra's not cocky nor amateur on stage. Instead, his stage presence and smooth rap vocals made the crowd erupt in excitement. Brasstracks ended with their popular "XO Tour Llif3" before announcing their new project set to release this fall 2017.
After an intense 30-minute set change, GRiZ came out lights-blazing with his sidekick Muzzy Bearr, Jackson from Brasstracks, S'natra and others. From the beginning, it was obvious that this night's set would be completely different from the first. Always accompanied by his saxophone, GRiZ's sec0nd-night music remained strong in jazz and funk sounds, which kept the audience dancing on their feet until the hard curfew of 12 a.m.
GRiZ played many of his most popular electro-funk songs including "Good Times Roll," "Gotta Push On" and "PS GFY." Many songs, like "PS GFY," GRiZ played both nights but in completely different ways. Saturday night's gritty show was fueled by massive LED screens, lasers, smoke machines, vertical fire bursts and communal joints. At 11:50 p.m., after GRiZ played non-stop for two hours, he ended with reading a spoken-word rap poem off of his phone on a dark stage – he will forever be "a child born into his own storm."
A few minutes later, GRiZ's encore started with a full gospel choir lined up on stage accompanied by every performer from the lineup that night. The screens showed GRiZ playing piano in the middle of the Red Rocks stands while wearing a gray sweat-shirt reading "I'm a Lover" on the back.  GRiZ's final words were, "All we got's each other. Stick together. Love each other."