Last night, Muse took over Red Rocks Amphitheatre — exactly 10 years to the day since their last show at the historic venue. With that being said, it shouldn't come to anyone's surprise that the performance sold out fast — especially with PVRIS and Thirty Seconds to Mars opening the show. The English rock band has been making music since the '90s but proved last night they're still as relevant as ever.
PVRIS opened the evening with a great pop-infused alt-rock set. Vocalist Lynn Gunn nailed her soothing ambient vocals and was far from uncomfortable addressing the enormous crowd — a sold-out crowd that probably weren't that familiar with the youngest group on the lineup. Regardless of her comfortability, Gunn maintained a mysterious persona — so much so that when she belted her falsettos it felt as if she was stepping out of her comfort zone and revealing intimate characteristics of herself.
Thirty Seconds to Mars was next — a performance that many Muse fans in the crowd seemed pumped for, including myself. What we thought would be an incredible opening set turned out to be an audacious, vain display of frontman and Hollywood star Jared Leto's ambition. His attire was eccentric, to the point where it came off arrogant — furs, a neon pink beanie, a shirt that resembled some sort of Glass Animals album art, marching band pants and the occasional flag to wave around — a flag that seemingly replaced Leto's guitar, because he only played guitar once. And why was Leto wearing sunglasses? Maybe it was because of the outrageously well-lit stage, which shined far too bright for the entirety of the band's performance. A raised platform was set atop the middle of the stage for Leto's constant shenanigans. He knew the crowd loved him and that was the fuel that powered his battery for the night. He was, for lack of a better word, a diva.
"Take a look around — Red Rocks, one of the best venues in the world with one of the best audiences in the world. I know, I'm having a bad hair day. Oh well. You should see what's going on down there." – Jared Leto
Though Leto was overly arrogant, he wasn't neglectful of the crowd. He gave much love to the masses and even singled people out for talking during the performance — at Red Rocks. He also pulled some dedicated fans on stage for songs, snatched someone's phone to film himself and relentlessly started chants throughout the night. The audience-involvement was heavy, almost relied upon, but was still a great way to pump up the crowd before Muse. Leto danced around the stage, energetically span in circles, ran through the audience to perform "Kill" with an acoustic guitar from the soundboard and more — we just couldn't tell if he was doing it for the audience or to keep himself in the spotlight. I mean, the man is a great actor, but that's what it felt like — acting. Leto was theatrical with both his gestures and expressions. "What took you so fuckin' long?" Leto joked at the concert-goers that had never seen Thirty Seconds to Mars before.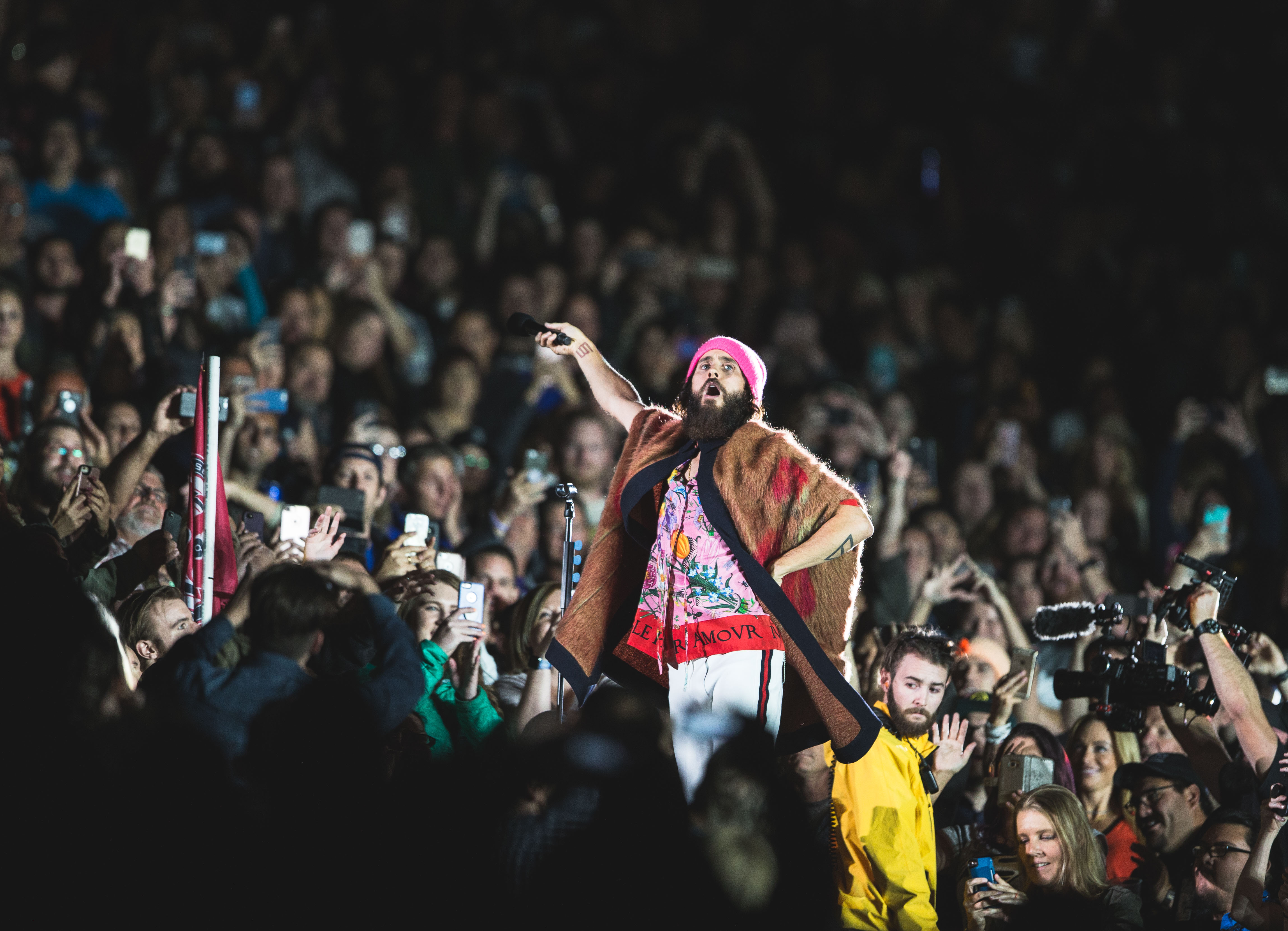 We walked into Muse with high expectations, and it wasn't long before those expectations were shattered. It was a cool night on the Rocks, but with the ferocious dancing and head-banging that ignited, I was tearing off my sweater after the first song. Vocalist and guitarist Matt Bellamy sported red pants, a guitar lined with neon-colored string lights and matching light-up sunglasses. Bellamy made use of his shades, though – at times they flashed lyrics to his vocals as he sang them.
Now, it always feels rude when musicians cover the rocks. And yes, Muse covered the rocks. But rather than masking them with a mediocre LED screen, they had several enormous screen columns lining the back of the stage that moved forward and backward throughout the show. These columns played live recordings of the band and crowd, all masked with some sort of filter. They were also reflective, often showing the band's mirror images amidst the video. With the way the columns moved backward and forward, and the way the band still lit up the rocks behind the columns, it felt as if their light show was simply an extension of the rocks. At times they even blended the color of their lighting to match the beloved formations and in the end, the light show was incredible,
The massive reflective light columns weren't the only thing on wheels that moved around on stage — the drum set was rolled to the forefront at points, handing over the spotlight to percussionist Dominic Howard. At times that spotlight was shared with bassist Chris Wolstenholme which gave the entire band opportunities to shine. After Leto's self-absorbed showcase, it was refreshing to see a frontman that shared the limelight. The band also took daring risks by igniting electronic intermissions. We all know that Muse is an alt-rock band, and sure, they have a lot of electronic influence, as well. But Muse fans don't go to Muse shows for such electronica — they go for an awesome rock set. Regardless, Howard teamed up with Wolstenholme to create a couple danceable, trance-like intermissions that left some confused and others breaking a sweat. It was a risk well-worth taking that reminded everyone how diverse Muse's sound really is.
Muse performed all of the hits and then some, often taking small detours from the recorded tracks to present the audience with variations of guitar solos or extended instrumental segments. Bellamy has mastered his guitar playing, excelling in form without ever breaking from his slick and composed vibe. At one point in the show, he even performed "Starlight" from the middle of the crowd while the venue projected stars onto the rocks in a breathtaking experience. Not only was it one hell of a performance, it was a celebration of Muse's return to Red Rocks exactly one decade later and still selling it out, regardless of the time gap. It showed that Muse is still significant and probably won't lose such significance anytime soon. The best part of it all — you could tell that they loved the show as much as we did.