303 Style Profile is an ongoing series highlighting unique locals and their incredible style and stories. Go here to see past profiles. 
Michelle Baldwin, known as Vivienne VaVoom, is an artist and a pioneer. In the late 1990s, when burlesque had all but disappeared, VaVoom produced the first revival burlesque show in Denver. Nearly 20 years later, this femme fatale has performed all over the country and abroad in places like Finland and New Zealand. Described as radiant and perfectly feminine, VaVoom commands any room she's in, so when she agreed to give us a sneak peek at what she has in her closet, we jumped at the chance.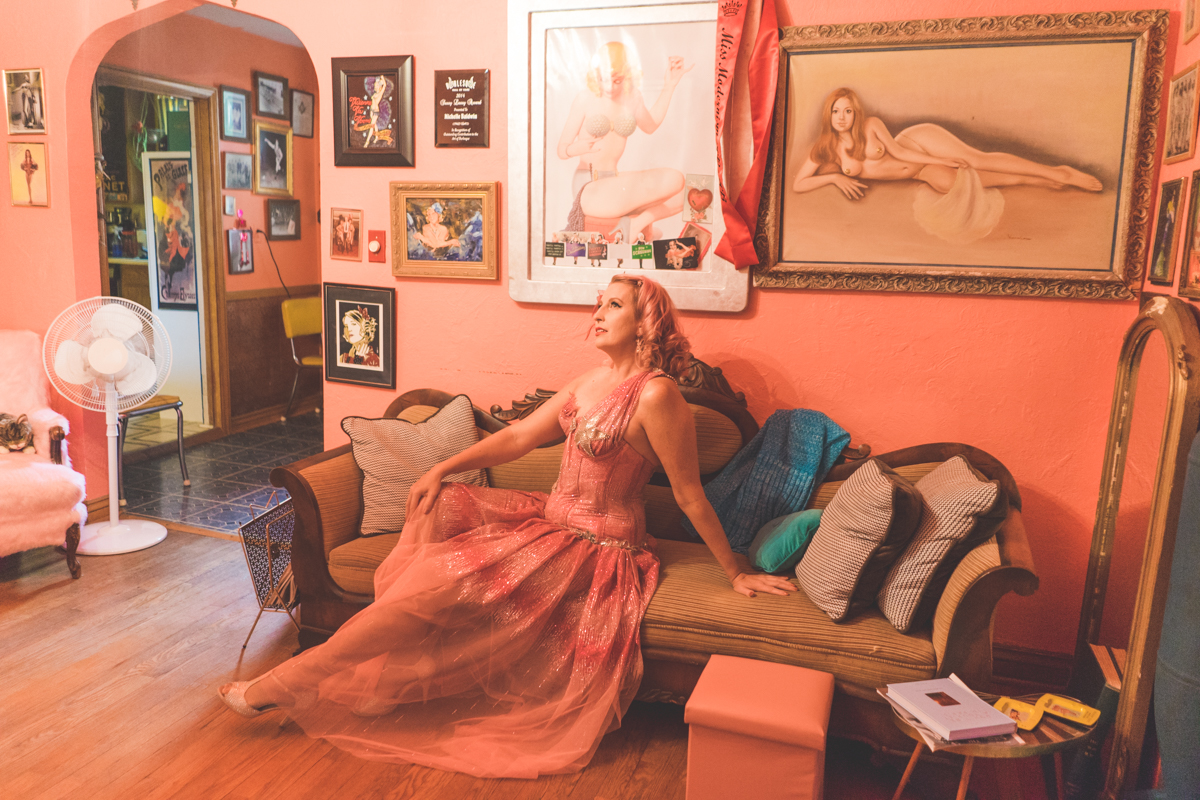 303 Magazine: Describe your closet. 
Vivienne VaVoom: I have a couple closets. One has a mix of my fancy vintage and costumes, and my main closet is stuffed — I live in a vintage house, so in my defense, it is a teeny closet. Shirts are hanging up high. Then, on the main rod, skirts and dresses, belts, jewelry, and then shoes everywhere — on the floor, in a stacked unit and on a shelf above. My whole bedroom has purses and hats hanging everywhere, hair flowers, bracelets stacked on old vases, jewelry draped on statuettes.
303: How has being a burlesque dancer affected your style?
VV: When I started in burlesque, I had hair down to my waist. I never shaved, never wore makeup. I wore old men's suits and a lot of androgynous clothing. I loved the glamour look, but I never imagined I could pull it off. Burlesque taught me how to do my makeup, how to pull a vintage or vintage-looking outfit together.
303: What are your wardrobe essentials?
VV: Big stacks of bracelets, retro skirts and dresses. And red lipstick, always.
303: Who are your style icons?
VV: I love Gypsy Rose Lee's style on and off stage. Dita Von Teese is a huge inspiration. She helped me to embrace my love of the retro look and ignore people who asked if I was going to a costume party. I love her promotion of what she calls "eccentric beauty" or not sticking with cookie cutter "normal" style.
This slideshow requires JavaScript.
303: What was your last impulse purchase? 
VV: Lucky Lou shoes. I've mostly wear flats these days, but I've coveted these shoes, with their carved heels featuring tikis and little tropical villages. When I found them at Tiki Oasis this year, I pounced!
303: What is your favorite item in your closet?
VV: Currently my black Hell Bunny skirt from FashioNation. It's a circle skirt with white fold-over pockets in a crepe-like material that looks vintage.
303: Where do you like to shop in Denver?
VV: I love FashioNation. They have a great selection of new retro style pin-up-y clothes, and I am obsessed with estate sales!
303: What is your fashion advice?
VV: Encouragement that my look really takes very little effort. I wouldn't do it if it was hard! I have ladies comment that they would never have the time to look like me, but it took me just as long to put on my skirt and shirt, if not less time, as it did for them to get into their jeans and t-shirt. There's nothing wrong with a good pair of jeans and a comfy shirt, but if you want a different look, it really isn't as hard as most people think it is.
All photography by Meg O'Neill.