The old adage at Red Rocks is that there's no bad seat in the house. Unfortunately, on July 11, I found that bad seat. Now, before you get too heated in the comments section, this is coming from someone who has experienced shows from every square inch of the venue — and never had a complaint. But I wasn't the only one.

In 2014 Beck seemed to receive similar complaints from his Red Rocks show.
But first, let's get to the good stuff. The musical mastermind has been creating music for nearly two decades, blurring the lines of what we consider genres. The enigma of a man hogs the music headlines whether it be his devotion to Scientology, casting his children in his music videos, winning a Grammy or even that one time he released an entire album only in the form of sheet music. Beck keeps fans on their toes which is something we appreciate about him.
"[It's] been a few years since I've seen y'all. I heard we don't really have too much of a curfew here," Beck said, instigating applause and cheers from the audience.
Preservation Hall Jazz Band kicked off the night with some downright fun New Orleans jazz. Many of you probably remember them from their opening set at Red Rocks last year for hometown hero Nathaniel Rateliff. Or maybe you remember them only just a little bit from that one hazy time you visited New Orleans. Regardless, most of the crowd showed up early for this one. The occasional streak of lightning and a varying drizzle of rain didn't stop Beck fans from getting into the venue right on time — so on time that I had nowhere to stand upon walking in just after the start of Preservation Hall Jazz Band. Talk about "rain or shine."
"I see we got some little ones here tonight. Earmuffs." – Beck
Beck took the stage and towers of red light flashed, projecting onto the crowd. Immediately, something didn't seem right. The sound fluctuated in strength — some tracks seemed quieter than others, some had a louder bass and Beck was at points incomprehensible. Granted, I started the show in the back — all the way in the back. But I've seen shows from the final rows, and never had a problem with the sound. However, for Beck, the show was flat-out quiet — with the exception of the audible conversation all around.
With that being said, I was on a mission. I ditched my Row 58 center-right spot for, well, anything else. I migrated down the stairs looking for any in but soon noticed that the sound wasn't getting much better. Sure, my proximity to the stage grew closer and the volume gradually increased — but not by much. Maybe it was Beck's equipment. Maybe it was the equipment at Red Rocks. Or maybe I'm just losing my hearing from the number of concerts I go to.
"We've been in Colorado all week. Any of you ever been to Ride Festival? It's amazing up there [Telluride]. Not quite Red Rocks but it's pretty amazing. And I got to spend my birthday up there which was nice." – Beck
Sound aside, Beck didn't disappoint. He served up the hits – sometimes even dishing them out back to back – "Loser," "Devil's Haircut," "E-Pro," "Go It Alone," "Where It's At," "Girl," "Black Tambourine" and so many more. It was almost enough for us to forget that there's a new album on the way — and whether or not we were going to hear any of it. "I have a whole bunch of new songs I want to play you," Beck announced, "I can't play them yet but I'll play them next time. They're coming soon I promise." The clarification was disheartening – especially when there was a momentous break between his announcement of playing new songs and then not being able to. Imagine a sold out Red Rocks crowd cheering in excitement, and then quickly switching to harmonized sighs and "awws" — that was this moment. But honestly, with the repertoire Beck has, his set didn't need new material. Sure, it would have been exciting, but it's been a while since Beck has been to Denver so this was a great opportunity for fans to reminisce with their favorites.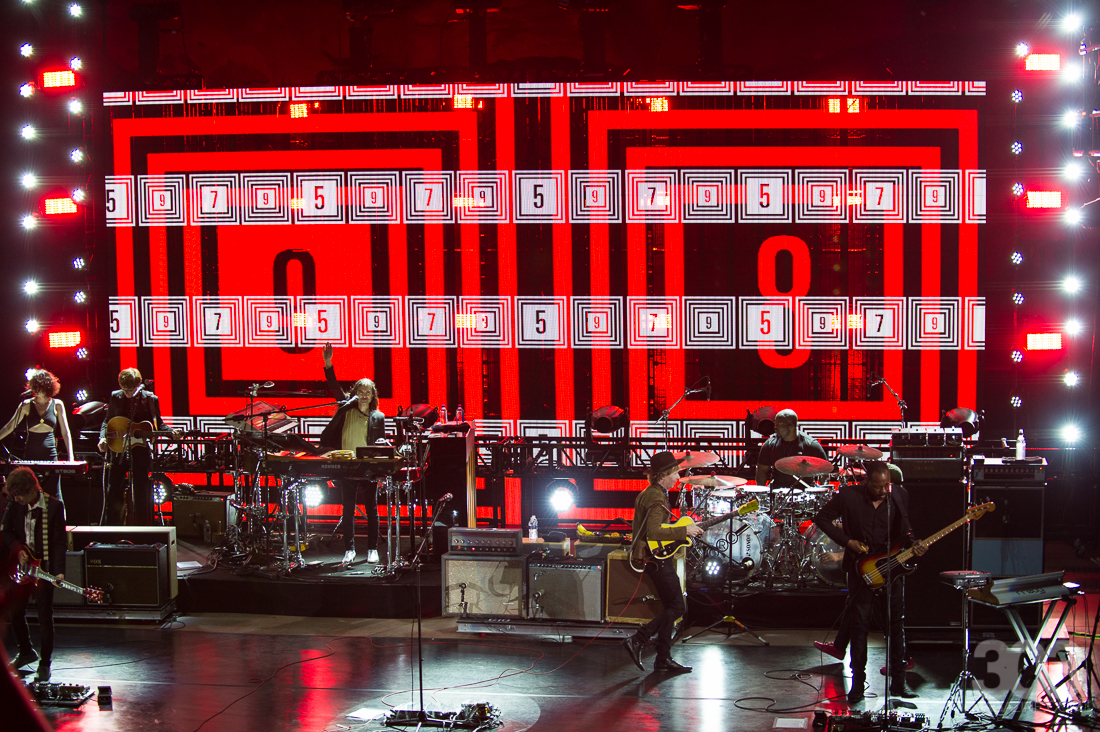 Though Beck didn't preview any unreleased tracks, he played "Wow" which is presumably the first time most of the crowd had heard it live (the track came out last year). It also seemed as if many Beck fans had missed the single's release because many dedicated fans looked at their friends and partners in confusion. It was an interesting moment because if you didn't know "Wow," that part of the performance probably felt quite strange. The track is much different from what he had been performing throughout the evening being filled with electronic drops, a heavy beat and bass that vibrated through the rocks. The song's bass made me reconsider the thought that the sound sucked just because of where I was standing (now under the treeline) — it was loud. Now, on the other hand, those who did know "Wow" took the opportunity to really let loose. Giddyup.
"C'mon, let's keep riding these horses… Down in the Colorado moonlight… Usually, when we come to Colorado we drive all night but this time we took a day drive and I have a whole new appreciation for this place… I was just riveted… I got a day off tomorrow – you got any recommendations?" – Beck
In the end, sure, the sound wasn't great. But one would be amiss by the mediocre volume and to not acknowledge how great the show was. Not to mention, Beck could play his guitar with a butter knife and we would still revel in the fact that we're in the presence of a legend. From bright, simple and occasionally psychedelic lighting, to showing a constant appreciation for Colorado, to impeccably playing the hits, it's safe to say I wish I were closer.
All photography by Glenn Ross. Check out our full gallery here. You can also check out our interview with Beck from earlier this year here.