Think of Aspen and the image of Colorado Ski Resort comes to mind, there's a reason for that. Aspen represents the epitome of world-class skiing. Whether in magazines or in film, Aspen's slopes, extravagant restaurants and boutiques, are frequently pictured. But take away all those things and there are hidden gems to be discovered.
In the summer, the journey from Denver to Aspen reveals something not shown to the world, something hidden and beautiful that will make you wonder why you didn't know about it all along?
Driving Independence Pass provides jaw dropping views at a gradual elevation gain of 12,092 feet, so be ready for a photo op. Unfortunately, drivers become so encompassed with pulling over and taking pictures, they often fail to realize that on this very road, there are trails that lead to concealed ice caves, waterfalls and a cliff diving hotspot.
Through your trustworthy navigation app from Denver to Aspen there's a must-see route, travel West on Highway 82 beginning from Twin Lakes, Colorado. From this starting point the road turns into Independence Pass. Be prepared to white knuckle your steering wheel and use your laser eye focus however, because you will come across switchbacks and areas without guard rails. On the bright side, there are designated areas, where cars pull over to take pictures and drivers, are usually safety considerate — so there's no rushing going on here.
The Grottos Ice Cave
Going west on Independence Pass, there's a small dirt parking lot to the left for Grotto's Trail. This is a small lot where you'll likely find some cars already pulled in. One thing to be thankful for, Google maps leads you right into the lot, just as long as you entered in "Grottos Trail," Aspen. Once parked, there's a bridge allowing you to cross Roaring Fork River where the beginning of the trailhead is easily seen. You won't have to hike long, within the first 30 to 40 steps, take notice of a wooden sign to your left that says "ice cave," with an arrow pointing downwards. As you approach, you'll see makeshift stone stairs that lead down into an opening. This is the spot to explore, people will crawl in and out of this cave and the echoes of their voice can be heard from a distance. The patterns along the inner walls in the cave are remarkable, smooth to the touch and perfectly formed waves.
The Cascades Waterfall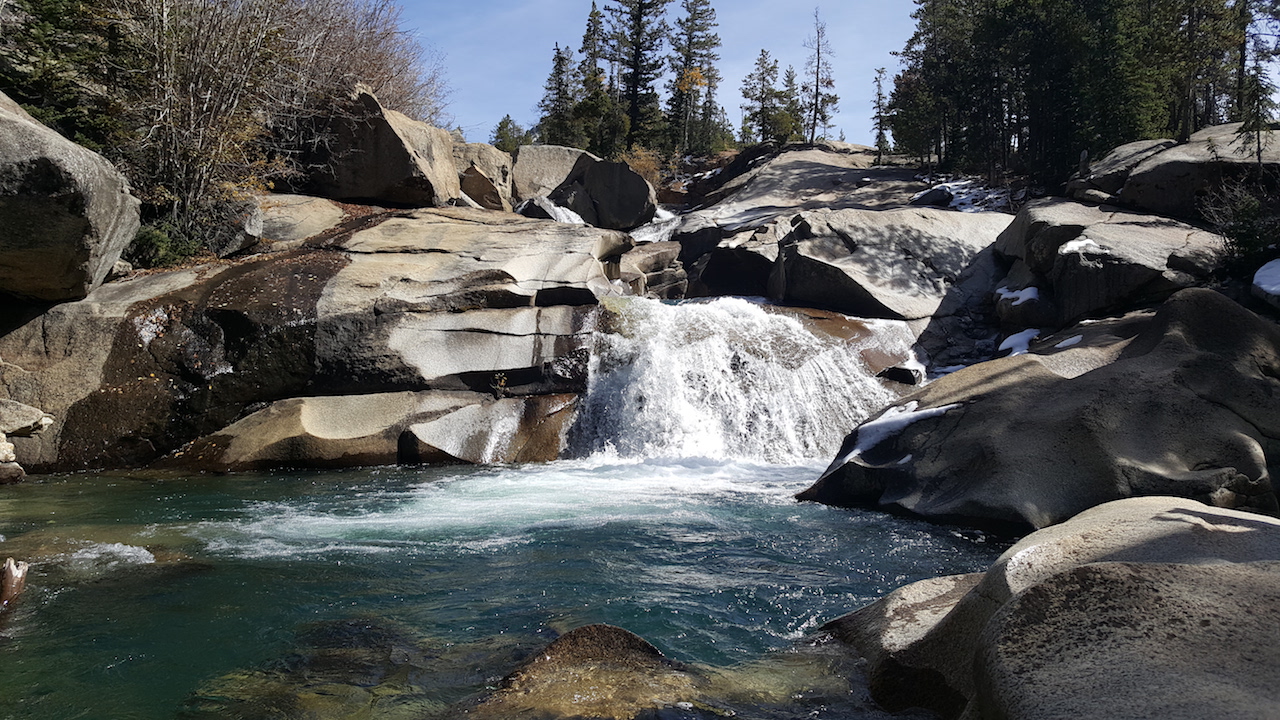 On the same Grottos hiking trail, after adventuring the cave, continue forward on the path another 50 feet and notice the sound of rumbling natural water from a distance. The hike is no longer a dirt path, but instead it has transitioned you to trekking over one large rock. Walk a bit further and suddenly, there it is. The cold Cascades. Here you'll discover the waterfall sliding down smooth, flat rock formations into a pool of water so blue that looks like glass. The air smells the way it does when it had just stopped raining outside, and it's the perfect photo/picnic spot.
Devil's Punchbowl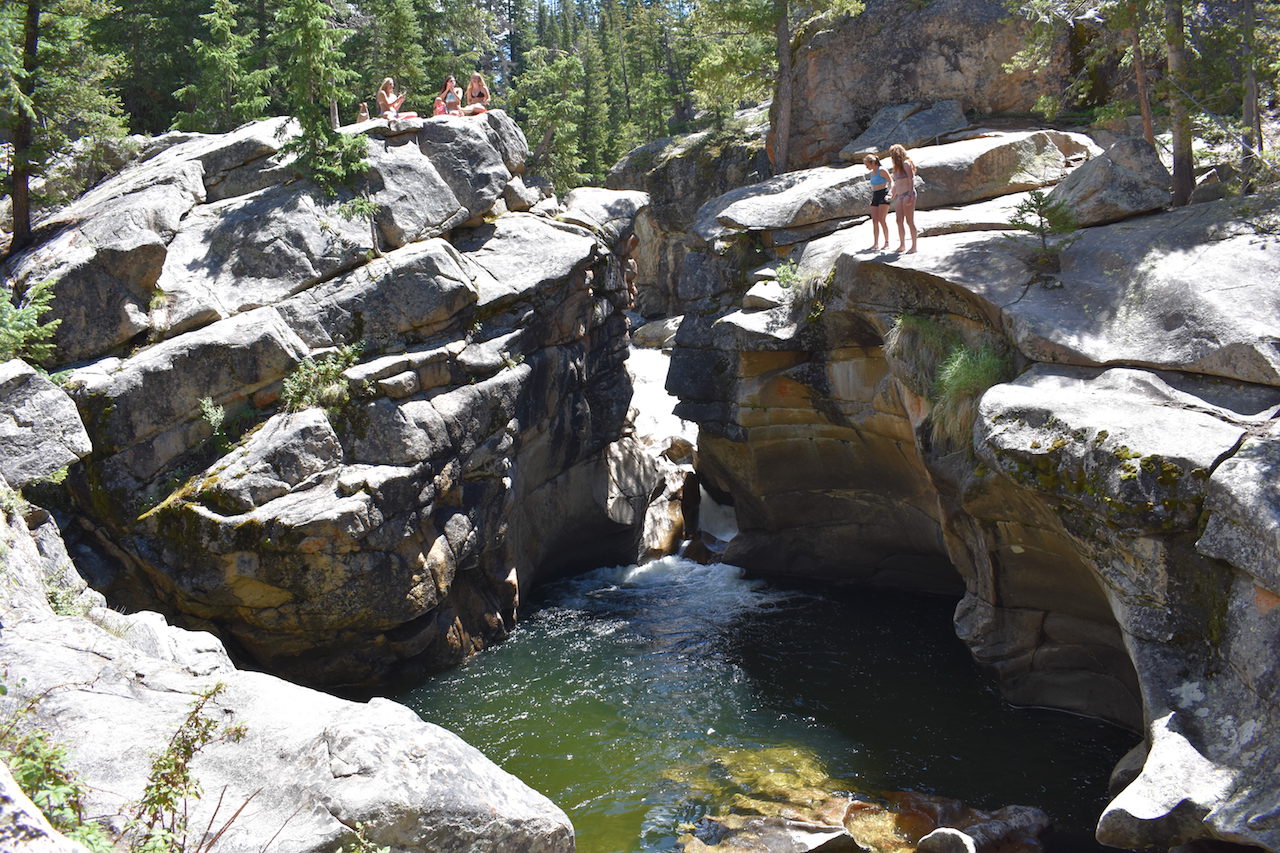 Also from Independence Pass, is a pull off that rests in between the Grottos Trail and the Weller Lake Trailhead, easily located and accessible from the road and just 0.4 miles from the prior hidden gems mentioned, Devil's Punchbowl. Keep in mind, there aren't any signs with the name 'Devil's Punchbowl,' but again, Google maps leads you right to it. Approach this oasis and find cliff divers plunging into a pool of water fed from a narrow opening between the rock. It looks just like it's named — a punchbowl. There are a couple of different jump off points and the water is clear enough to see through, making it absolutely entertaining to watch daring divers. Beware of the risks of cliff diving and remember that even in the hottest summer day, that mountain water is still freezing cold.
—
Driving Independence Pass may not be for the faint of heart, but the drive is worth it in its payoff of views and adventure. In addition to 360 surrounding mountain views, the various species of trees provide gorgeous colors along the way. It's closed from October though May, so be sure to take on this journey some June through September, on a hot day. Now is the time!
About the author
Amber Inthavong is native of Boulder with immigrant parents from Laos. She loves outdoor adventure, whether it's a solo trip or with her daughter, she takes any opportunity to be outside. She also spends her free time blogging on her local travel website 
Coloradocaribou.com
and is passionate about sharing her experiences.
All photos by Amber Inthavong unless otherwise noted.