Street art in Denver keeps growing everyday, with more alleys, walls and even actual streets covered by local and sometimes international artists. Each summer, RiNo celebrates these artists with the Colorado Crush street art festival, giving them ample space to decorate the neighborhood with an amazing variety of style. Other neighborhoods in Denver have followed suit, sans festival, and private businesses are becoming the curators of free art in Denver by commissioning artists to paint murals on their walls. Restaurants and bars are some of the most decorated businesses, both inside and out.
Next time you go out to eat or drink, pick one of these 21 establishments within Denver that have some of the most epic murals on their exteriors, and that way you'll be enjoying some free and worthy art at the same time. We've included a mapped guide to help you find where they are and divided them by neighborhood.
Tennyson/Highlands
Local 46
This slideshow requires JavaScript.
Where: 4586 Tennyson St., Denver
The Lowdown: Painted in the last few months, this mural by Nicaraguan-born artist Luis Valle (who currently lives in Miami) bursts with color on the north side of Local 46. The combination of feminine iconography and nature-inspired images softens the brick and corrugated tin design of Local 46, giving it an appeal that other industrial-chic restaurants lack. The mural has a drip technique that appears to either be very difficult or a complete act of chance. Either way, it's worth stepping up close to see more detail.
BookBar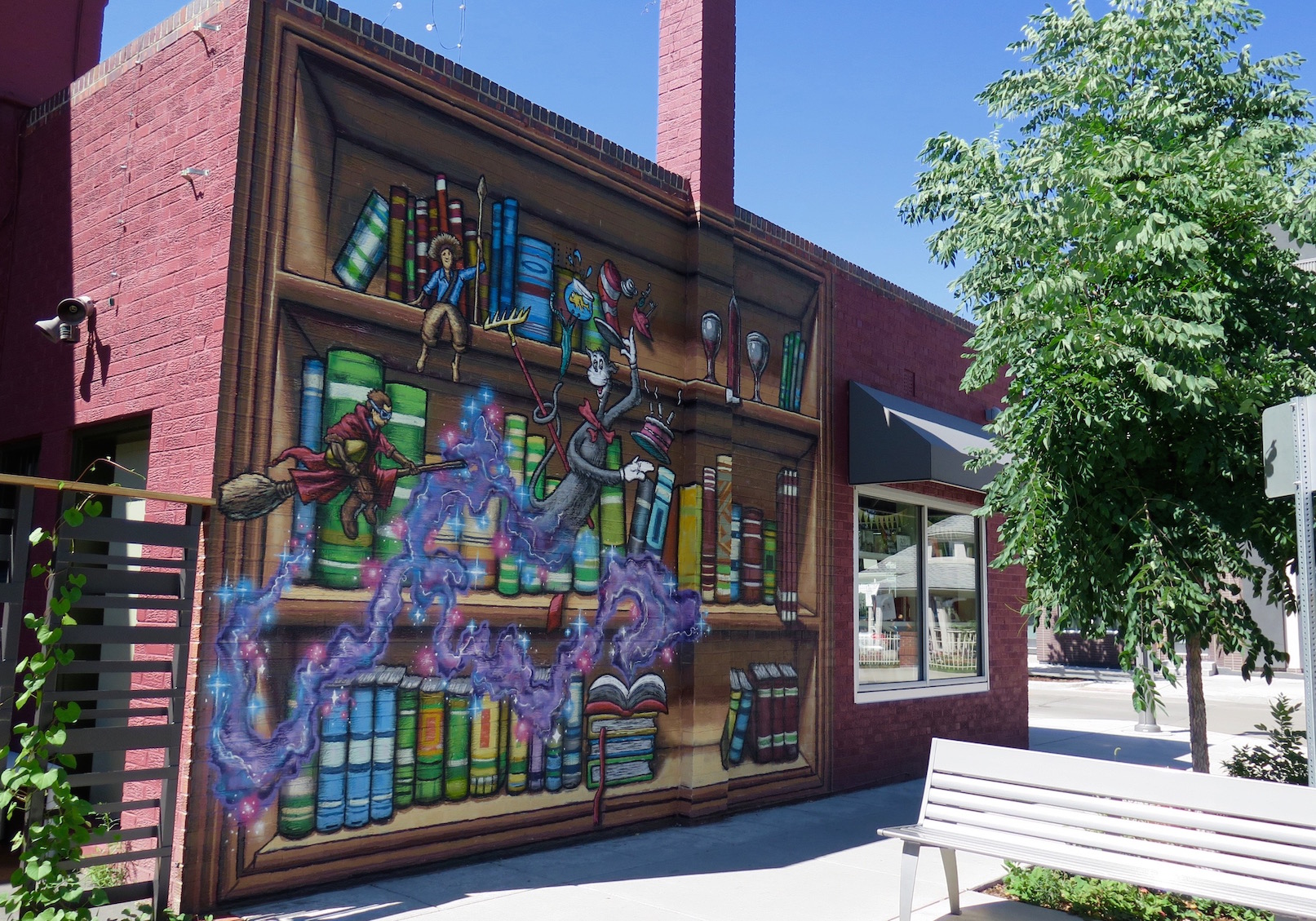 Where: 4280 Tennyson St., Denver
The Lowdown: BookBar nailed the design of its mural, with some of the most beloved fictional characters from books jumping out of a bookcase with what looks to be a magical galaxy holding it all together. It's the kind of mural that makes you smile when you see it, even if it's not the most original piece of art on the side of a building. And BookBar, though the mural is painted with children's book characters, is in fact a bar, coffee shop, book store and it serves small food plates throughout the day. BookBar's apropos mural was painted by Delton Demarest.
Javier's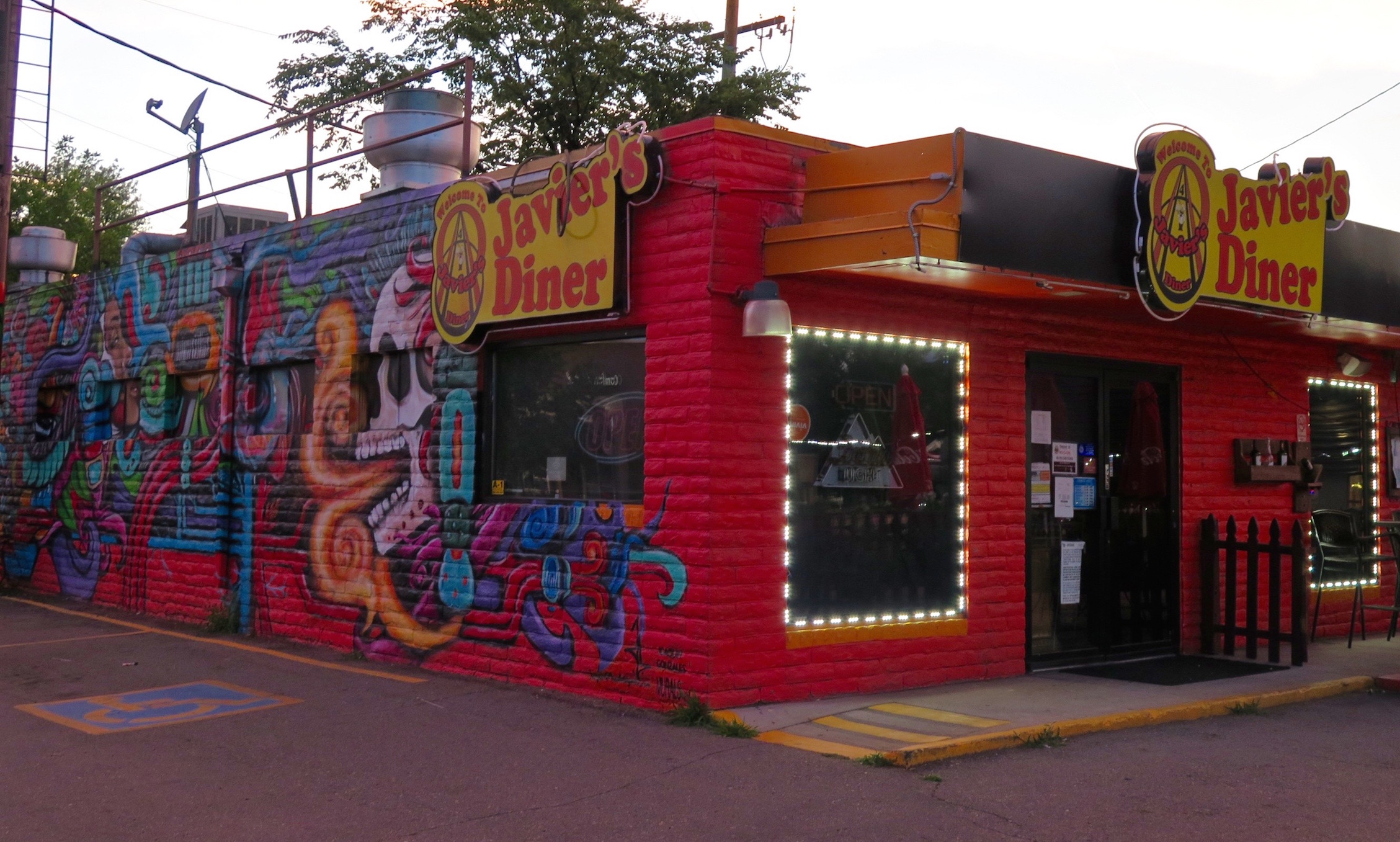 Where: 3801 Tennyson St, Denver
The Lowdown: Javier's Diner's brightly colored mural was created with an eclectic mix of cultural styles, from the skull to the Mayan-esque curves on some of the adornments, to the headdress on the woman. Painted by Joaquin Gonzales, a Denver-based artist, the mural exudes a spicy, fun and high-energy aesthetic. Sitting on the corner of West 38th Avenue and Tennyson Street, Javier's dominates the busy intersection with the bright red background paint and one-of-a-kind mural.
Burrito Giant
This slideshow requires JavaScript.
Where: 4501 West 38th Ave., Denver.
The Lowdown: Burrito Giant and Javier's are so close to each other that it almost seems like they are one establishment when you drive by. But, Burrito Giant is unique because they dedicate several of their walls to rotating artists throughout the year. The east facade of the building has been dedicated to the same image for a while. But it grabs the attention of passers-by because of the brilliant use of color and because of how enormous it is once you get close to it. The south and west sides of the building are where to look for different spray paint squads scrubbing old work and bombing new.
Crow Bar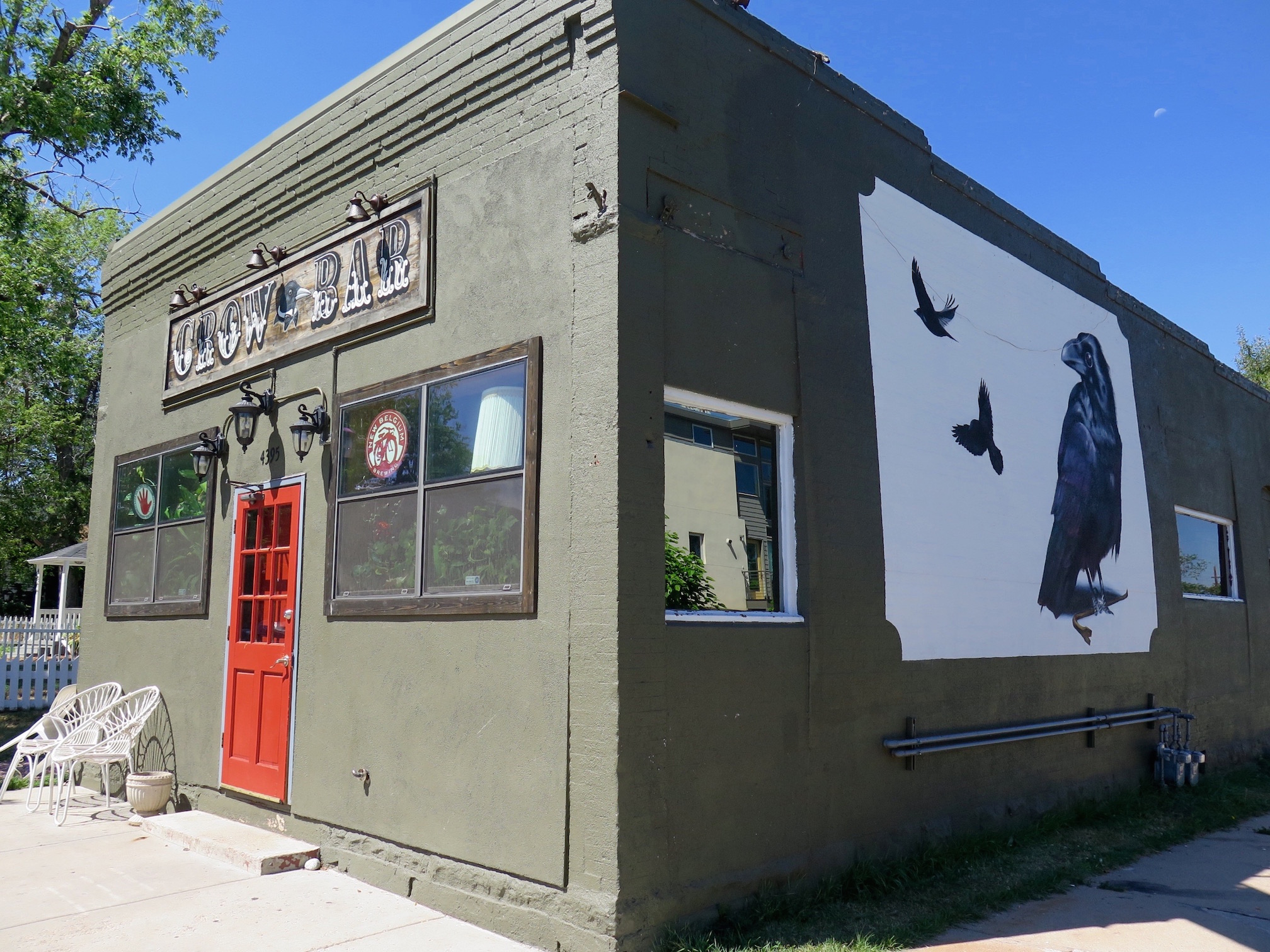 Where: 4395 Yates St., Denver
The Lowdown: Crow Bar is a loved spot among locals in the Highland area. It's a well-balanced combination of classy and dive bar, with a delightful pun name. The simple and sophisticated mural stands out as a stamp for the essence of the bar, with a white background and photorealistic crow.
---
RiNo
The Populist
Where:  3163 Larimer St., Denver
The Lowdown: Painted during Colorado Crush last year by Denver-based artist Axel Geittmann, the white mural on the black wall of The Populist has the appeal of a sketch in negative space. It's largely abstract, though two skeletal arms and a feather can be seen quite clearly, and the whole thing seems to be coming from beneath the sidewalk. It's creepy only in the sense that the creepiness sets in if you look at it for a long time. Otherwise, the turbulent and well-executed design may be lost on you if you're walking by in a hurry.
Bar Fausto
Where: 3126 Larimer St., Denver
The Lowdown: Seen from the north side of Bar Fausto, the snake and moon mural by Lauren Napolitano (aka @peptalks) is elegant and powerful. Napolitano is a traveling artist who has been coming to Denver for the past few years to show her smaller artwork at the gallery Svper Ordinary. She made use of her time in Denver by creating a few different pieces of street art in the same style as the one on Bar Fausto. The symmetry, subject matter and color palette are inspired by her mother's Mexican heritage as well as her desire to express feminine qualities through art.
Crema Coffee House
This slideshow requires JavaScript.
Where: 2862 Larimer St., Denver
The Lowdown: Crema Coffee House, as a corner building on Larimer Street and 29th Street, had both the front-facing wall and the side wall painted by two different artists. Artist and certified Reiki Master instructor Gemma Danielle (aka @optimysticism) painted the gold mandala on the wall facing Larimer Street. In her artistic practice she uses many of the techniques she has learned in gaining her Reiki certification and from other meditative techniques — like mantras and repeated prayers as she draws each line.
On the wall facing 29th Street, celebrated Denver artist Mike Graves (aka @mikeroane) painted two characters along with flowers and stars. His unique style for creating characters means that anytime you see his work, you know it's him. The fish design is repeated on the inside of the coffee shop as well, where Graves painted portions of drywall between exposed areas of brick.
Nocturne
This slideshow requires JavaScript.
Where: 1330 27th St., Denver
The Lowdown: Renowned Denver artist Thomas Evans (aka @detour303) and his unmistakable style can now be seen all over Denver, brightening up whatever he puts his hand on. In this case, it's a garage door at the jazz bar Nocturne in RiNo, depicting the American jazz drummer Art Blakey — a fitting ode. Evans painted this during Colorado Crush last year and the colors are still as bright as if they were painted yesterday.
The Matchbox
This slideshow requires JavaScript.
Where: 2625 Larimer St., Denver
The Lowdown: The back patio at The Matchbox can get so crowded at night that you may not realize that every wall is painted with murals. The biggest one is completely covered in faces, eyes and other recognizable symbols (like the Bat Signal) painted mostly in primary colors by David Shillinglaw. Though it's more difficult to see the whole picture from inside Matchbox, from the parking lot next to it you can see the large lettering telling you to "keep smiling."
Larimer Lounge
This slideshow requires JavaScript.
Where: 2721 Larimer St., Denver
The Lowdown: To commemorate what would have been Kurt Cobain's 50th birthday (on February 20, 2017), Remington Robinson painted a photorealistic tribute to him with the words "smile" in the background on the bottom corner of Larimer Lounge's parking lot wall. Robinson is traditionally a classical painter and sometimes he uses acrylic paints in his street art in addition to spray paint or in favor of it entirely. Painting buddy Pat Milbery painted the rest, with bold white and black jagged lines and a logo design for the lounge.
First Draft Taproom & Kitchen
Where: 1309 26th St., Denver
The Lowdown: Simple, sensual and larger than life, this painted woman came from Denver-based artist Michael Ortiz (aka @illson) whose style centers on using ovals and other rounded shapes. This one looks slightly different depending on where you are sitting and in a way, the expression on her face changes too. Without needing to paint the entire wall, Ortiz succeeded in using the most efficient amount of space (without covering the window or being under the eave, for instance) while also using that shape to benefit his painting. Have a beer and some food at First Draft Taproom & Kitchen while you have a staring contest with this giant lady next time you're in RiNo and you won't regret it.
Our Mutual Friend Brewing Company
Where: 2810 Larimer St., Denver
The Lowdown: The mural on the front of Our Mutual Friend Brewing Company was painted initially in 2015 by Jeremy Burns (aka @jaysaybay) with a white background and the two figures composed of horizontal stripes. Burns repainted it last year, adding a blue background and changing the figures to have opposite geometric shapes. In the middle, above the front door, the two figures meet to shake hands in a white and black circle. Burns is probably most known for the double-sided mural titled "Larimer Boy and Girl" — where you see a boy or a girl when you approach it from opposite directions — among other Denver murals he has painted.
Ratio Beerworks
Where: 2920 Larimer St., Denver
The Lowdown: Painted by Portland artist Blaine Fontana during Colorado Crush last year, this mural is technically within Ratio Beerworks' patio area, but can be easily seen from the street as well. Like all of Fontana's art, this mural is bursting with overlapping images that are accentuated by geometric patterns. The colors range from bright, almost neon hues to muted earth tones that altogether provide an energetic ambience to match Ratio's popularity.
Rebel Restaurant
Where: 3763 Wynkoop St, Denver
The Lowdown: Painted in 2015 by the Denver artist Pedro Barrios (aka @pbarriosart) on the side of Rebel Restaurant, this mural uses every square inch of the wall to its advantage. Even the window is integrated, giving the eye of one of the skulls an almost robotic touch. There is a sense of duality in the painting — without being insensitive to gender stereotypes — where one side is more masculine and the other feminine. Ultimately, it's a fun-loving piece that exemplifies balance and the beauty of being different from others.
---
South Broadway/Baker
El Noa Noa
Where: 722 Santa Fe Dr., Denver
The Lowdown: As part of a campaign proposed by Visit Denver, the Love This City murals have been painted in various areas of the city by a team Denver street artists. This one is on the side of El Noa Noa restaurant on Santa Fe and was painted by three of the four — Pat McKinney, Jason Graves and Pat Milbery. The best view of it, however, is from El Taco de Mexico next door, where you can sit on the patio almost directly beneath the mural. From that vantage point, you'll appreciate the bold use of color, the excellent line work and the many separate elements that make the piece quintessentially Colorado.
The Living Room
This slideshow requires JavaScript.
Where: 1055 Broadway, Denver
The Lowdown: This piece on the side of The Living Room on Broadway is another tribute mural, this time to five fantastic musicians — Louis Armstrong, David Bowie, Frank Sinatra, John Lennon and B.B. King. Composed primarily with shades of gray, the highlights of pink, red and blue offer a nice and unexpected touch. The grayscale works well as a reminder that we no longer have these musicians gracing our ears or lives.
Señor Burritos
Where: 12 E. 1st St., Denver
The Lowdown: For a little culture and a look at some of the art of one young and talented Denver-based street artist, check out Señor Burritos east wall, by the parking lot. Bimmer Torres (aka @bimmer_t) has painted many large scale murals around town that are steeped with dynamic visions of color, layers and usually revolve around a central figure. His attention to detail is breathtaking from far away and up close.
Declaration Brewing
This slideshow requires JavaScript.
Where: 2030 S. Cherokee St., Denver
The Lowdown: The murals on the outside and back patio of Declaration Brewing are pretty damn patriotic and give the place a festive feel all year long. The front murals are titled "Drop Beers not Bombs" and depict exactly what you think they do. On the back patio, artists Pat Milbery and @def3 painted a dedication to America, complete with an Uncle Sam holding a beer and pointing at you, along with an eagle and some majestic mountains. These murals set Declaration Brewing apart from its neighbors because the brewery resides in a warehouse area where all the other buildings are unadorned.
Capitol Hill
Illegal Pete's Colfax
This slideshow requires JavaScript.
Where: 2001 E. Colfax Ave., Denver
The Lowdown: Painted within the last month, the enormous mural on the east side of Illegal Pete's Colfax is another one of Mike Graves' creations. Using his love of character building and the funky personality of Illegal Pete's, Graves created a piece that's both wonderfully imaginative and weirdly fitting. Complete with PBR cans and bottles, for the true East Colfax vibes. On the other side from Graves' mural there are three paintings of a style that can be found at the other eight locations as well.
Cheba Hut Capitol Hill
Where: 638 E. Colfax Ave., Denver
The Lowdown: Weed lovers can rejoice, if they haven't already, by the "Kindly Toasted on Colfax" mural by Pat McKinney and Pat Milbery on Cheba Hut. There's not much subtlety in this piece, with overlapping weed leaves in a spectrum of green shades surrounding a central skeletal figure holding a sub and drink from Cheba Hut. And let's be honest, Cheba Hut is never about subtlety, so this mural compliments their business like a toasted sub compliments a toasted person's appetite.
---
All photos by Cori Anderson unless otherwise noted.