"Alright, I'm going to need some motivation," said the young female in an orange bra and cutoff shorts as she breathed heavily walking up the ramp to enter Red Rocks.
"How about this fucking concert we are about to go to," said her uncaring male friend, decorated head-to-toe in raver attire,  which included wrist to elbow "kandi."
The trek up to Red Rocks is a rough uphill battle, but once you enter the great monoliths of fun, it all becomes worth it. You can start to hear the music, smell the beer and people watch what is sure to be an amazing spectacle.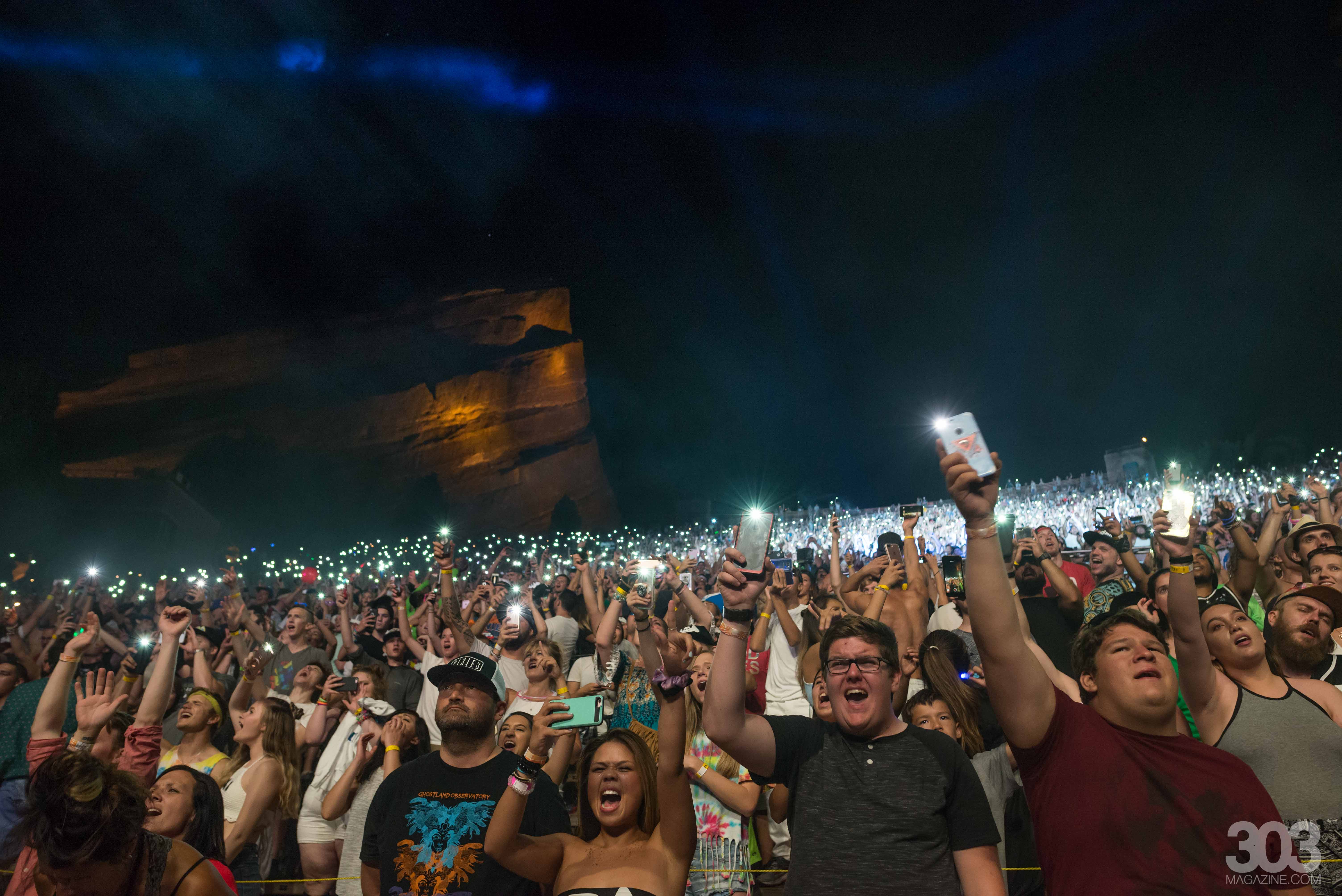 Sunday night was just like every other night at Red Rocks, except this night was Trapfest and the weirdos of our great city were out in flocks. Typically concerts rake in a very specific kind of person, and while the standard EDM uniform was in full force (unitard and shorts or bra and fishnets) there was an eclectic audience for this show, to say the least.
Trapfest is a festival to celebrate trap and bass music, and it always boasts the top players of the moment in the genres. The lineup for Sunday was PRXZM, Sikdope, Slushii, Jai Wolf and Marshmello — one of the biggest names in EDM right now. Despite being a nameless icon for trap and dub, Marshmello has a cult following of his "Mellow Gang," which showed up fully decked out in his hard-to-miss merch — all of which was decorated in his signature look, a marshmallow with its eyes crossed out.
Slushii pumped up the nearly full venue with his earlier slot, his blue hair matching the exact hue of the jersey he was wearing, which could also be purchased at the merch booth. His set, being catchy and fun, did not contain too much music that would have been original. He rocked remix after remix of Nelly, Linkin Park, the White Stripes and Dr. Dre. After rounding out his set to the Chainsmokers "Closer," Slushii took a family photo with the crowd and made room for Jai Wolf.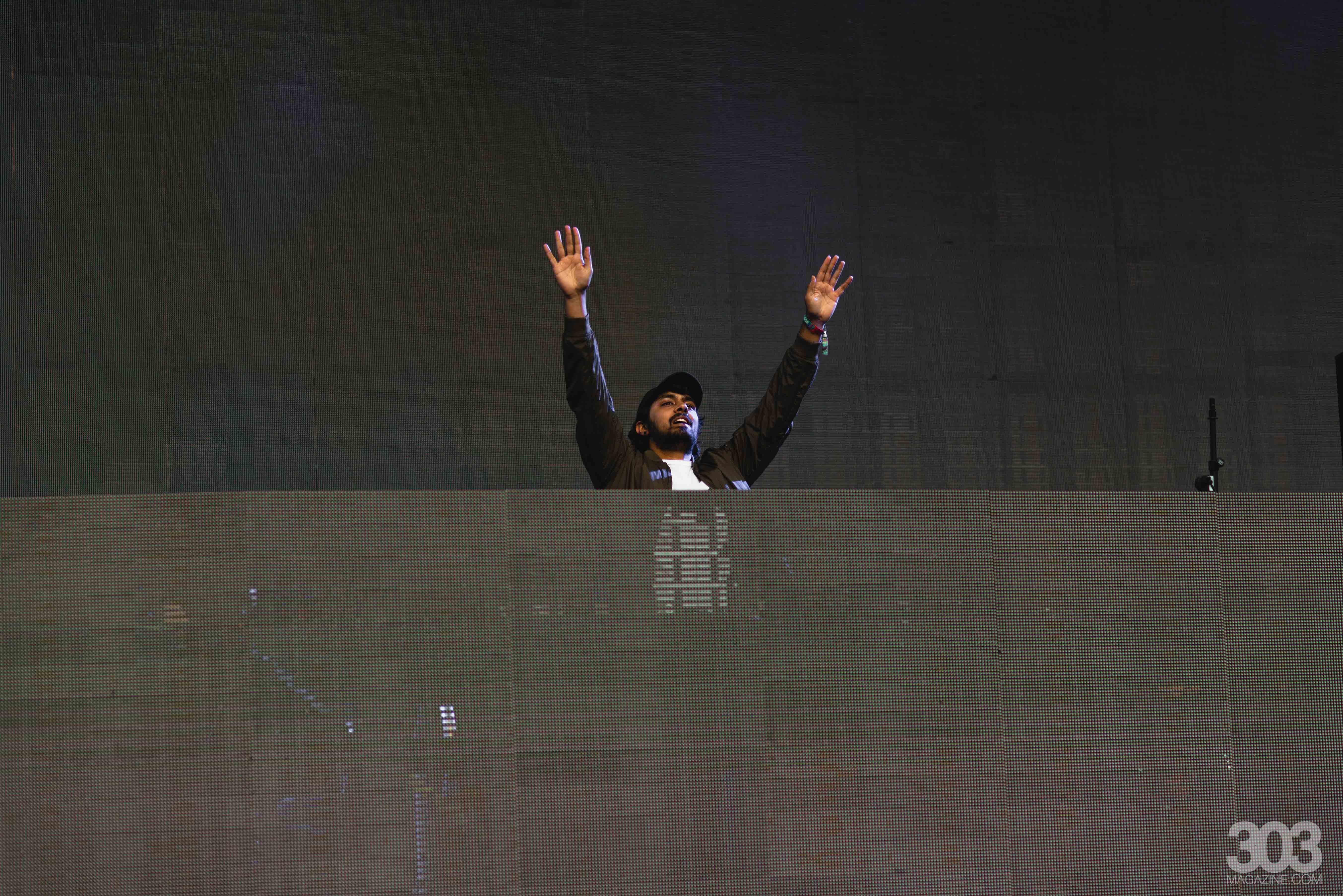 For Slushii's heavy drops and danceable remixes, Wolf took a different approach to his set. Setting a nearly transient tone, the previous neon flashing lights changed to solemn bursts through outer space while he slowly waved back and forth. Wolf also took a much more toned down approach to the way he dressed, wearing a black jacket and dark baseball cap pulled down over his eyes.
After about three songs the tempo of the tracks began to pick up and feel a bit more appropriate. Wolf intertwined Outkast and The Weekend and girls all over the giant LED screen could be seen twerking in their tiny outfits. His easy listening tunes went well with a beautiful sunset over the ridges of the rocks and while he seemed to be popping out songs more original than his predecessor, he still worked in plenty of bangers that weren't his own, including "Mask Off" by Future. Wolf ended his slot with his crowd favorite "Indian Summer" before taking a family photo of his own and hopping offstage.
As the break commenced, it was noticeable for the first time how many of children were there. That is not even in reference to 13, 14 or 15-year-olds, which are to be expected at any given EDM show. However, there were actually children at this concert, with their parents and all. The house music blared Bob Marley for several tracks as the ravers gave each other light shows with novelty blinking lights from many various vendors walking the stairs.
At 9:20 p.m., the sold-out show was greeted by its headliner, the mysterious Marshmello. Decked out in his signature custom mask and a Denver Bronco's jersey, the musician knew what he was doing to get the hype of his fans going. The energy of the crowd shifted immensely, going from drifting in and out of focus to the music to nearly catatonic stares and dancing religiously to every shout, drop and breakdown the 'Mello had in mind.
Sparks, fire and smoke blasted out of tubes in the front of the stage and the backdrop behind the artist featured never-ending cartoons of a marshmallow blasting through clouds, walking in the woods or floating above a city much like in a parade. A sea of white t-shirts adorning just the face of the infamous mask jumped up and down to tracks featuring everything from D.R.A.M.'s "Broccoli" to blink-182's "What's My Age Again."
"Where my Mello Gang at?" asked the star of the show before bobbing his color-changing mask to last year's "Summer" and calling out a homemade Marshmello flag. The next two tracks were treated much like sing-a-longs, what with the lyrics of "Alone" being displayed on the LED in giant bubble letters and Bon Jovi's "Prayer," one of few songs any rational person cannot go without screaming if given the chance.
"Where my head bangers at right now?" asked Mello to the eager crowd.
It was hard to tell when the night would ever be done, especially when the slow jam of Oasis' "Wonderwall" ended on the giant stage set-up and became completely engulfed in digital flames and sliced right into one of the dirtier get downs of the evening. However, it had to end sometime, and seeing as Red Rock's new rules kick us out earlier than every before this year, it is probably safe to say there were many a disappointed fan dancing their way to the parking lot.
All photography by Alden Bonecutter.