These days, the infamous Red Rocks Amphitheater is all fun and games for us music lovers. We know it's beautiful, we know the acoustics are unprecedented and we know that when we are there we are bound to have a damn good time. What we often forget is that our beloved amphitheater has a history, and is constantly breaking its own records for the best and the most. With more transplants making themselves at home here in the Denver metro area, it's with the help of its nearby and exponentially growing population that keeps Red Rocks' own little Guinness Book ever-interesting.
When the amphitheater initially opened to the public for performances on June 15, 1941, there was no way of knowing how integral Red Rocks would become to the culture and lifestyle of Colorado. Though there are much bigger venues than this one that holds just under ten thousand seats, Red Rocks has become a huge part of our state history, sitting at 6,450 feet and sprawling across 738 acres. And though it only became a National Historic Landmark two short years ago, the park has been a place of pride for Colorado for over 75 years.
The place even has a national award named for it — After winning Pollstar Magazine's award for best small outdoor venue 11 times in a row, the magazine decided to take Red Rocks out of the running altogether and name the award the "Red Rocks Award." Still, there are things we didn't always know about the history of this incredible place, and we hope this will help you gain a good sense of perspective next time you find yourself staring out at the horizon from one of the amphitheater's 60-something rows.
The Earliest, and Largest Performances
The earliest documented performance wasn't anything like the electronic dance parties are jam-band fests we are used to hogging up the concert calendar. This first performance was called Grand Opening of the Garden of the Titans, featuring Pietro Satriano and his 25-piece brass band and took place on May 31, 1906. The largest-scale performance is Feast of Lanterns that took place on September 5, 1908, which was patterned after the annual Chinese New Year Festival in Nagasaki, Japan and featured four military bands and fireworks from two intermediate hills — Mount Falcon and Mount Morrison. This event commemorated the opening of the scenic road past Mount Falcon.
The Largest Riot
Of course, it wasn't until that fateful day in 1941 that things took a turn for interesting. Since its official opening day 76 years ago, all sorts of madness, mayhem and magic has occurred within the amphitheater. Following a Jethro Tull performance in 1970, a five-year ban of rock concerts at Red Rocks went into effect until 1975. Known as the "Riot at Red Rocks," this was the infamous night where an approximate 1,000 un-ticketed people arrived at the sold-out show, breaking through police barriers and storming into the venue. Though much in-line with the happenings across the country and within the counterculture during this time, Mayor William McNichols was, understandably, not empathetic.
The Longest Unofficial Ban

The jam-band kings Phish had been banned indefinitely performing at Red Rocks after a four-night run in 1996 until 2009, the longest "unofficial" ban of a performer in Red Rocks history. Residents in Morrison were upset with the noise and debauchery brought to their small town by the band's performances, and Phish wasn't welcomed back to the venue until thirteen years later. However, by then they were ready for bigger venues and are no longer regulars on the Red Rocks calendar.
The First Notable Rock Show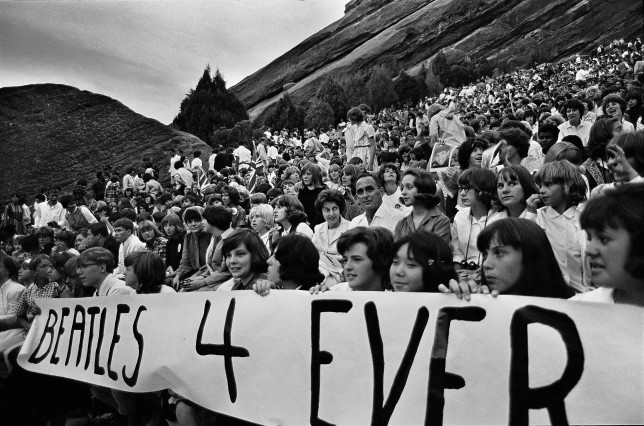 Still, rock 'n' roll can more often than not be extremely successful at Red Rocks. The first notable rock show was The Beatles on August 26, 1964. They were the biggest musical and pop-culture sensation at the time, yet oddly enough, this was the only date on the Beatles' tour that year that did not sell out, with attendance maxing out at around 7,000. Even odder — Red Rocks is only one of four venues on that 24-date tour that is still open today.
Most Sold-Out Performances
Southern rockers Widespread Panic hold the record for most sold-out performances at Red Rocks, sitting at 51 shows since June of 2016. With a hold on one full weekend each year in late June, the band will be reaching sold-out shows 52 to 54 at the Rocks this month.
Most Times Played In One Year
Gov't Mule frontman Warren Haynes performed eight times at the venue in 2004. This included five shows with the Grateful Dead, twice with the Allman Brothers and once with his main band, Gov't Mule.
Youngest Performer
The child guitar prodigy Jaden Carlson has performed at Red Rocks now not once, but three times. Her first and second times were adjacent evenings when she was just 11, alongside the likes of Blues Traveler and Michael Franti and Spearhead. Now only in her teen years, there's no doubt her number of shows at the Rocks will skyrocket.
Longest-Standing Annual Performance
Blues Traveler has played at Red Rocks every Fourth of July since 1993, with the exception of one year, when lead singer and harmonica player John Popper was undergoing heart surgery. The Independence Day show has become a Colorado tradition, and we don't see it going anywhere anytime soon, especially since the band consistently shares its evening with opening acts and co-headliners to make the holiday extra special.
Longest-Standing Annual Series
Reggae on the Rocks is still an annual day festival after 27 years and counting. It's a day-long concert series, typically in August, that boasts the greatest modern-day reggae performers on its bill. Reggae on the Rocks is a vital piece of the Red Rocks summer concert season.
The Least Photographed Show Ever
Meanwhile, there exists no known photographs or recordings of the Jimi Hendrix Experience Red Rocks performance on September 1, 1968.
The First Time Anyone Played Four Consecutive Nights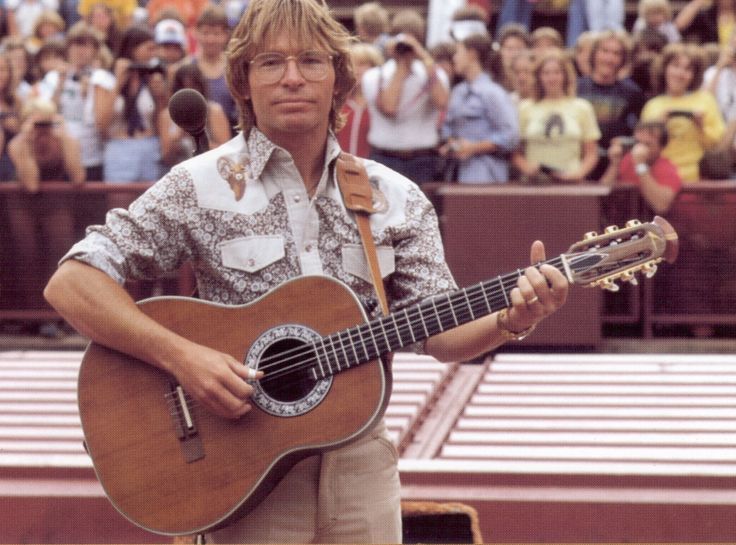 John Denver holds the record for the first time anyone played four consecutive nights at Red Rocks, which occurred in 1974. If anyone holds that honor, it's only fair it would be him.
Most Shows in a Year
There's more competition each year for musicians to snag a performing slot at Red Rocks. What once was a summer concert season has turned into a nearly year-round concert season, with 2017's concert season unofficially kicking off on January 27 with Winter on the Rocks featuring Zedd. The venue itself has broken its own record for most shows in a year — jumping from 73 paid events in 2010 to 155 in 2016.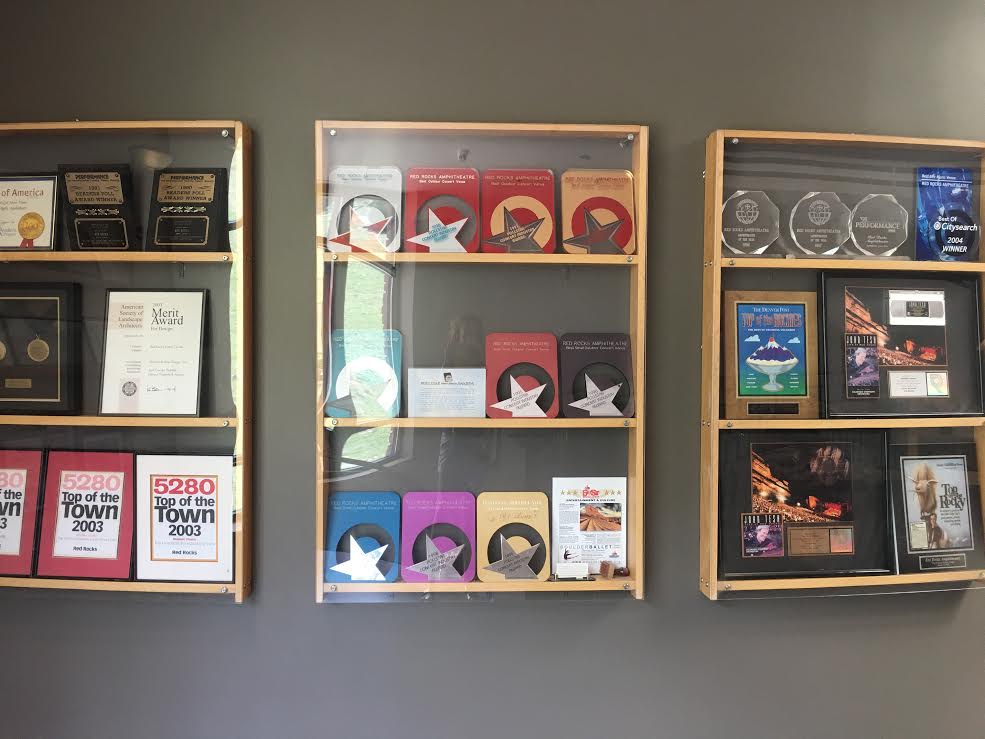 The good news is, this ever-expanding concert season allows more opportunity for bands to get their fair chance to perform at the epic venue while still allowing bands like Widespread Panic, String Cheese Incident, Umphrey's McGee, The Avett Brothers and STS9 to "bogart" full weekends each year. Someday, some band might break the records currently held by John Denver and Widespread Panic, and you bet we'll be around to witness that when that next band lands a four-night run or hits 50+ sold-out shows.
You can check out the full 2017 Red Rocks lineup here along with all of our recent coverage on the venue here.