Nearly seven years ago, when Denver was creating a plan to develop the northeast side of downtown, an idea was proposed. The concept revolved around 21st street and how to activate it for the community. "We talked about transforming 21st into a festival street. [We] didn't really give too much background into what that was, [but] it was kind of a big idea at that point," explained Steven Chester, senior city planner for Denver. "I thought it was a great idea, some people in the city thought it was a crazy idea."
For Chester, as a city planner, overseeing long-term projects with lofty goals is rather routine. But even for him, the temporary pop-up park now known as The Square on 21st is a big deal.
"I've never worked on a project, where at all the public meetings at the end people stand up and applaud," said Chester. As he explained, the project has not only been heavily supported by the community but they've driven it. From providing feedback to helping paint new tree planters, the neighborhood has their fingerprints on every aspect. As a result, The Square on 21st has become much more than a public gathering place.
This slideshow requires JavaScript.
Everything from a high-tech transportable dog park, to a space for food trucks, a mini-farmers market, a juice bar, a shaved ice stand, a stage, a micro-library and a space to rent out lawn games are included. After hearing the laundry list, it's almost hard to believe all of that can fit into one block. This doesn't even include all the events that will be staged here (like outdoor movies and beer festivals) as well as an active bike lane that will hopefully connect to a potentially large city-wide route called "Downtown Loop." But, as Chester explained, this is what the community wants and they wanted to deliver.
"This neighborhood is one of the most underserved by [Parks and Recreation] in the entire city. There's no green," he explained.
But while the project on the community side has been a relatively smooth success, there have been new challenges internally since the project involves many different departments working intersectionally.
"I'm building a park (which is Parks and Rec) that's in the right of way (which is Public Works), so it's really that idea of breaking down styles of city government in action," he explained. "But I think through this process we've identified a lot of efficiencies and if we're going do this again it would go even faster and probably could do even cheaper."
This slideshow requires JavaScript.
One of the most literal representations of departments converging can be seen through the large Colorado flag mural painted by the collective So-Gnar. Because, if you take a close look, you'll notice that the flag's red isn't the vibrant crimson you may recognize from the state's icon.
"The red is prohibited," said Pat Milbery of So-Gnar. He explained that since it's painted on the street, certain colors couldn't be utilized so not to confuse drivers. "Same with yellow, so we tried to focus more on the pink tones with the magenta and then using other tones to accent that." The outcome ended up lending itself well to the massive piece of art that spans nearly the whole block — and good thing because it's made to up to five years — which is much longer than your typical street mural.
"'It's like a concrete stain and it has a solvent quality so it basically melts itself into the asphalt and it bonds with the asphalt," said Milbery.
Beyond the mural, many other areas of the park are representations of collaborative efforts. Everything from the architectural entrance designed by students of the University of Colorado Denver down to the high-tech gravel tested by the Colorado School of Mines has a sense of community involvement. There's almost no detail left untouched.
Chester explains that is the way it should be. Because while The Square at 21st might look like a new concept, in the end, it's still a Denver park that's designed for community and congregation — even if it does look a bit more cool.
The Square on 21st officially opens on Thursday, June 15 and will last until August 15. It is located on 21st Street between Larimer and Lawerence Street. It is a joint project from the city of Denver and the Downtown Denver Partnership.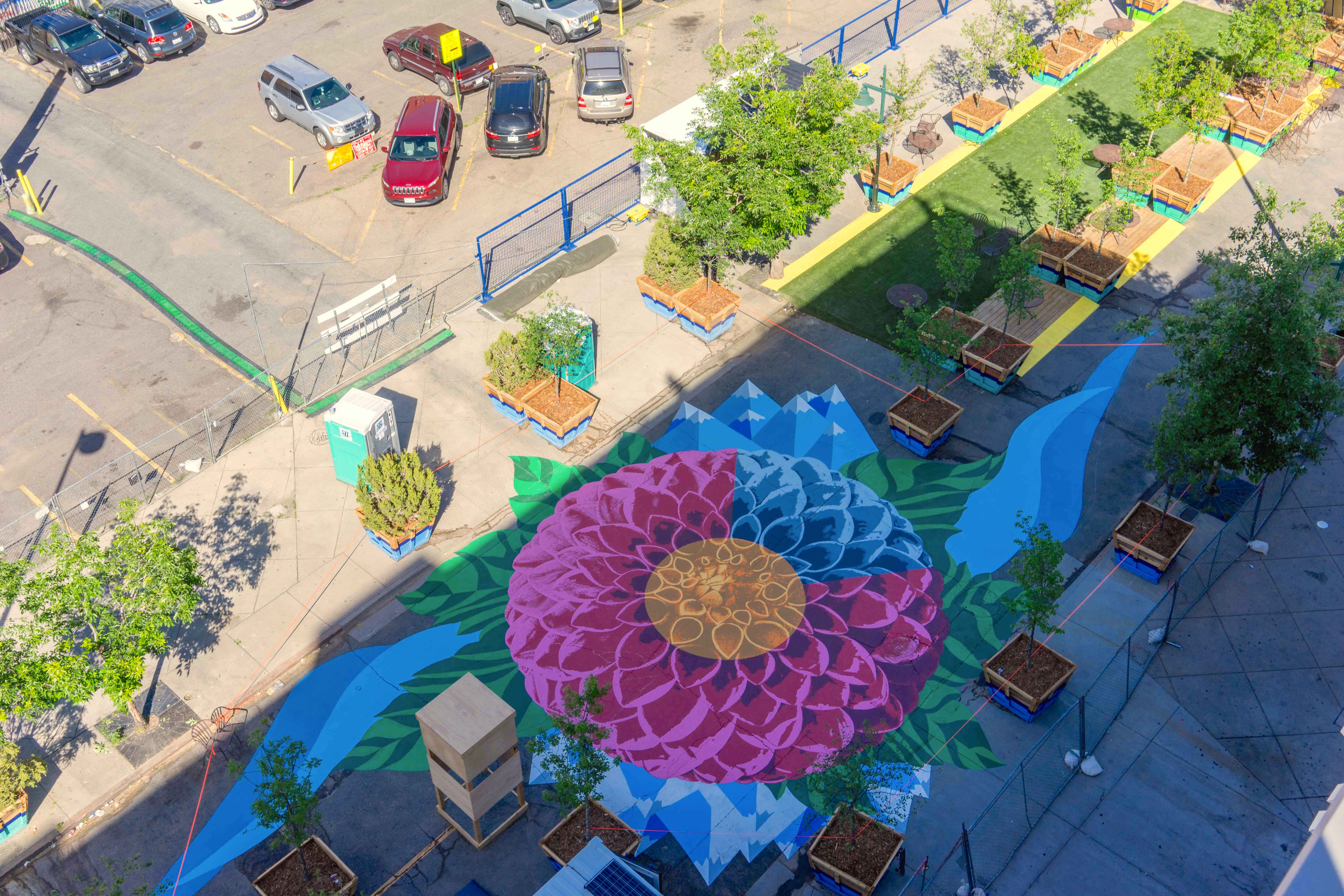 All photography by Brittany Werges.