One of the most exciting projects in Colorado's music scene is set to be publicly unveiled soon. Levitt Pavilion, a non-profit outdoor music venue featuring 50 free concerts a year, has been erected on the rapidly redeveloped Ruby Hill Park in south Denver and plans to officially launch this summer. Featuring a myriad of local and national talent, Levitt Pavilion seeks to become a family and budget friendly entertainment hub just outside the city. As opening day lingers on the horizon, we have compiled a list of everything you need to know about the new venue coming to town.
1. Levitt Pavilion Is The First And Only Free Cultural Venue In Denver
Located in south Denver's Ruby Hill Park, Levitt Pavilion is the first and only free cultural venue in Denver. Featuring 50 free concerts a year in addition to 15-20 ticketed events. The venue's focus is providing a launching pad as well as a larger platform in general for local and emerging artists.
2. Levitt is projected to be about two and a half times bigger than Red Rocks Amphitheater
Ruby Hill Park was the only park in Colorado considered for the Levitt Pavilion. Due to its underutilized green space and other Denver parks reaching critical mass. The bowl where Levitt is now located is also projected to be about two and a half times bigger than Red Rocks Amphitheater — it was deemed the perfect location.
3. The Levitt Foundation has locations in 24 US cities
The Levitt Foundation has locations in 24 US cities on public land in addition to Denver's Ruby Hill Park location. The other cities include Los Angeles, which is celebrating its 11th anniversary this year.
4. The Levitt Pavilion Will Be Focused on Emerging Colorado Artists
Each of Levitt's locations has a commitment to embracing the culture and personality of the cities in which they reside. In fact, the Colorado-based acts featured at Levitt Pavilion are expected to be paid above local scale. Colorado-based bands will be featured in every Levitt Pavilion show including a Colorado Music Series which will feature co-headlining Colorado bands. So far, this series has six shows scheduled in 2017 and 10 in 2018.

5. Levitt Pavilion Is Set To Open July 20
The 7500-capacity Levitt Pavilion is slated to open July 20 with a performance by three Colorado-based bands: Slim Cessna's Auto Club, Halden Wofford and the Hi-Beams and Andy Thomas' Dust Heart. While Levitt's free events encourage an RSVP, executive director Chris Zacher has insisted that the RSVP is primarily to get a preliminary count and that all are encouraged to come whether they have the means to RSVP or not.
6. The Levitt Pavilion Will Feature Cutting-Edge Architecture
The architecture of Levitt Pavilion is going to set the venue up to be one of the most modern venues in Denver. The metal mesh-clad building will be underlaid with a LED screen surrounding the stage. The stage will be 43-feet wide in the front, 30 feet deep and 60-feet wide in the back. The venue will include built-in food truck pads and concessions.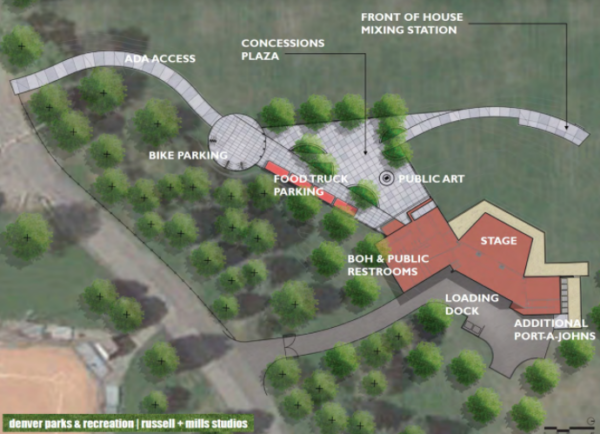 7. Levitt Pavilion Has Spent Years Scouting Artists
For booking artists, Levitt has partnered with Illegal Pete's to run a contest that would allow the public to nominate local artists to play the venue. In addition to the contest, Zacher and Chase Wessel, Levitt's talent buyer, have spent years scouting local artists, who they intend to start out with co-headlining shows based on these artist's ability to draw attendance at some of Colorado's other local venues.
8. UB40 And 311 Will Launch Levitt's Ticketed Concert Series.
In terms of ticketed concerts, Levitt Pavilion has already announced a preliminary lineup for their inaugural season. UB40 with Matisyahu will quickly follow up the opening night with a ticketed performance on July 21.  Then on Aug. 11,  311 will be performing with New Politics and the Plates.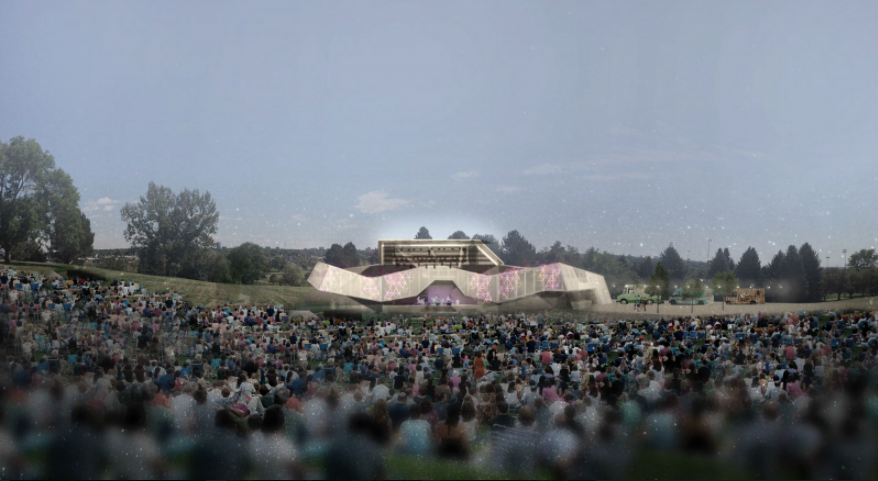 9. Levitt Pavilion Will Be Open to Outside Promoters And Others To Utilize
When the Levitt Pavilion is not being utilized by its official concert series, the venue will be available to schools, arts organizations, other non-profits and outside promoters. By allowing the venue to be utilized by third-party entities, it allows those a bigger platform who cannot compete with promoting juggernauts such as AEG Live.
10. Levitt Pavilion Will Offer A Paid Internship Program To At-Risk Youth
Aside from the music, the nonprofit Levitt Pavilion offers a paid internship program for at-risk youth as a partnership with several other Colorado nonprofits such as, Youth on Record, Swallow Hill Music and the University of Colorado Denver's Music Entertainment Industry Studies Department.