All hail Ullr! Only in Colorado will we celebrate four feet of snowfall by breaking the record for the world's longest shot-ski. This past weekend, Breckenridge celebrated their 54th annual Ullr Fest with some sledding, an ice plunge, a parade and 1,234 ounces of whiskey. Ullr (rhymes with ruler) is the Norse god of winter, snow and more specifically, snowshoes. The four-day festival pays tribute to Ullr in hopes of bringing snowfall to Breckenridge and surrounding peaks. Clearly, it worked (ahem, Crested Butte).
This year, the most noteworthy event happened on Thursday, January 12. Festival participants gathered at Breckenridge Distillery for the shot-ski. The previous record for longest shot-ski was held last year in Park City, Utah with 1,191 people. This year Colorado showed up as 1,234 people stepped up to the ski and prepared to take their shot. It was a 1,997-foot ski composed of 420 individual skis and 1,234 ounces of Hot Box Mountain Shot, a cinnamon whiskey that's 66.6 percent alcohol by volume.
Following after shot-ski, the annual Ullr Fest Parade lined the streets. The snow-themed floats included a ski jump, dogsled teams and Vikings—lots and lots of Vikings. The Mario Kart themed float took home third place and $200. Second place went to the Ullr Love Boat as well as the choreographed dance crew on board. They also danced away with $300. And the winners of the Ullr Fest Parade went to the Kids Ski Jam, complete with an actual ski jump. They caught $500 while flipping through the air.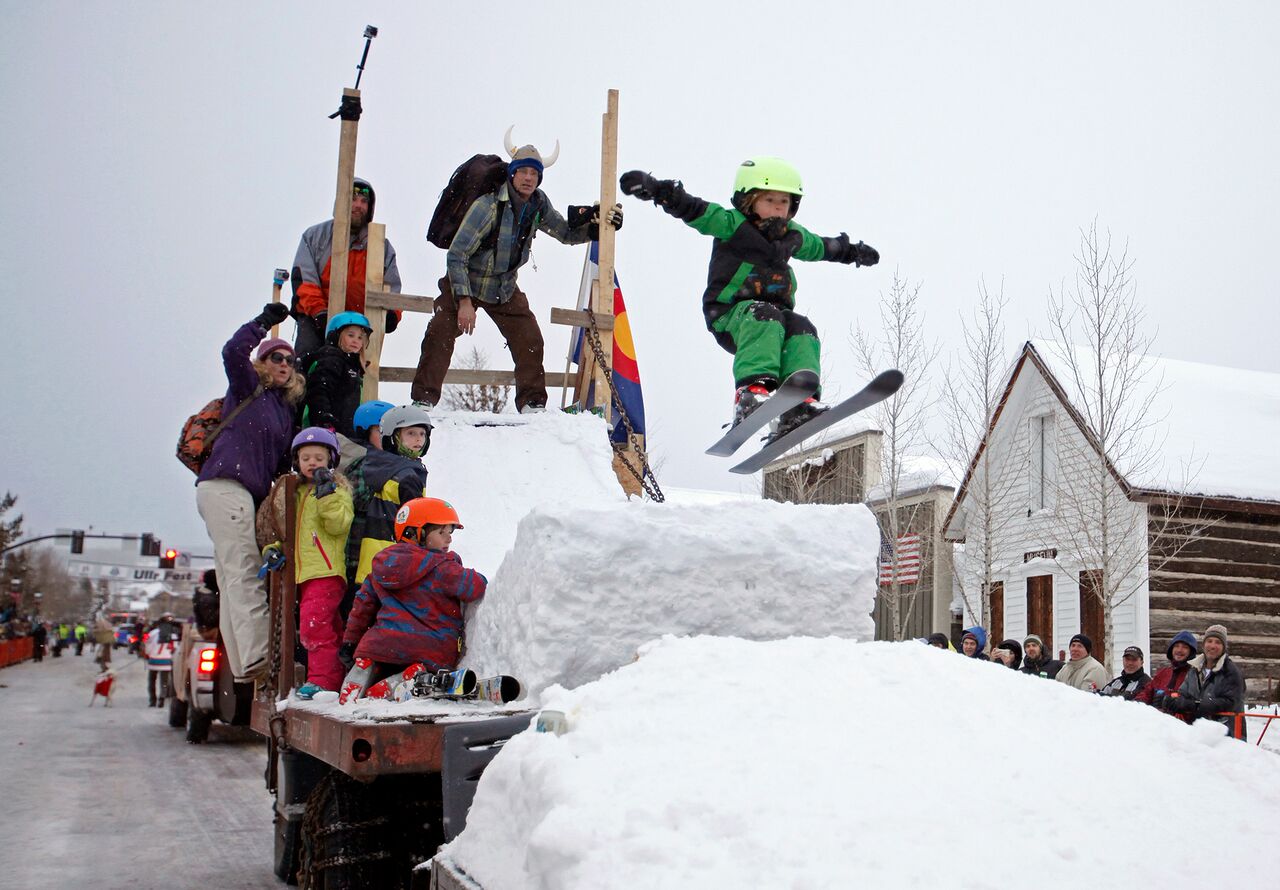 Ullr Fest isn't one to miss and lucky for us, it's an annual thing. For more information on Ullr Fest and other upcoming events, visit GoBreck.com. The International Snow Sculpture Championships and Mardi Gras are coming up. Just to name a few.
And congratulations to our world record holders for the longest shot-ski. You made Colorado proud.