Winter's chill has arrived in full force and with it, we slowly break out our warmest mittens, coats and earmuffs and clear our schedules for some festive activities going on this week. Denver is in full seasonal swing hosting events ranging from seasonal menu releases, concerts, beer tastings and much more.
Monday, December 5
24 Carrot Bistro Hosts an End of Prohibition Celebration
When: Monday, December 5, 6 p.m. – 9 p.m.
Where: 24 Carrot Bistro, 578 Briggs St., Erie
The Lowdown: In celebration of the 1933 amendment to prohibition laws, guests of 24 Carrot Bistro will explore its new drink list and seasonal menu. There will be a live jazz band to accompany the prohibition-era themed food and spirits. Make sure you dress the part — costumes encouraged but not required. To make a reservation call 720-329-7327
9th Annual Wassail Days Celebration and Free Winter Tubing
When: Monday, Dec. 5 at 4:00 p.m.
Where: The Frisco Adventure Park, 621 Recreation Way, Frisco
Cost: Free (reservations strongly recommended)
The Lowdown: Frisco Adventure Park invites everyone to come test out their new winter tubing lanes for the 2016/17 winter season. This is one of many events happening in Frisco during the week in celebration of the towns 9th annual Wassail Days celebration. Wassail is an Old English warm apple cider that will be served in shops throughout the town for the entirety of the week. Twelve participating establishments put their own twist on the traditional drink in hopes of winning the best recipe in the "12 Sips of Wassail" 2016. To make a reservation call 970-668-2558
Tuesday, December 6
Appaloosa Grill's Art from Ashes Holiday Celebration
When: Tuesday, December 6, 6:30 – 9 p.m.
Where: Appaloosa Grill, 535 16th St, Denver 16th Street Mall
Cost: Donations can be made to Art from Ashes
The Lowdown: Pheonix Rising youth poets will perform slam poetry and spoken word as part of Appaloosa Grill's holiday celebration. To accompany the poets, DJ Check One will be in house spinning vinyl so be sure to bring your dancing shoes. Enjoy local slam poetry performances and purchase drinks to receive complimentary appetizers to courtesy of Appaloosa Grill.
Wednesday, December 7
Yoga Meets Beer at Great Divide Brewery
When: Wednesday, December 7, 6 — 7 p.m.
Where: Great Divide Barrel Bar, 1812 35th St., Denver
Cost: Free
The Lowdown: Bring your thirst, a mat and a friend for an hour of meditation and libations this Wednesday. CorePower Yoga and Great Divide Brewing Co. have merged two of Denver's most up and coming communities — yoga enthusiast meets the beer connoisseur. Melissa Loeffelholz of CorePower Yoga RiNo will instruct a free introductory class with extra hands on adjustments with additional help from CorePower teachers. Open your mind and tip a glass to a refreshing session of meditation with Great Divide and CorePower Yoga.
Thursday, December 8
Nocturne releases Renditions of Tasting menu with Gypsy Swing Review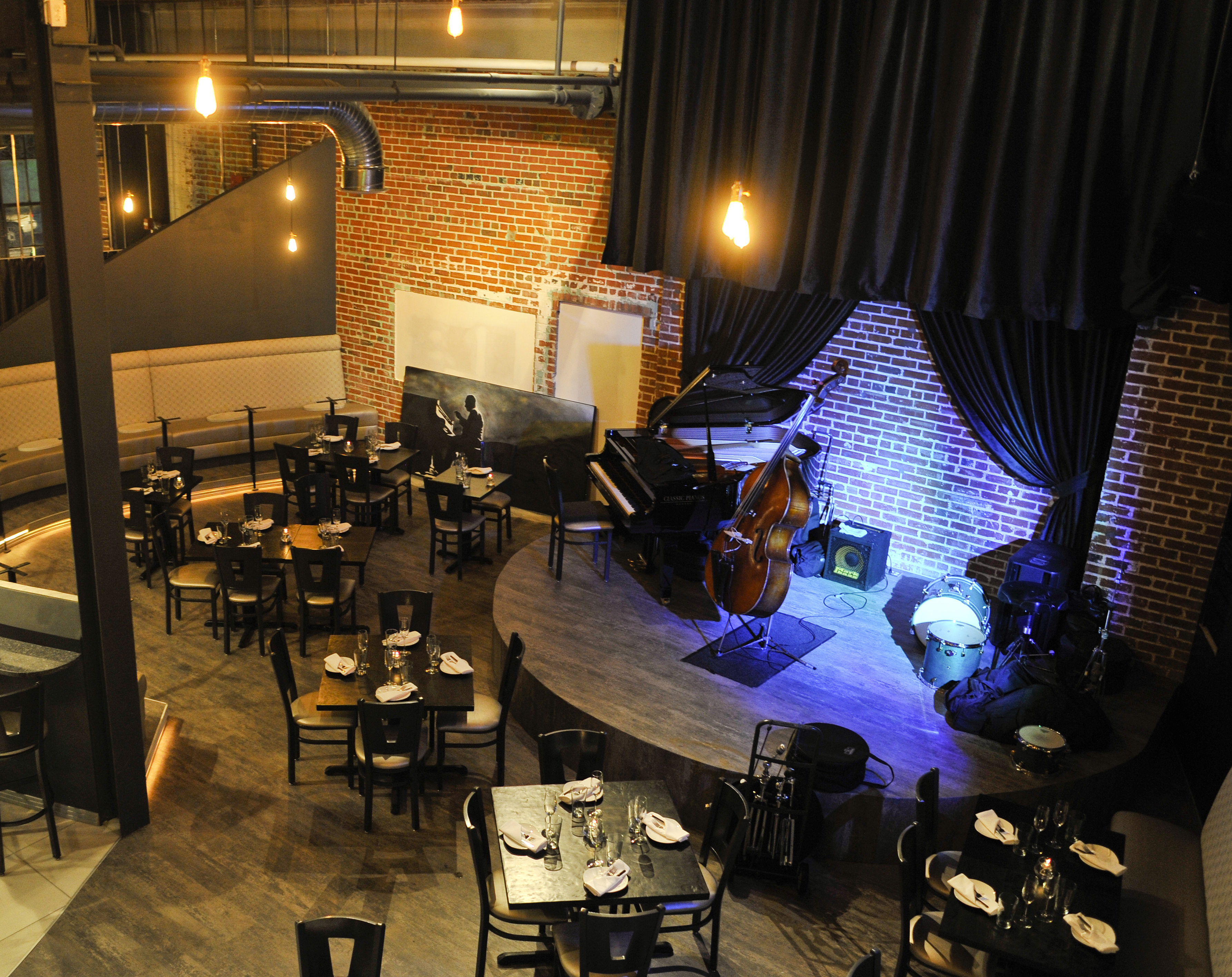 When: Thursday, December 8, 6:30 p.m.
Where: Nocturne Jazz and Supper Club – 1330 27th St
Cost: $59 Tickets can be purchased here
The Lowdown: Nocturne is releasing their latest tasting menu and drink list inspired by gypsy jazz guitarist Django Reinhardt — regarded as one of the 20th century's most influential musicians. A five course meal will be served to create a unique experience where music and food collide. Gypsy Swing Review, Denver's premier gypsy swing jazz band will give a live performance to debut the restaurant's new menu. The culinary team will bring French adaptations to the table like bourguignonne, gougeres, and foie gras are some of the makings of this interactive culinary jazz experience.
Celebrate Repeal Day with Green Russell
When: Thursday, December 8, 7 p.m.
Where: The Green Russell, 1442 Larimer St., Denver
The Lowdown: On December 5, 1933 an amendment was passed to repeal the prohibition laws in the United States. Green Russell is throwing a party to celebrate our rights to imbibe complete with a live jazz performance and menu items inspired by the prohibition era. Come dressed in 1930s attire for a chance to win a $50 gift card to Bonanno Concepts.
Saturday, December 10
GoldenBoys Pop-up at RiNo Yacht Club in the Source
When: Saturday, December 10, 11 a.m. – 4 p.m.
Where: RiNo Yacht Club, 3350 Brighton Blvd Ste 100, Denver
The Lowdown: Chefs Hunter Pritchet and Adam Midkiff will bring their Los Angeles-based guerilla Chinese food pop-up to Rino Yacht Club in The Source. The duo concept GoldenBoys is a unique take on a fun, healthful and transparent approach to Chinese food. The pop-up series has previously hosted sold-out dinners in Downtown Los Angeles and Culver City, and now has a permanent residence at Alvin Cailan's (Eggslut) culinary incubator in Los Angeles' Chinatown.
A Cold December Calls for a Hot Tamale
When: Saturday, December 10, 11 a.m.-3 p.m.
Where: Stir Cooking School, 3215 Zuni St., Denver
Cost: $75 per person

The Lowdown: Stir Cooking School in the Highlands is offering a variety of thoughtful holiday cooking classes for the season. Saturday instructors will be sharing the secret behind the what it takes to make the perfect tamale. Four recipes will be explored during this hands on chef experience of fresh masa, green chile pork tamales, poblano and queso fresco tamales, and sweet pineapple tamales. Students will feast on their creations at a family style meal at the end of instruction accompanied by drinks from a full service bar. To make a reservation call 720-287-4823
Breckenridge Brewery Release Tasting
When: Saturday, December 10, 12-2 p.m.
Where: Farm House at Breckenridge Brewery, 2990 Brewery Ln., Littleton
Cost: Free
The Lowdown: Breckenridge Brewery is debuting their latest and greatest seasonal brew. Nitro Chocolate Orange Stout is the result of the brewery's collaboration with a liquid chocolate provided by Boulder-based company Cholaca. Attendees will sample the new brew while enjoying live musical performances, sweets from the ice cream bar and holiday ornament art and craft projects.
Sunday, December 11
Form a New Relationship with Cocoa at Chocolate Lab on Colfax
When: Sunday, December 11
Where: Chocolate Lab, 2504 E Colfax Ave., Denver
The Lowdown: Phil Simonson is the mad scientist behind Chocolate labs unique truffles, toffees and brownies. His passion for chocolate has evolved beyond the desserts realm to include an innovative array of unique savory concoctions. Simonson and his crew aim create chocolate dishes for every occasion, mood and craving. Visit Chocolate Lab to rediscover chocolate.
Merriment & Mirth featuring QC Malt at Star Bar
When: Sunday, December 11, 8-11p.m.
Where: Star Bar, 2137 Larimer St., Denver
Cost: No cover

The Lowdown: Join Star Bar as they ring in the holiday season with ugly sweaters, mixed cocktails and hard soda from QC Malt. This is an ugly Christmas party complete with a holiday photo booth to document the evening. In charge of getting the feet moving will be gypsy swing string band Banshee Tree.
Holiday Brunch at Red Rocks
When: Sunday, December 11, 8:30 a.m.-2:30 p.m.
Where: 18300 W Alameda Pkwy, Morrison
The Low Down: Red Rock's Ship Rock Grille sits high between two giant rock pillars and overlooks what is arguably the best outdoor venue in the country. Take photos with Santa and enjoy the view from your choice of indoor or outdoor patio seating. Make it a family outing with children under five eating for free. To make a reservation call 303-697-4939
Mark Your Calendars
…
Prix-Fixie Holiday 4-course Menu
When: Thursday, December 15
Where: Frasca Food – 1738 Pearl St, Boulder
Cost: $95 per head ($155 value)
Feast of Seven Fishes
When: Friday, December 16 – 24
Where: Coperta – 400 E 20th Ave, Denver
Cost: $50