The annual Denver Film Festival (DFF) kicked off its 39th year with a big, bright bang last night with an appearance from superstar Emma Stone. The leading lady attended the festival for the screening of her new film La La Land. Accompanied by the film's director, Damien Chazelle (also known for Whiplash), the pair made their way down the red carpet at the Ellie Caulkins Opera House around 7:30 p.m. to much fanfare. Stone, who arrived dressed in a lovely black Chanel gown, stopped to chat with 303 Magazine about her starring role in the already critically acclaimed film.
 Set in a technicolored world of modern Los Angeles, La La Land is an original musical that co-stars Ryan Gosling.
303 Magazine:  Do you think this performance will influence future roles of yours? And will you do another musical?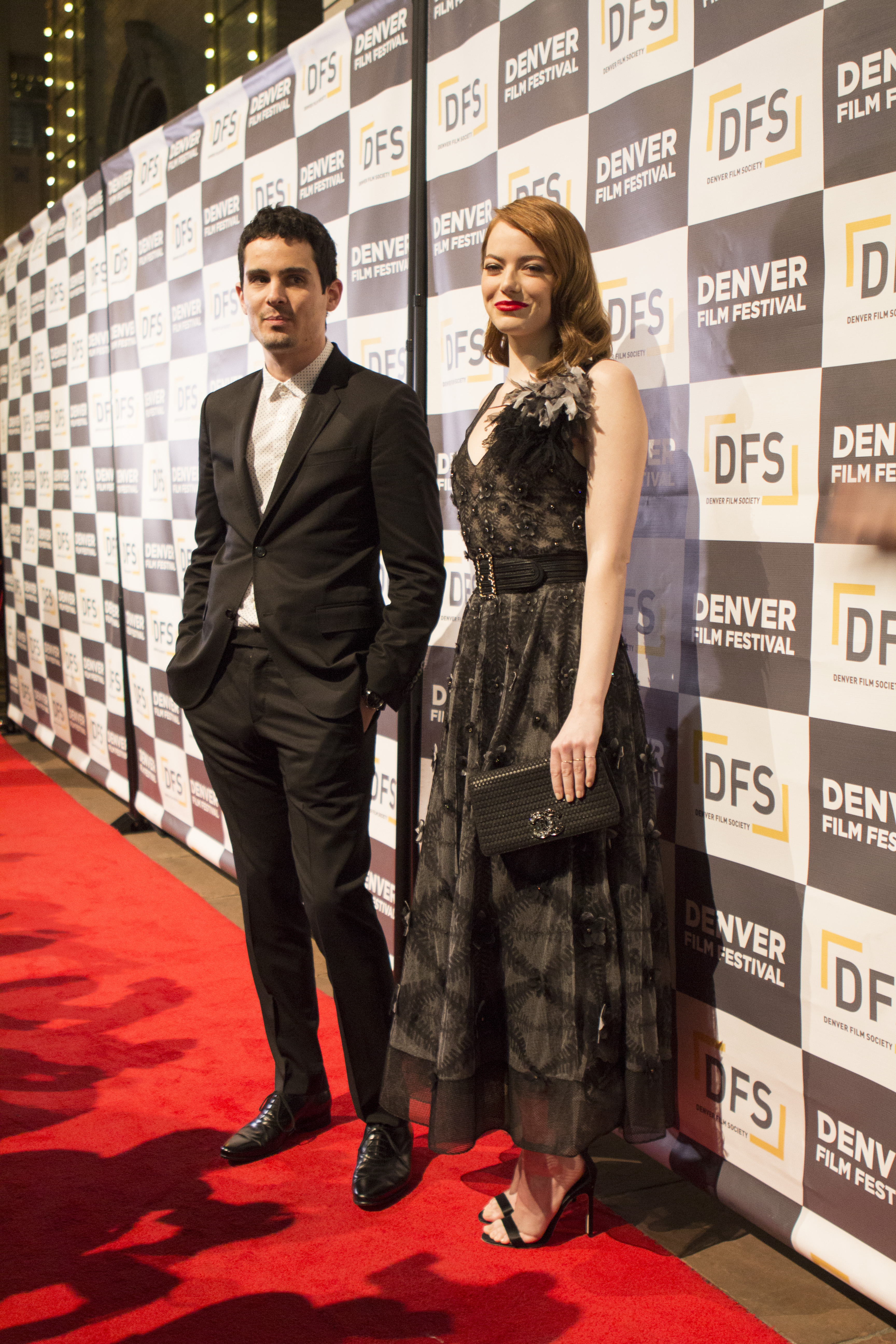 Emma Stone: I think everything influences future roles in some way. It was really special to do an original musical on screen, but yeah we will have to see about future roles. 
Stone admitted it was her first time in Denver, but mentioned that she was already enjoying the Mile High City.
"It's so exciting to be in Denver for the first time in my life. Is this what everyone's first time is like?" joked Stone. "Because it's a very warm welcome." Unlike Stone, Chazelle has frequented the city and was excited for his return.
303 Magazine: How do you feel about attending the DFF? And have you been to Denver before?
Damien Chazelle : We were just lucky enough to be invited and to be invited to open it, it's really an honor. I've been to Denver a number of times and I was excited for any excuse to come. I love it. When I heard it [the screening] would be in this theater particularly, you know, it's daunting but it's really an honor. 
After the red carpet, the crowds flooded into the cavernous Ellie Caulkins for the screening of La La Land which was followed by an award presentation for Stone and a Q&A with both the actress and Chazelle. Festival director, Britta Erickson explained that awarding Stone with 39th Denver Film Festival Excellence In Acting Award was due to her "diverse, poised, and authentic work, which shines brightly throughout her entire body of cinematic characters." Erickson also noted that this was one of 76 award nominations for Stone, who has collected 42 film credits in her career spanning just shy of a decade.  "Are we sure about those numbers?" said Stone in a state of semi-disbelief. As the pleasantries wrapped, the crowd settled into the seats for the screening of La La Land.  
In the making for six years, La La Land is Chazelle's first musical and is a stylistic departure from his Oscar-winning movie Whiplash. But while La La Land is filled with musical fantasias, the film has many similarities to Chazelle's previous works including deeply ambitious main characters who have a fervent love of jazz. Chazelle admitted that his passion for music is truly what drove him to participate in a genre, that admittedly, he didn't always enjoy.
"I came late to musicals. I was definitely in that group of people who would get really angry when people start breaking into song. I get really perturbed. And the funny thing also, is that almost as passionate as I was about movies was how passionate I was about music. I played music during a lot of my childhood, through high school and into college, so I think the idea of music on film was like very interesting and personal to me from an early age," said Chazelle to local film critic Lisa Kennedy during the Q&A after the movie. 
And even though the movie is set in a romanticized world of modern-day Hollywood, the film stays grounded with a strong story line held up by the effortless talents of Stone and Gosling as they play out a tumultuous tale of love and fame. But like Chazelle, Stone, admitted her reservations of doing an original musical.
"I also was a bit confused how we could be sitting at a dinner table and then flying off into space. And so Damien had a lot of patience with me and we talked a lot, for quite a while, and he played the score for me and songs and would describe the visuals. We just kept talking about it. In one way, it could be the most beautiful [film]…and in another way it could be an absolute disaster," said Stone. 
Aside from the pop-hued cinematography and impeccably choreographed dance scenes, the chemistry between Stone and Gosling is a strong attribute of La La Land and adds a much-needed sense of authenticity to an otherwise fantastical film.
"The chemistry was so evident," said Chazelle. "You don't even need the sound. There is just something about the screen presence and the effortless magic they have even out of context, that is so palpable that there was this kind of sense, on our parts of we just kind of need to protect that, that nothing in this movie gets in the way of that."
La La Land is not in theaters yet but it is set to debut on December 9. In the meantime, Denver Film Festival has 11 days jammed packed with programming. The event is already being hailed as one of the most exciting the festival has put on yet. Go here for a full schedule or go here to read our guide on what not to miss.
Additional reporting by Cori Anderson.