James Beard, an iconic chef and a fierce mentor, has inspired a long-standing tradition of collaboration and camaraderie in the culinary world. Today, one embodiment of his legacy can be found as a tour that has been named in his honor.
Last week, on Thursday night October 20, that event, the James Beard Celebrity Chef Tour, made its annual stop in Denver. Taking place in over 20 cities with 100 participating chefs, the Mile High edition found its home at the newly remodeled 1515 Restaurant. Eight national and local chefs came together for the Denver stop. Chef Gene Tang, 1515 owner and executive, lead the event and brought three other local chefs to participate including chefs Laurent Mechin of the St Julien Hotel & Spa, Boulder; Mark Monette of Flagstaff House, Boulder; Jeff Cleary of Grateful Bread as well as  Kevin Nashan of The Peacemaker and Sidney Street Cafe, St. Louis; Martin Rios of Restaurant Martín, Santa Fe; James Beard Award–Winning Pastry Chef Mindy Segal of Mindy's HotChocolate Restaurant and Dessert Bar, Chicago; and Stephen Fried of Gullo Specialty Foods, based in Hicksville, New York.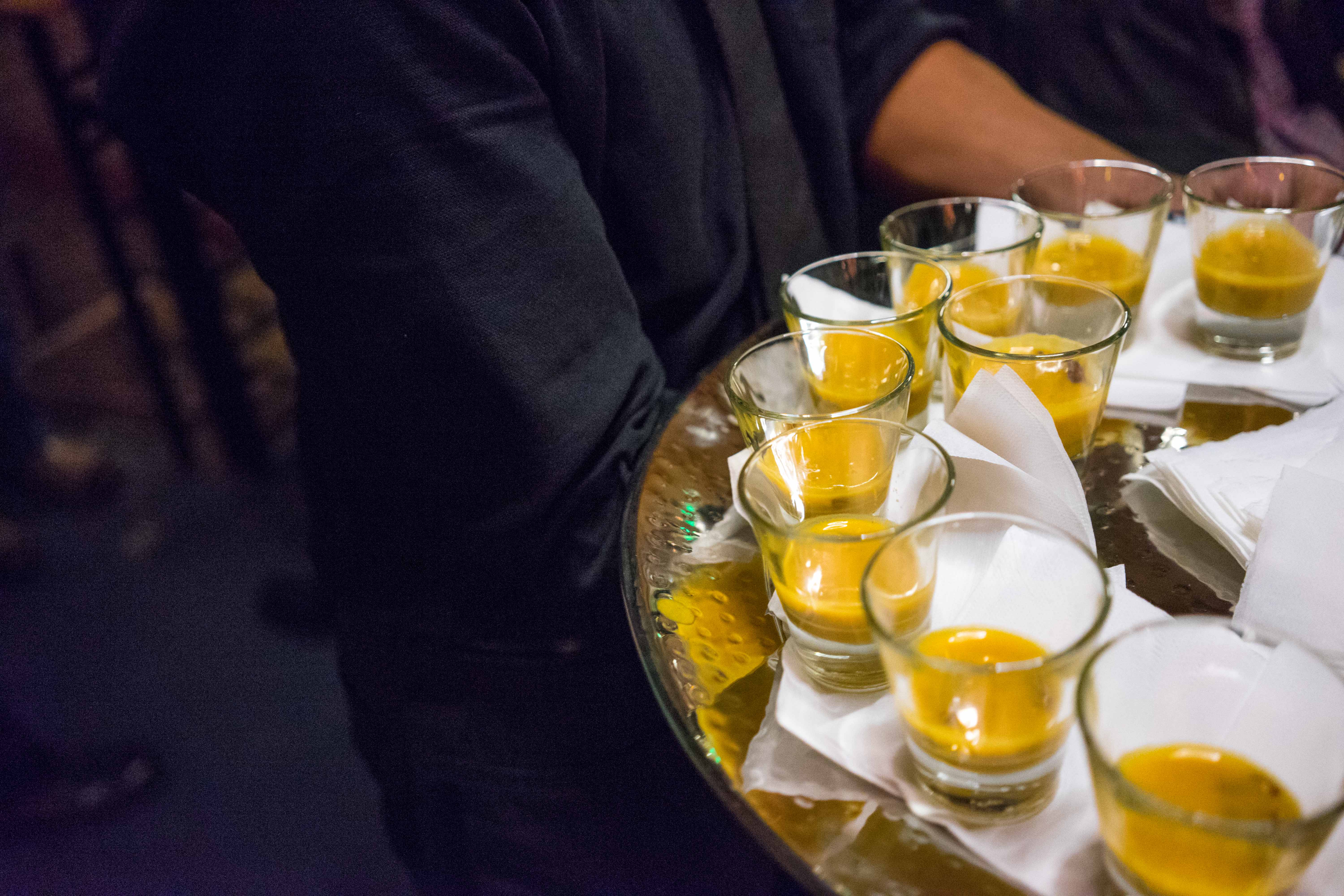 The night opened with a series of appetizers ranging from decadent tempura fried lobster tails to chicken paté bites. Attendees mingled in the cocktail lounge of 1515 (also known as Rewind) while imbibing on glasses of rosé and assorted drinks. Then, before everyone was lead upstairs for the main event, Jeff Black, maestro and event coordinator of the tour, gave the crowd a brief history of the foundation as well as the eccentric character that was James Beard.
Coming in at six feet, five inches tall and weighing about 350 pounds, Beard (according to Black) was a conspicuous man with interesting tendencies. Black recounted notable details of his now famous home, which includes an outdoor shower despite being located in the heart of Manhattan. Black's humorous tales colored the evening with a sense of good cheer and relieved any worries of the dinner maintaining a sense of pretension. What followed was only what was promised— a beautiful meal prepared by American top chefs.
The first course by Chef Rios set the pace with a Meagre sashimi plated in the shape of a rose that concealed delicate Kumamoto oysters. Nestled alongside it was a bright spattering of edamame mousse dotted with a tart gelee made of Japanese citrus, trout roe and a dehydrated flax seed. Despite all the accoutrements, the Meagre shone the brightest. The fish was so buttery and rich, that it could have been served alone and I would have been satisfied— but with six more courses on the lineup, the idea of moderation was not on the menu that night. Up next was Chef Fried who continued the seafood trend, but went more Mediterranean with a grilled Spanish octopus dish served on a pillow of pureed cauliflower drizzled with smoked Pimenton and Calabrian chile oil and chimichurri served with a hearty pour of Rodney Strong Charlotte's Home Estate Sauvignon Blanc. The char on the octopus with the chili oil made a perfect pairing while being balanced by the savory notes of the simply pureed cauliflower.
The third and most surprising course of the night broke up the meal with a hint of sweetness in the form of foie gras and apples two ways by Chef Nashan. The first component was a glassy candied crab apple stuffed with foie. On first look, the crab apple looked distinctly like a Rainer cherry with its speckled white and pink flesh, but after breaking through the crisp candy shell, the toothsome crunch of the apple gave it away for what it was. The second rendition, made of foie gras and apple slices mixed with miso apple butter and brown butter vinaigrette was less shocking, but more satisfying. Plus, it came with the best pairing of the night of Dolan's sweet vermouth.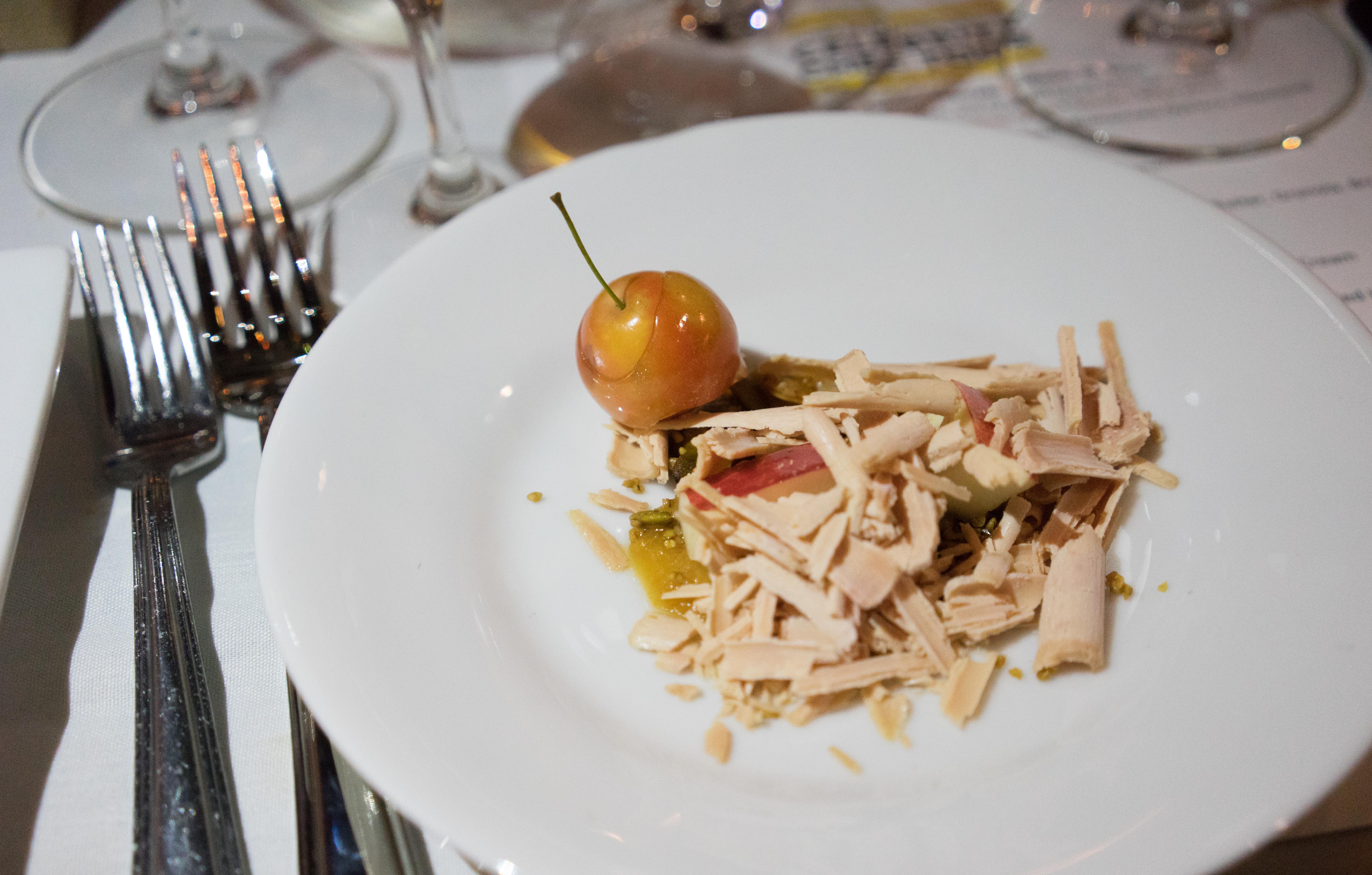 The following three courses stayed with tradition and dished up hearty protein including that of blue cobia by Chef  Mechin, Colorado lamb by Chef Monette and Waygu beef by host Chef Tang. Out of the three, the beef by Tang made a splash, even after the two proceeding courses, with a juicy cut of Wagyu accompanied by perfectly fried smoked mashed potato bites.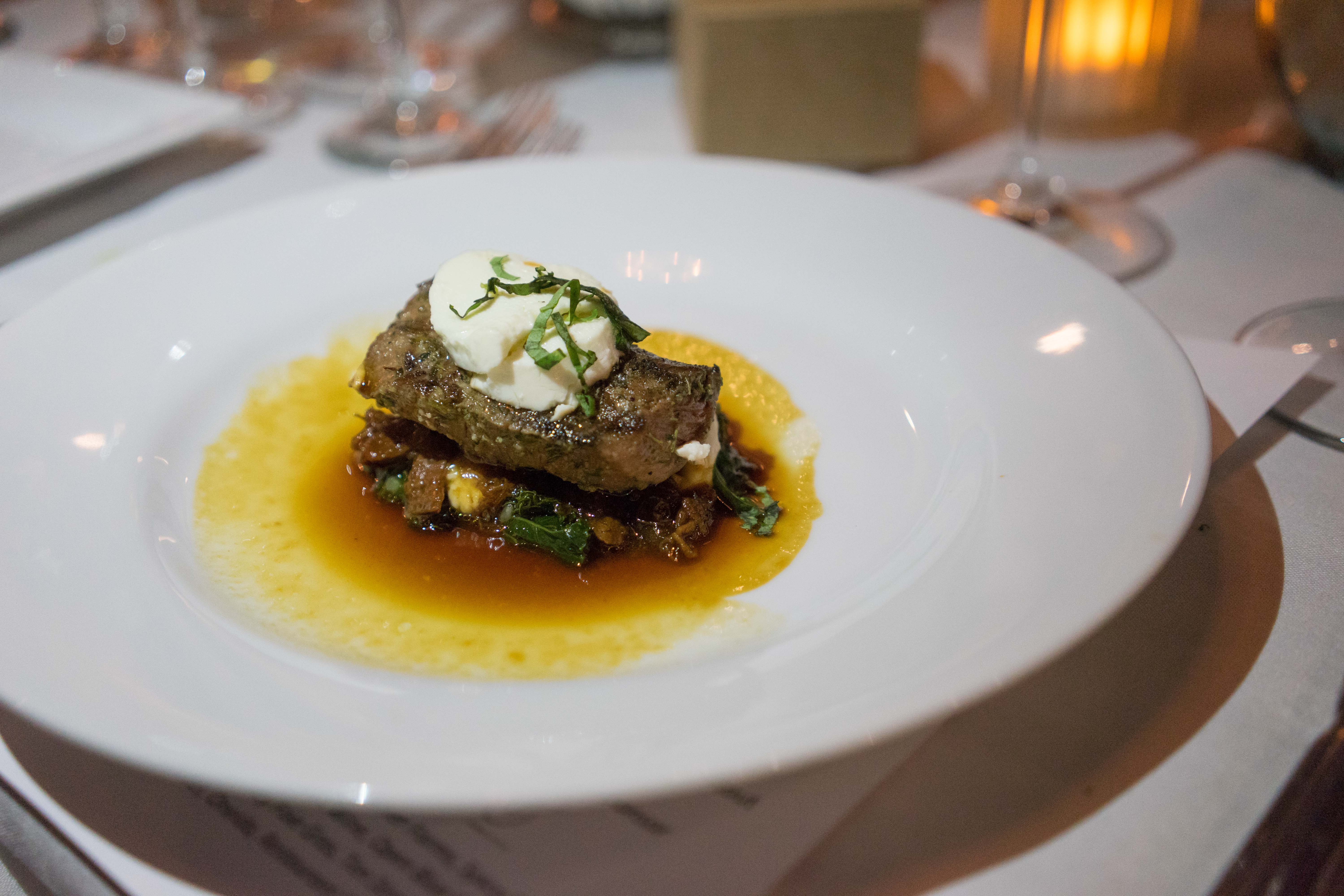 However,  the winner of the night, in my eyes, was none other than Chef Segal's dessert. As the only James Beard award winner on the ticket, Segal flexed her muscles with a simple but perfectly executed Moloko milk stout flourless chocolate cake made with 53 percent chocolate mousse, burnt honey topped with fresh cream poured table side.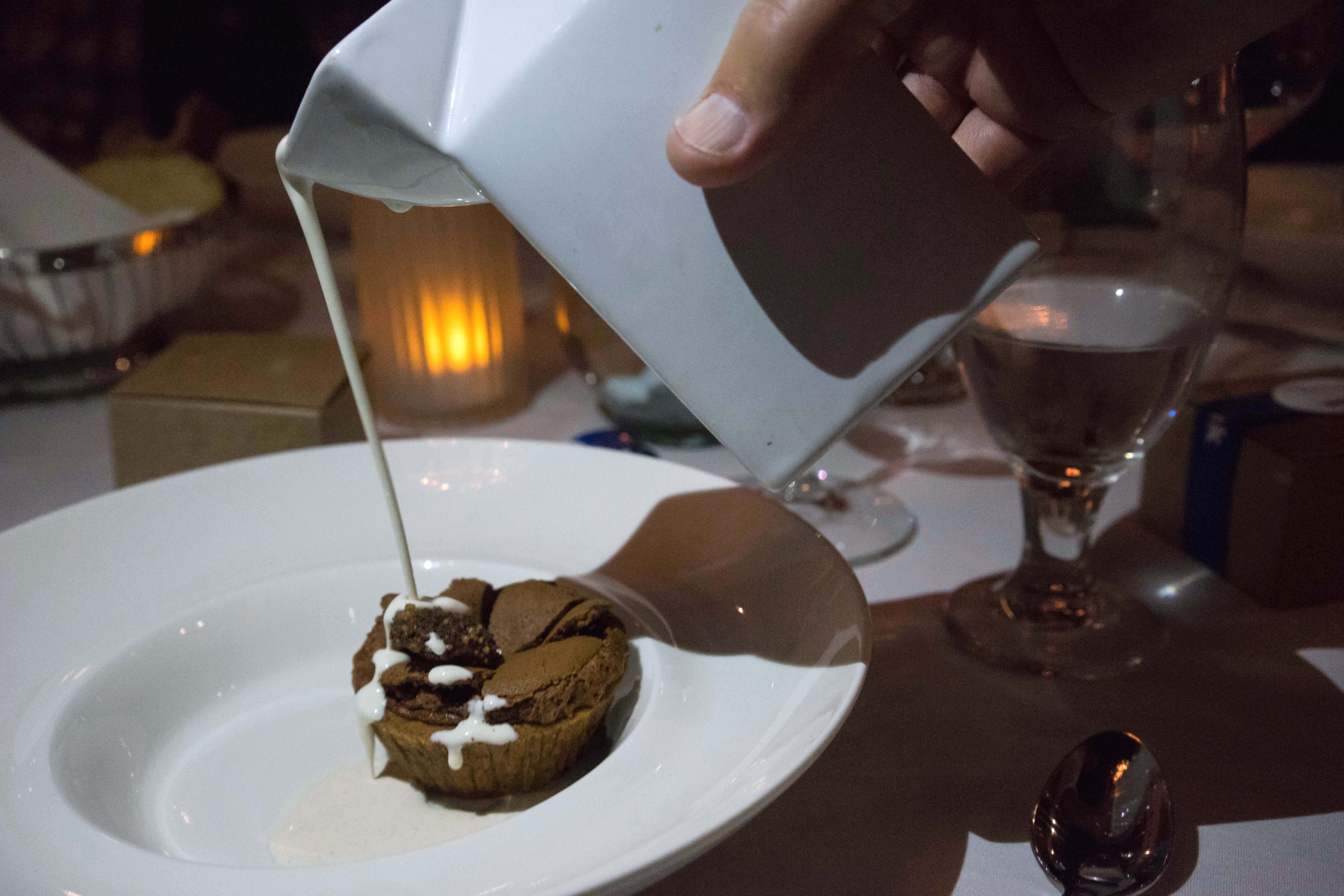 At the end of the evening, Black summoned the chefs from the kitchen for a heartfelt thank you. As the white coats crowded the room, he reminded us that each one of them had donated their time. This made it clear, that while the culinary industry may be one of decadence, as demonstrated that night, it was also of community, heritage and of, course, legacy. Beard would be proud.
To learn more about the tour or the James Beard Foundation, go to their website here.