If we strike up a discussion about renowned monster makeup and special effects, chances are you'll most likely think of a studio among palm trees in Hollywood. And while that may be correct, you'll be surprised to find out we have a renowned artist in our very own backyard. Midian Crosby of
Monster Makeup FX
is the expert in creature features and making nightmares come to life. The Boulder native who proudly calls Colorado home is very much about pursuing creative passions, pushing yourself, and reaping effort in a highly competitive industry. Here, she tells us what the life of a monster makeup artist is.
303: What made you dive into monster makeup?
Midian Crosby: It boils down to three main aspects: Influences, education and industry. One of the main things that influenced me to become a special fx artist was watching the world premiere of "Thriller" at six years old. I remember the house, I remember the television and because I love Michael Jackson so much, I also loved the zombie version and the werewolf version of him. Also, because of international travel at a young age, I saw a lot of Buddhist and Hindu iconography where big terrifying things are actually good. The switch in my brain where monsters are bad got switched early on. I saw John Carpenter's The Thing when I was nine and that really twisted my brain and started a "how do they do this?" mentality. I was looking through Fangoria Magazine one day and I saw three different ads for three different schools and it blew my mind when I realized you could go to school for special effects. So I went off to Pittsburgh and obtained an industrial design degree and spent six years out there making movies. I worked on my first movie before I graduated and just kept taking as many gigs as I could, no matter what they paid. And I gained as much experience as I could in independent productions. There has always been in me both a desire and a revulsion for the Hollywood system. The Hollywood system is very much a cog in the wheel of a giant machine. There's no one person developing anything from start to finish. It's great to work on a big budget and have all the money you want but also there's greater value in doing something truly artistic with really cool people in a passionate way and knowing that you brought something to the production. School only helped me a small portion, beyond that it's been 13 years of working in every department I possibly could.
303: What does the makeup process look like?
MC: It depends on what type of makeup we're looking at. Normally for a film or television episode, I read the script to figure out what is best with one of three ways: Out of the kit, which means we take basic materials like cotton, latex, free-form silicone and build it freeform. The problem with that is there's less detail, it takes longer on set, and you can't reproduce it exactly. It's usually very cheap but it doesn't give you the look that you really need. Next is purchasing a readymade piece from a company that makes prosthetics. You find something that's already been made and transform it or use it as is to create 'that' look. It might not be exact either but it'll certainly look better than out of the kit. Beyond that, we'd work on a custom piece and take a lifecast or copy of the actor's face, hands, body and do a solid representation out of cement and sculpt what we want on top of that, mold it, and run as many copies as we need to create the custom prosthetic. The cost jumps dramatically between buying something that's already on the market and doing something custom. A lot of independent filmmakers in the horror, sci-fi, and fantasy genre realize how important it is to put money into special effects, sometimes more than into your acting or sets.
303: How does living in Colorado play into clients requesting your service?
MC: Being in Colorado is both a hindrance and a boon. We are a big fish in a small pond and we're the most experienced, highest quality special effects & makeup company in the area but in order to stay in Colorado there are some sacrifices we have to make. Work doesn't come easy. We have to look for it and connect with people constantly and are ready to say yes to whatever comes up, that might be making a mask one week or some prototyping for the Department of Defense, training for nurses and doctors for medical purposes, or even moulage training with paramedics and fire and police. Quite often we have to reach out beyond the entertainment industry and jump around and do a lot of different things but we definitely don't get bored. Colorado is where our home is and I think Coloradans are a little different. There's some rebellion to our behavior, it's like "Hey, I'm going to stay here despite what everybody tells me what I should do. Don't tell me what I should do. I'm going to breathe the mountain air and live life as well as work in the entertainment industry."
303: What does Halloween look like for Monster Makeup FX?
MC: Halloween is last-minute calls from people who are desperate for whatever we can do. I wish people thought about Halloween in April like we do, or even September but most folks generally wait too long to do anything really cool. We've been lucky enough to do fun Halloween stuff with Chris Parente and Kathy Jay from Fox 31's Everyday show and we've done zombie crawls in the past. Currently we're working on zombies for Fearfest, the 13th Floor afterparty sponsored by Budweiser. Overall, Halloween has always been my favorite holiday until I got to do this more than just in October. It seems a lot of people in the industry consider Halloween to be amateur night because by the time it rolls around it's basic zombies, devils, and witches. We get to explore such rich environments beyond that outside of Halloween.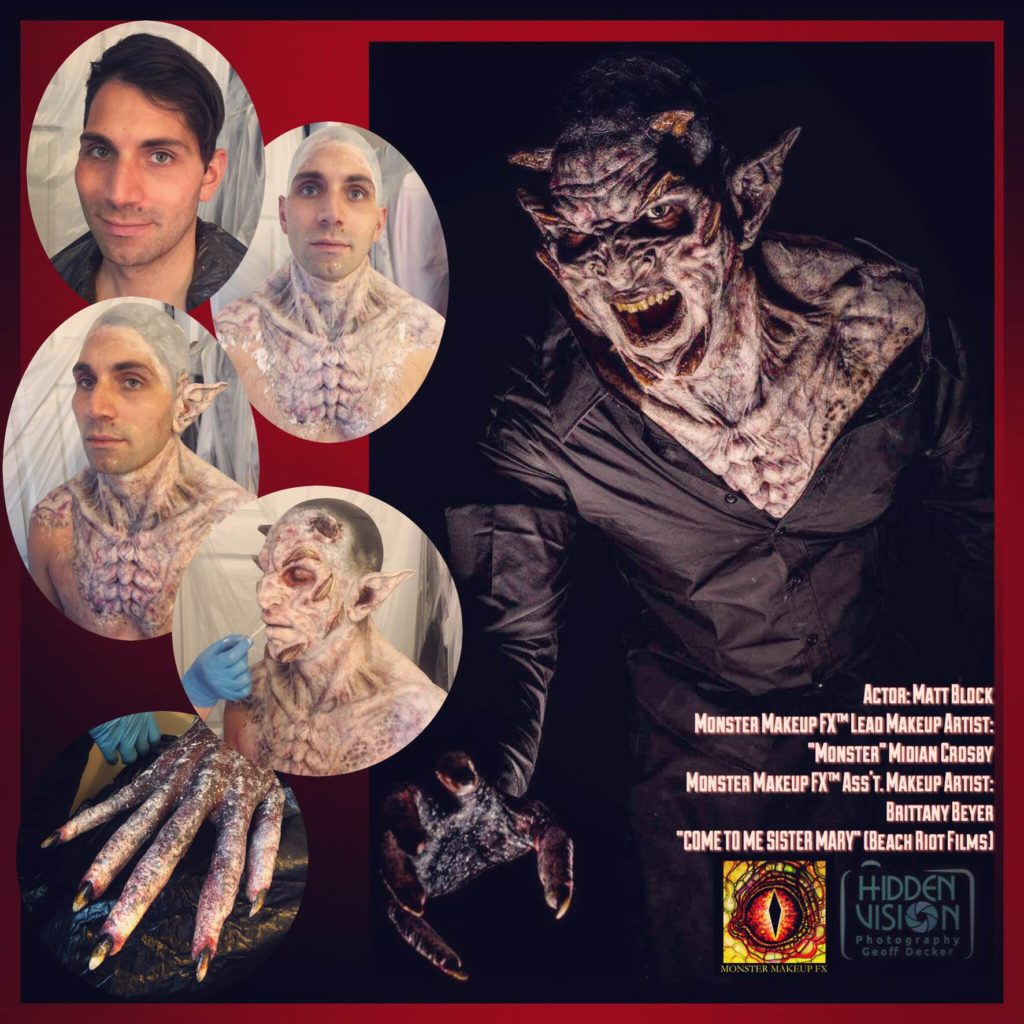 303: Do you work with any local haunted Houses?
MC: Haunted houses are a fabulous place to earn your chops, I started off in Haunts over eight years ago and they're a lot of fun. Usually, very basic equipment and materials are used. It's very dark and it doesn't have to be the best makeup in the world. It has to be easy, effective and be able to put on in 10-20 minutes. So for someone who's working on feature films it's not quite the place for them. But I have a love in my heart for haunted houses. Seeing somebody truly scared is one of the best experiences.
303: Is it true 'Midian' wasn't always your name?
MC:  I had my name legally changed to Midian when I was 15. My previous name was Jessica, which was the second most common name for girls my age in Boulder. I hated it. Even at two years old I was telling people to call me Casper, after the friendly ghost. As soon as I found out I could change it I was looking. I did spend a year and a half thinking about it and kept coming back to Midian. In Clive Barker's literature universe Midian is a place where monsters live, it's a haven. Little did I know at the time when I changed my name that I would grow up to become a monster maker.
303: Can you tell me about your work we've seen and upcoming projects?
MC:
We did just work in a Viggo Mortenson movie called
Captain Fantastic
, our bit is in the opening sequence where you see blood. We got a film called
Gnaw
coming up with Penelope Mitchell from "The Vampire Diaries" and "Hemlock Grove," and Kyle Glass from Tenacious D, and Golden Globe winner Sally Kirkland. We just finished a Bigfoot film called
Hoax
, it is going to be the best Bigfoot movie ever made. It's got a fantastic cast and crew and was shot in Lake City, which is one of the most beautiful places in Colorado. It's got Ben Browder from "Farscape" and Brian Thompson from "X-Files." Also, I did the second-unit directing, specifically the special effects scene and makeup effects for a short film called
Come To Me, Sister Mary
. Think of Catholic death metal.
303: Monster Makeup FX offers classes. Can you tell me more about that?
MC:
When we're not doing productions, we do teach classes. We have one class currently available on our website, we don't teach them all the time so you have to catch them when they're happening and they usually happen in December and January because that's the off-season for film work. There is a fantastic class called
Portfolio Intensive
 coming up in January 2017, which is a good crash course for people who are new to the field or current artists who want to boost their portfolio. We guarantee at least one portfolio quality piece for your portfolio.
303: What do you hope the future brings for Monster Makeup FX?
MC:
The future is filled with our own content. We just started development on a feature film and we have a new short sci-fi/horror short entered into a competition for NASA called
Earthrise
which will begin its festival circuit soon. Like any creative force, I love creating stuff for other people but to balance that out we want to push our own content as well. We also want to do more in and out of Colorado and worldwide. Bigger and better.
Monster Makeup FX is located in Westminster if you're ever pondering just how real a demon's face can look or how bloody an incision could be.
Editor's note: The interview was edited and condensed for length and clarity