Spinning Tame Impala's vinyl on my record player is one thing. Seeing them take over Red Rocks on Wednesday, August 31, 2016 was a sensory overdrive that is still lingering inside the echoes of my mind. Senses were swamped and dance moves were carried through the crowd as the Australian band streamed forth one well-loved song after another at the end of another hot, too-short-of summer at Red Rocks.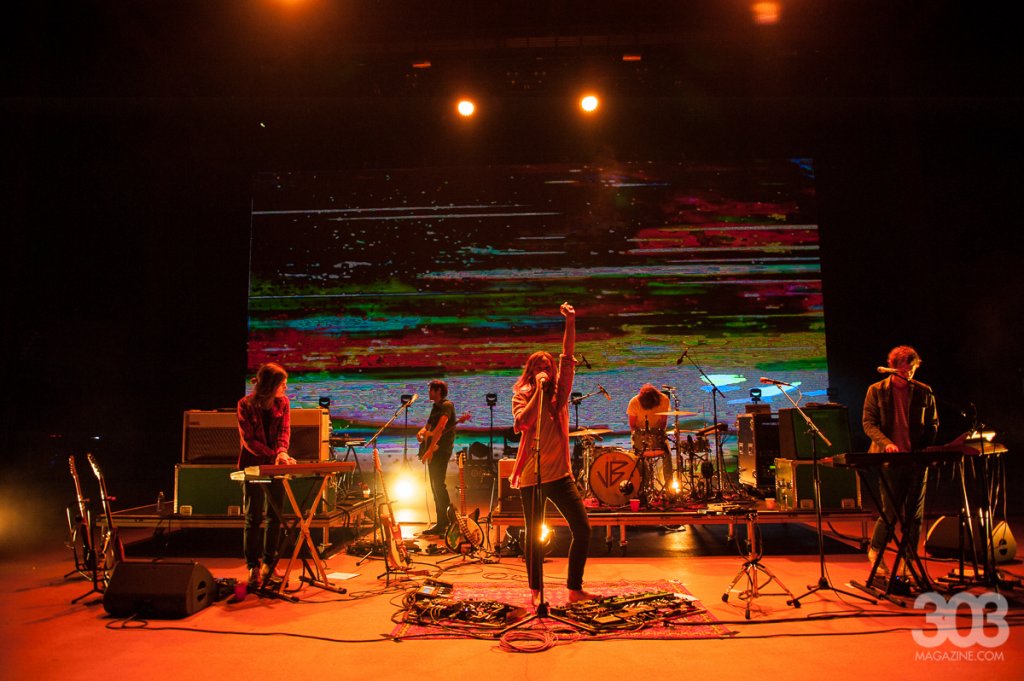 The quirky performer Mac DeMarco opened for them, and was described by lead singer of Tame Impala Kevin Parker as "What a bear." Usually when the screens light up at Red Rocks, they are filled with animation, dazzling lights and groovy designs. Not for Mac DeMarco. No, he chose short clips of Kelsey Grammar mashed with film of all the different depictions of the Beast displayed through time, from X-Men to the unfiltered land of YouTube. Why? I'm not quite sure, but it did lend itself to awkward giggles in the crowd and amplified his adult-child persona. He was at the Ogden the night before, perhaps giving Denver a taste of his antics before he let them swell into Morrison.
I anxiously awaited Tame Impala, not minding when the girls next to me teetered over from too much beer and stomped on my feet; my attention was captured by the forthcoming show. With a cyclone of sounds and light giving way to sacred geometry on the big screen, Tame Impala sashayed into their songs "Nangs" and "Let It Happen." Melted colors splashed across the screen and I thought someone teleported '70s music and funneled it through 2016's fancy technology, allowing for the band to fully embrace their musical calling. The live band, consisting of Parker, Jay Watson, Cam Avery, Dominic Simper, Julien Barbagallo and Nick Allbrook, were relaxed characters in comparison to the gigantic crowd drawn to them.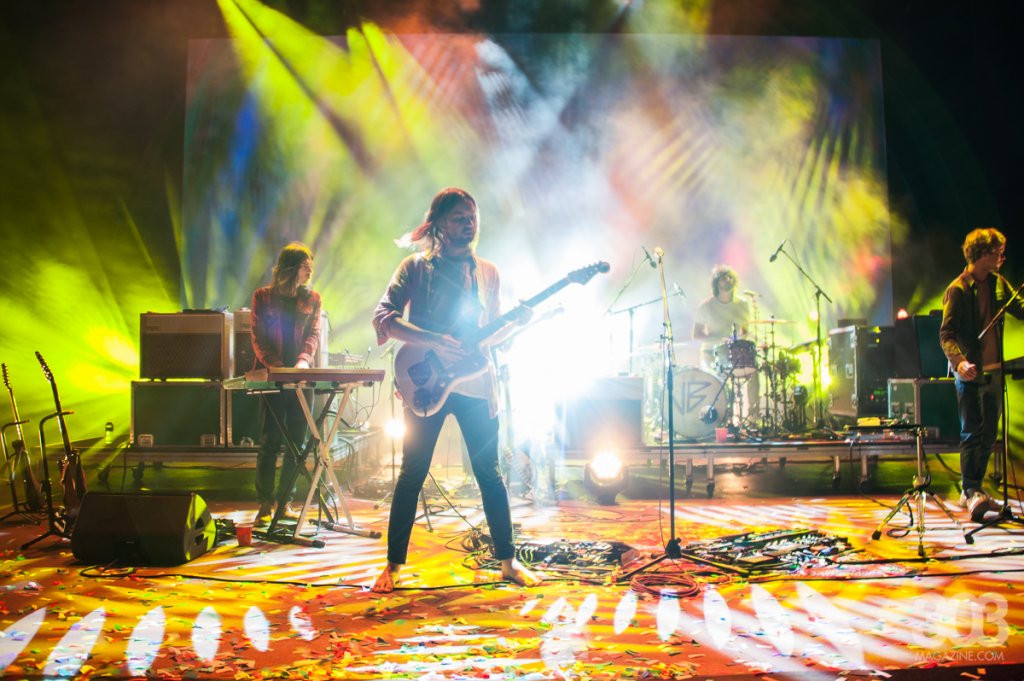 They played a slew of hits off their current album "Currents" as well as their sophomore release "Lonerism" and original album "Innerspeak." To followers of the band, this was cherished. The song "Mind Mischief" reverberated from the stage next, colors on the screen making me feel as if I were inside of a kaleidoscope, cascading gently across waters of rock and psychedelia. Their well-orchestrated light show gave way to a larger-than-life presence, merging perfectly with their fuzzy delays and Parker's unique echo-like vocals.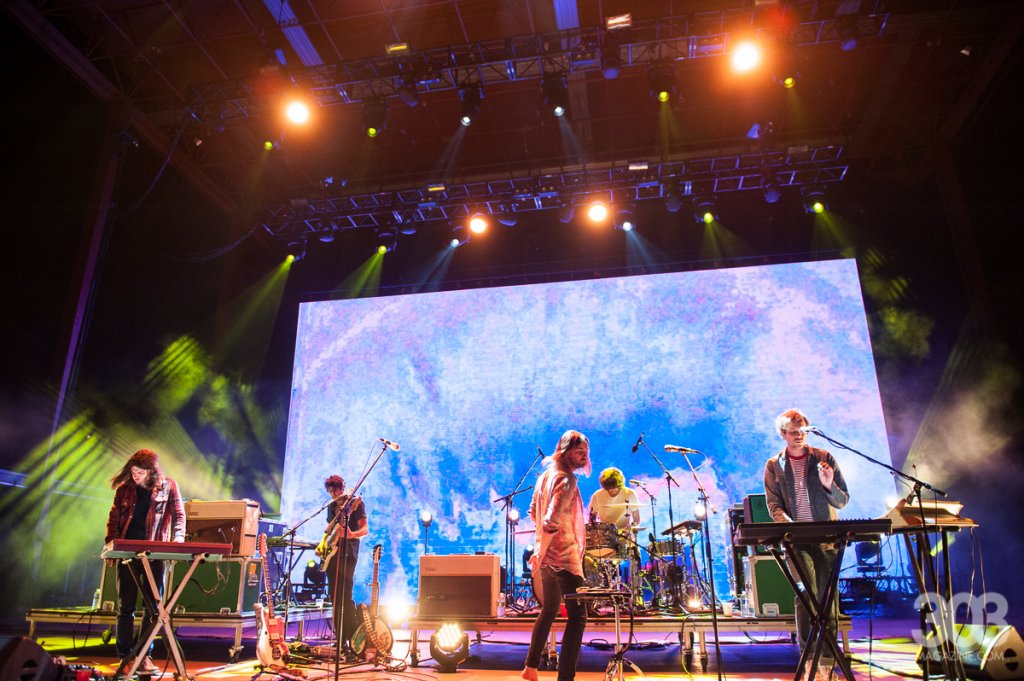 Ping-pongs of electronic sounds were birthed as the song "Music to Walk Home To" came on next. There was a circular whiplash created between synth and drums, pulling the crowd deeper into their Australian and Californian vibes. Parker took a break to thank the crowd with "It goes without saying I've been waiting a long time for this day," before entering the songs "Why Won't They Talk to Me" and "The Moment." At almost every Red Rocks concert I've attended, all the artists share this same sentiment of being in awe, especially if it is a sold-out show. It's easy to see why; the crowd is adoring, the land is scenic and the venue is iconic. All these ingredients, plus a little bit of gratitude from the band, makes for quite the delicious experience.
A bass-driving rhythm swooped into being, as the familiar rock breakdown of "Elephant" came on. It was clear the band was listening to the pulsing vibes being thrown back by the crowd, as they entered improvisation with this popular song. A drum solo kicked out and their rock 'n roll influences shown triumphantly. Their sound suddenly change, introducing us to the '80s with "The Less I know the Better." The switch between their albums highlighted the rock melt into their more psychedelic approach. Glittering lights took to the stage and I felt like I was in an '80s skating rink, able to nod freely to the thumb-picking bass and glossy organ keys.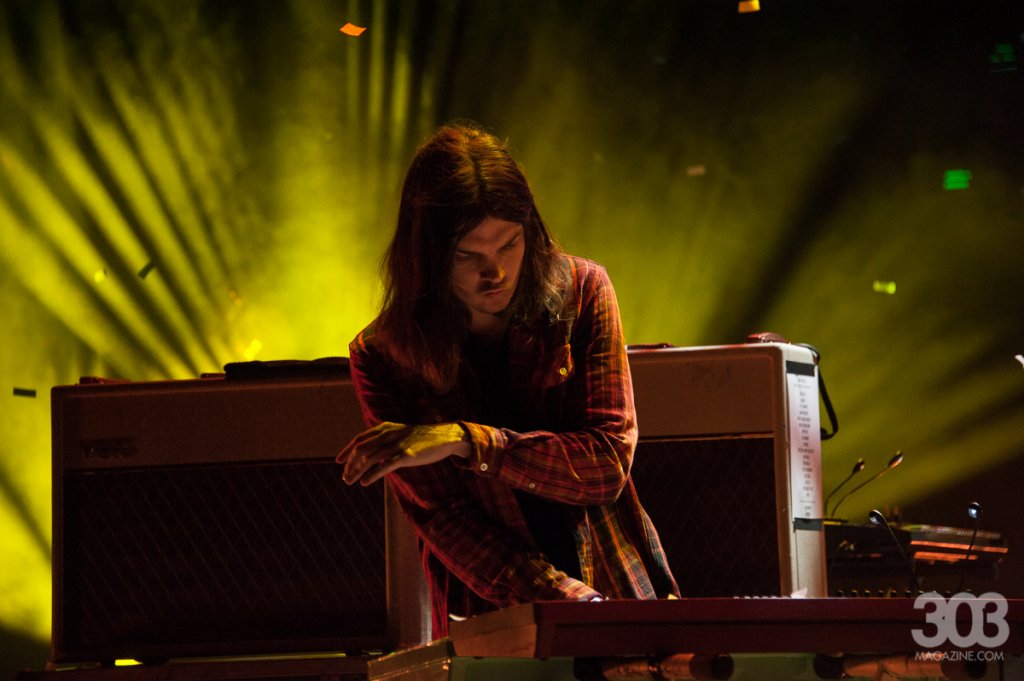 Yet I never felt loss in their bountiful set. A balance was created through their chaotic backing and clear streaming of vocals, and "Eventually" became a discordant carry through a striking chord progression. The band built a sonic cocoon for your head to travel and spiral carelessly through. You could tell the band was gaining more confident stage presence as the night grew, especially seen in the slower-paced song "Yes I'm Changing" as Parker got up on the security bars and crooned to the crowd. "Yes I'm changing, yes I'm gone / Yes I'm older, yes I'm moving on / And if you don't think it's a crime you can come along, with me," he sang, letting us fall into the song rather than swooping us off our feet. Twinkling of keys clattered through the rocks, and the lighthearted intro of "Alter Ego" grabbed hold and gave rise to funky dance moves.
Whoever designed their graphics must have had a grand time for the song "Oscilly," as chaotic spindles of light on stage and screen danced between a tangled mess into geometric formation, the band always backing, always playing in line with whatever funfetti was floating on the screen. "It Is Not Meant To Be" and "Apocalypse Dreams" chased out their set, with the crowd singing along, "She doesn't like the life that I lead / Doesn't like sand stuck on her feet / Or sitting around smoking weed," and their final tune generated a heart-pounding finale. Drums clashed while Parker danced around, the synths blurring reality into a jungle of sound; it really did feel like an apocalypse, albeit a cheery and gleeful one, was upon us.
They played to the crowds' hormones in their encore with the ever popular song "It Feels Like We Only Go Backwards." And at least for this night, the fans did wish that title could come true, that they could float back into the beginning of Tame Impala's set, and hear them carry out their electric psych vibes once more at the Rocks.