A crowd of gentle-seeming Mac DeMarco fans milled about outside of Denver's Ogden Theater on Colfax on August 30, 2016. They were uniformed in their outfits – casual slacks and dad t-shirts and ball caps. Everyone filed in and grabbed a beer and a space in the intimate venue. Denver's weather, in an attempt to fit in with Vancouver culture, poured rain on the line down the block. The venue was warm, quiet and well lit as it filled up with people who were mostly in their mid-twenties to thirties. At nine p.m., the lights dimmed and a wave of synthesizer and an uproar of cheering brought the show to order.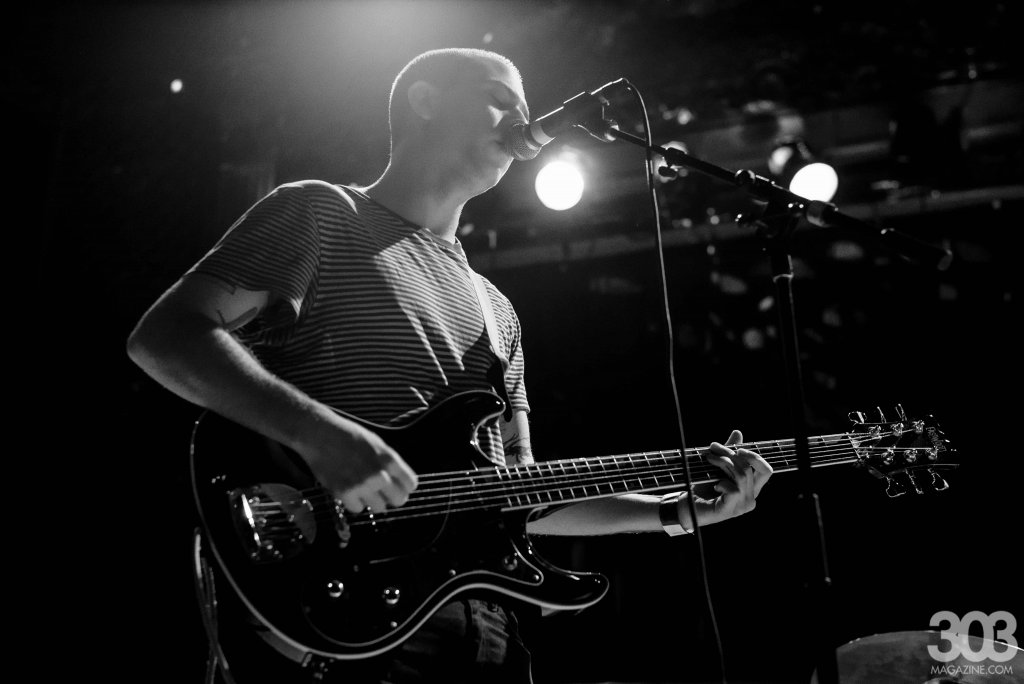 The opening band, Homebody, took the stage swathed in red light – the threesome layered in guitar and slow drums with the synth machine, as the rhythmic pattern of the heavy drums joined the overall sound. The crowd began to sway forward and back, hipbones reached out to the melody and fell back slowly. Homebody achieved a hallowed spookiness by layering their slow-moving alternative rock over the prerecorded noises emitting from the unmanned keyboard on stage. Their achy sounds of frustration evoked a philosophical homage to 1980's infused existential rock.
"Our next song is a cover," the bassist and vocalist timidly mumbled into the microphone without making eye contact with the audience – a feat considering he was on stage at a sold-out show. My interest was spiked by this announcement as I had been spending the first few songs trying to uncover this band's influences. They launched into a sad and dirty cover of Suburban Lawn's "Not Allowed." Even devastation can be passionate but while Homebody possessed the necessary skills and a ton of sex appeal, their strung-out stage presence left me wanting more intimacy in their set – a prayer soon answered as Homebody's final song opened the door to a flood of feelings. The song itself opened slow with heavy synthesizer and animal noises playing for awhile before the band mates joined in with what was obviously their most experimental song. I was captivated by the pit in my diaphragm, growing larger with every hit of the bass drum. The set left me experiencing flash backs of Animal Collective and watching Real Monsters on Nickelodeon – reliving the uneasiness of coming of age as an artist and the deep isolation of marijuana exacerbated weirdness.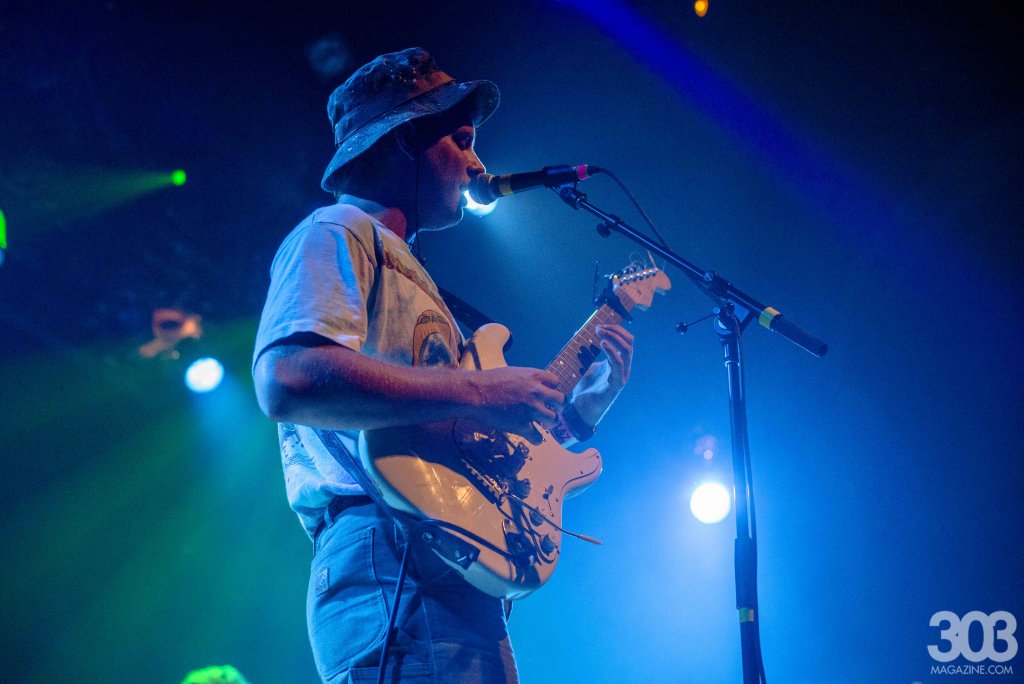 The set change was quick and a good re-set emotionally for the audience. As the lights fell again, there were more colors than just the striking red spotlights that Homebody had opted for and the energy was certainly more up with this round of welcome cheering. Mac DeMarco was dressed like a fly fisherman who had been following Phish on tour. His signature gap tooth grin could be seen all the way from the back row. The drummer Joe McMurray had on a "Gilligan hat" and the lead guitarist Andrew Charles White was shirtless in what appeared to be legitimate waders. They came in chatty, both DeMarco and White engaged the crowd and each other before introducing the first song. This was a show for the real fans, "Salad Days" was played second, and "Let Her Go" and "Blue Boy" were also knocked out pretty quickly leaving the bulk of the set for a delve into the lesser known songs from the band's three E.P. style albums.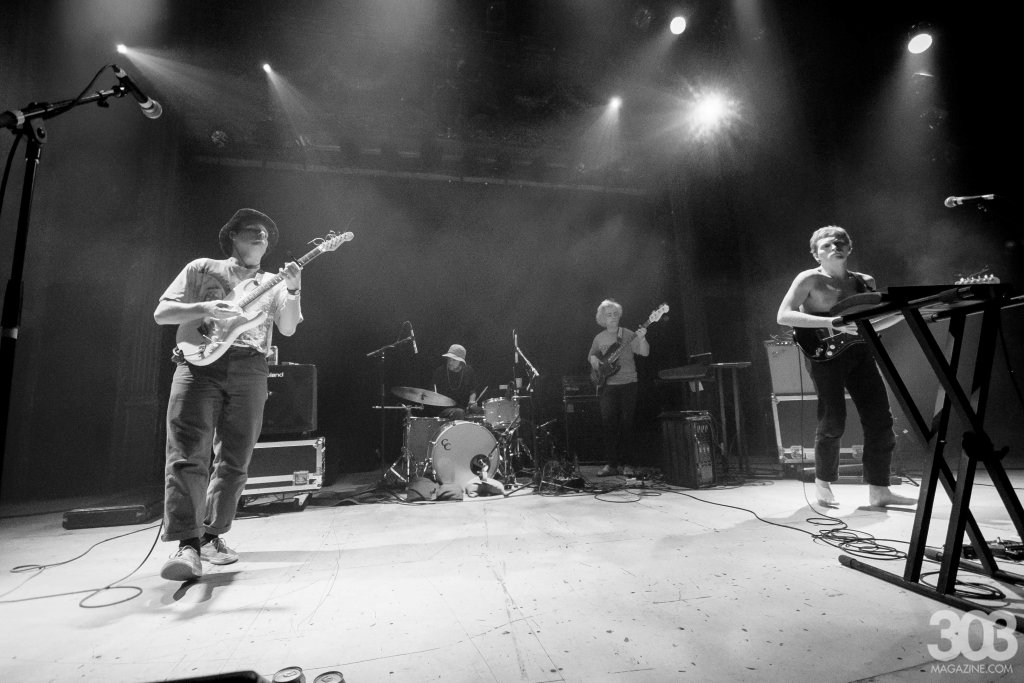 There were frequent breaks from playing to make fun of a man near the front with an Oiler's hat (a major Canadian hockey team) or for DeMarco and White to riff on Denver Omelets for awhile. DeMarco carried himself well – completely owning a very genuine weirdness. He was jovial and friendly, and looked like a kid jumping up and down and talking to as many of his fans as he could. It was apparent that he got a surge of energy from being on stage, which makes sense as DeMarco is a known tour junkie. Similar to the opener, their style and genre were ambiguous, there were so many influences – from every decade but also from every genre. DeMarco left room for his band mates to showcase their individual talents, building parts of the set that felt like jamming but were really calculated solos and harmonies. There was a strong feeling of equality on stage, which is rare for a band touring under one of the member's name.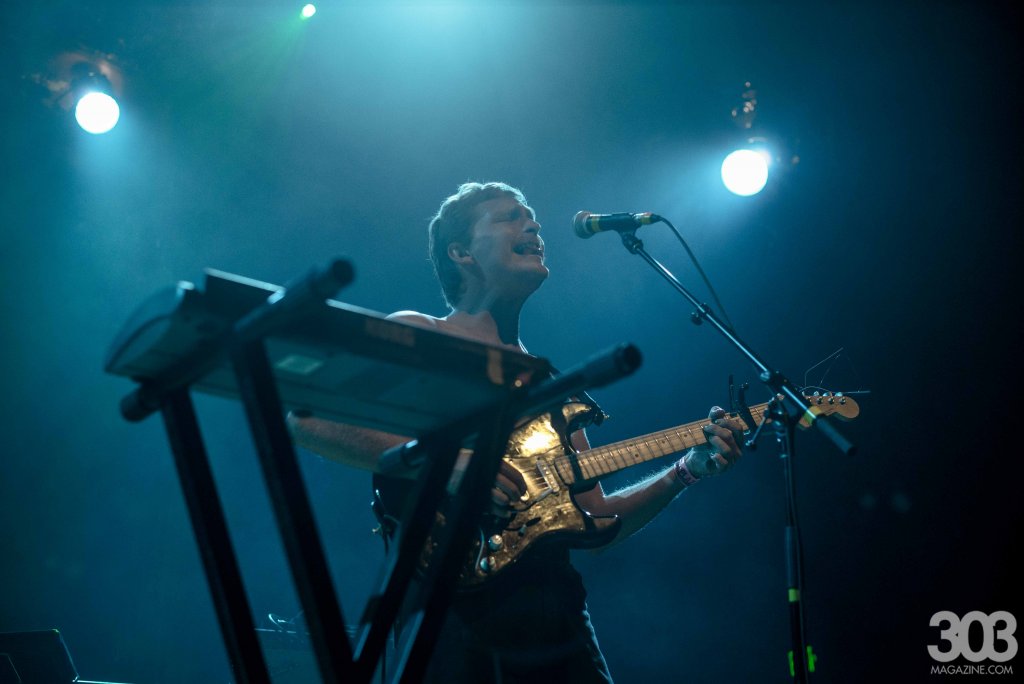 The show overall was friendly and fun loving. DeMarco introduced a fan and asked which side of the pit wanted to carry him more. The man jumped into the crowd and surfed back and forth gently as if on water. The band played until he was back on stage and then took the longest break from album music to introduce each other while still playing. White drives the introductions and thank yous – starting by gushing about their traveling sound guy then shifting the focus to all the band members. When White moved to introduce McMurray, DeMarco took over drumming and gave McMurray his microphone. McMurray said thank you to the audience and put the microphone on the ground and practically ran back to the drums. White also encouraged their booking manager to come out on stage, which she did awkwardly for a moment. Then, DeMarco attempted to get title-less Sarah to come out and it was clear she was not interested in being on stage.
The band closed with "Ode to Viceroy" and "Chamber of Reflection." People were happy and swayed gently while DeMarco redefined crooning – a gentle moan into the microphone. DeMarco reminded us all of someone we knew growing up who was always so nice. There were moments where the band seemed to believe itself to be much older or more experienced than they were, but with all the talent on stage, the chattiness at times overshadowed the music itself. The fans did not seem to notice though, for them, every Canadian Joke or friendly aside was directed only to them. The experience was mild and purely, almost innocently, fun.
Discover more photos by Austin Voldseth of Mac Demarco here.