When you hear the names Daryl Hall and John Oates, chances are you think of feathered fringe, epic mustaches and music that makes you want to sing at the top of your lungs. This multi-platinum duo is best known for creating songs that not only fused elements of soft rock and R&B flawlessly, but also cultivating unforgettable sounds that are just as infectious today as they were 40 years ago.
The night began with show-stopping openers Sharon Jones and the Dap Kings followed by Trombone Shorty and Orleans Avenue, respectively. Sometimes called "the female James Brown," Jones belted out funky tunes with her signature deep soul vocals and wowed the audience with chops so robust that fans are normally propelled backward by sheer force. Jones's documentary Miss Sharon Jones, directed by Barbara Kopple,  chronicles her inspiring battle with pancreatic cancer. You can catch the film playing at the Esquire. Unfortunately, despite Jones's stature as a mega-talented artist, she was only allotted 30 minutes, which was a bummer for many fans who came out solely to catch her on the rocks.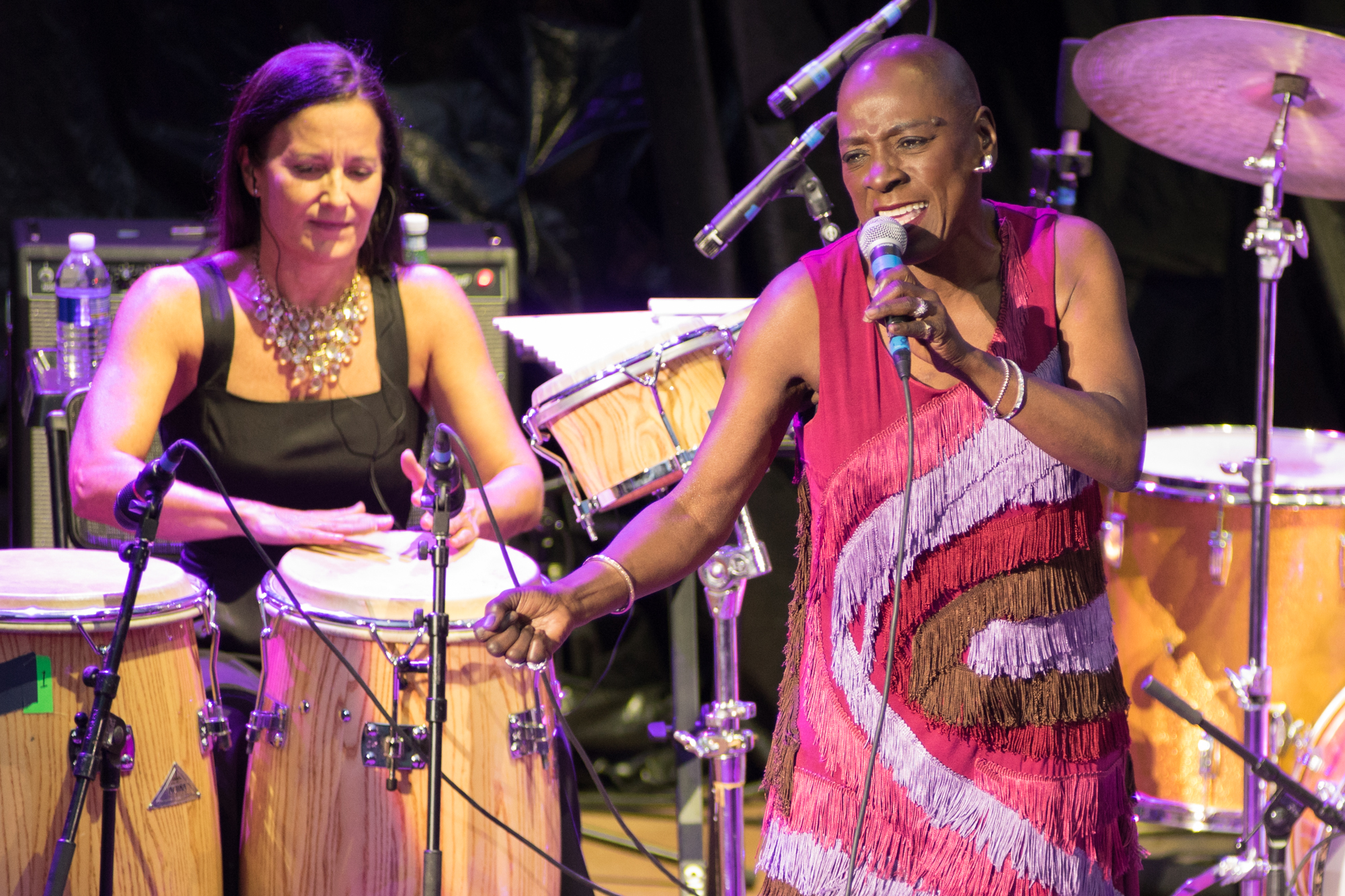 Up next was gifted brass musician Trombone Shorty, who demonstrated that traditional jazz and blues are still alive, well and thriving with his powerful brass-heavy melodies. During his last performance, the thin mountain air deterred Shorty from longer solos, but it appears that he's been doing lung calisthenics before this show, evident with his longer-than-humanly-possible solo at the end of the set. These opening artists were a true testament to talent, poise and showmanship, and set a positive tone for the evening. If anything, they might've set the bar a bit too high for the impending headliners.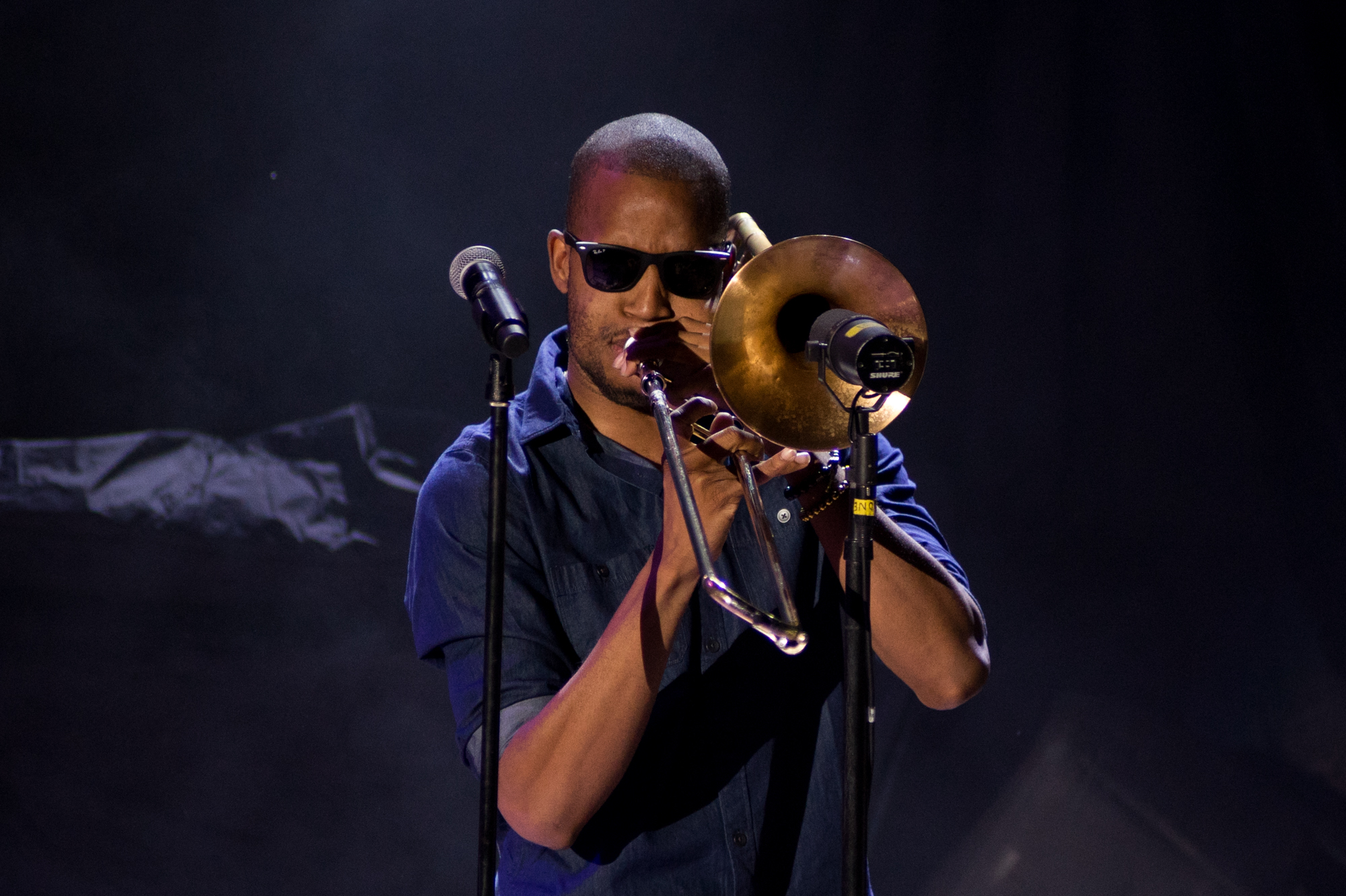 The main event commenced as Hall, Oates and their six-piece band sauntered onto the stage clad in 80s favorites: glitter, sequins and leather. The pair opened with chart-topping radio single "Maneater." The duo didn't seem phased by the idea of appearing washed-up, out-of-sync or beyond their prime during a performance some 30 years past their allotted "it-period;" rather, they embraced the lifelong Hall and Oates fandom, as did the audience, singing along and confiding a not-so-secret love affair with this duo on the Rocks. In fact, they didn't seem to feel much of anything at all.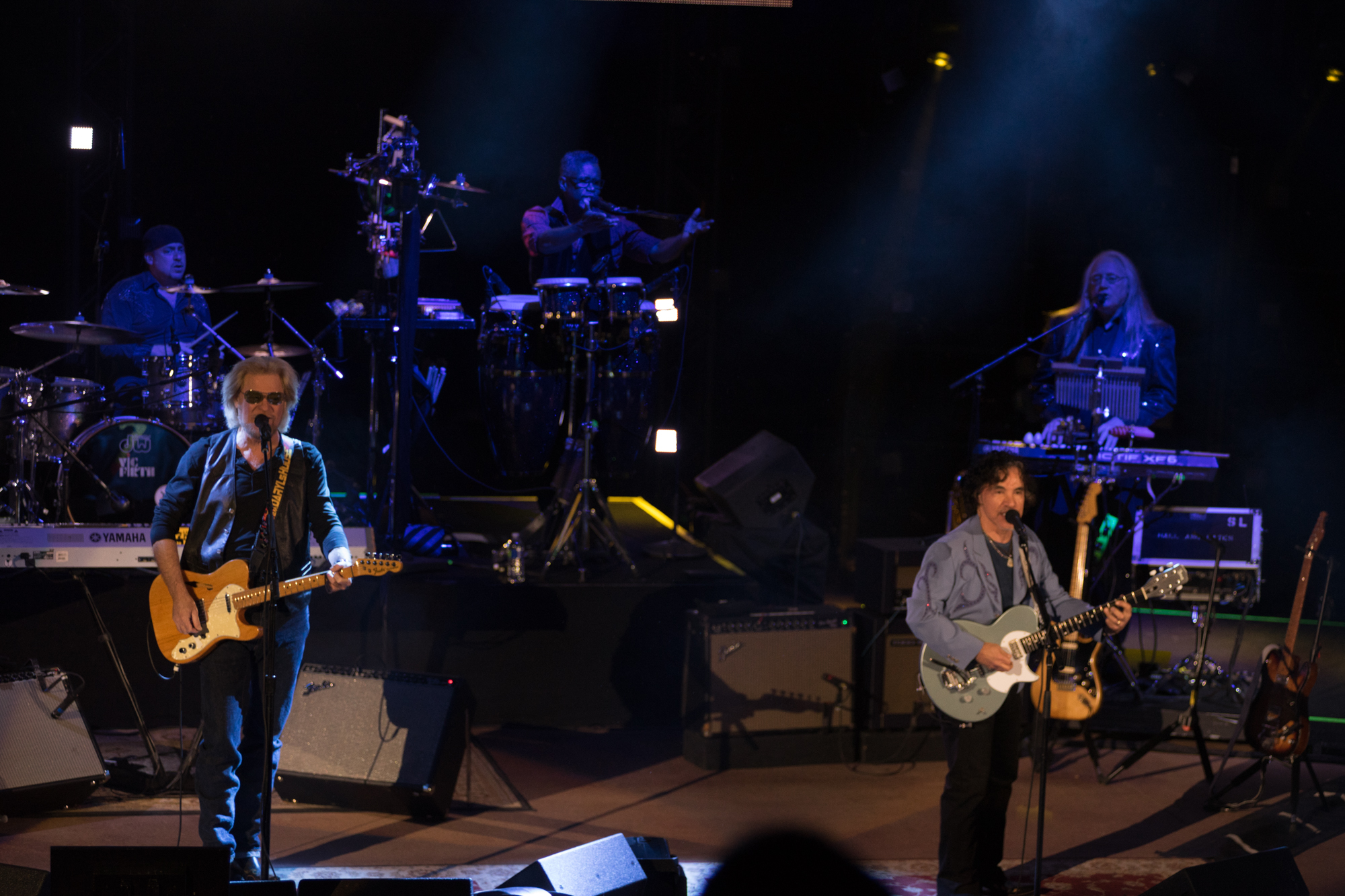 But though the crowd's energy rained down with an evening thunder storm, the sound was amiss, the duo's indifference was palpable and Hall's mic was constantly piping above the rest of the band, though his vocals continually faltered. Maybe even for the most successful pop-rock duo of all time, they grow tired of their hits. And maybe fans would be welcoming of a ramped-up version of a cheesy track like "Rich Girl" or a new arrangement of "Private Eyes," but I'm guessing they might picket the parking lots after the show. So, here Hall and Oates are playing at one of the most majestic venues in the world for thousands of people, and looking visibly bored. I mean, the interaction between the two was minimal, if any. But the fans came for the hits, and the hits they would play… even if it meant coming through like an overplayed radio edit.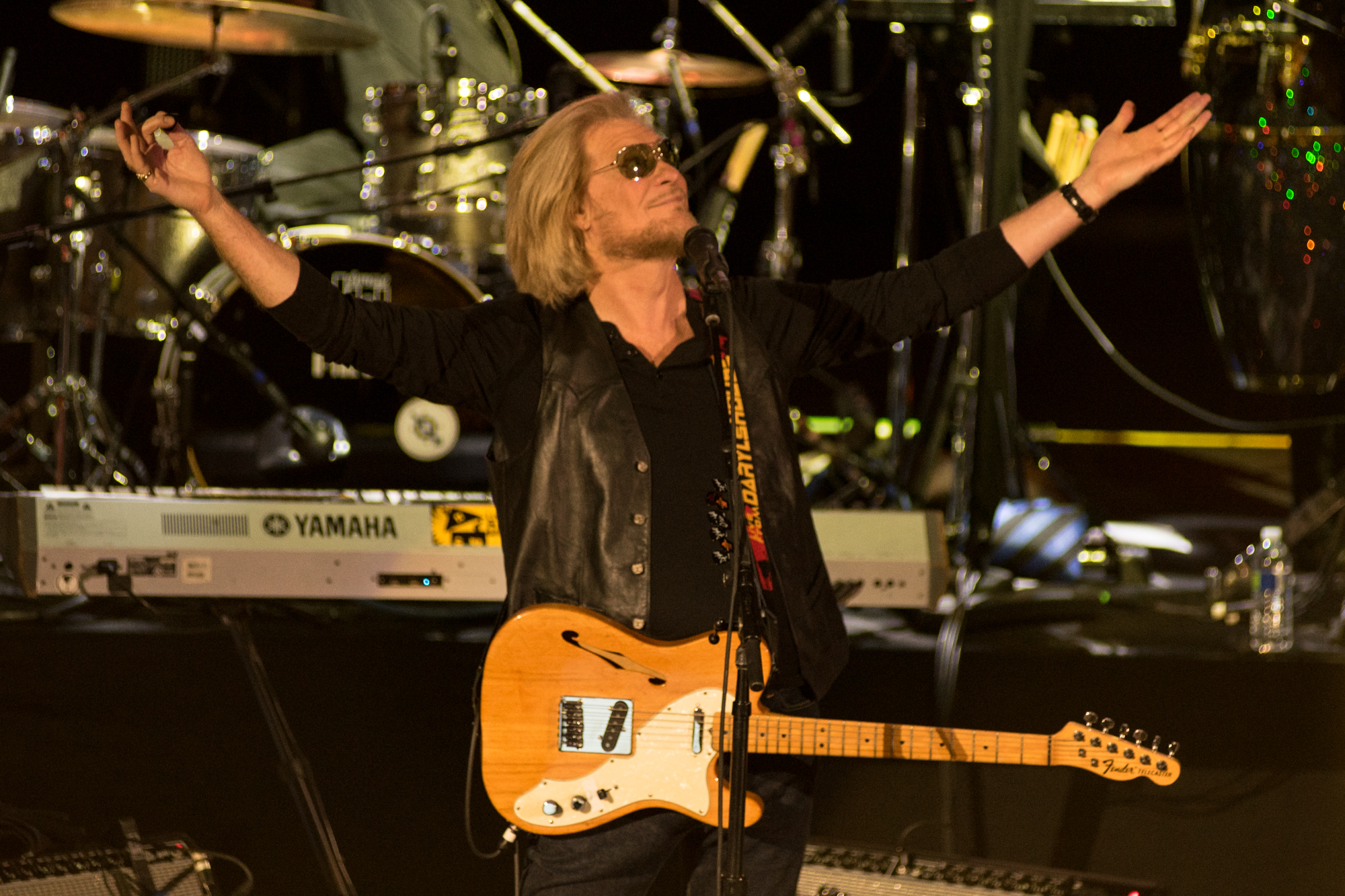 Though seemingly disinterested in showmanship, Hall still expressed his admiration for our famed venue.
"Look at this place, man! You guys watch us but we get to watch… this!" Hall crooned, motioning to the towering rocks.
Saxophone solos from the night's MVP, Charles DeChant (arguably a perfect symbiosis for Gandalf and Bill Gates in a sequin jacket), were a welcomed reprieve from the shaky, uninterested vocals of the lead singers. But as the night continued, I changed my critical tune and worked on embracing the experience, and Hall and Oates delivered a bit more oomph into their performance with ballads like "You've Lost That Lovin' Feelin'," "She's Gone" and "Sara Smile," though Hall's vocal range notably weakened through the years.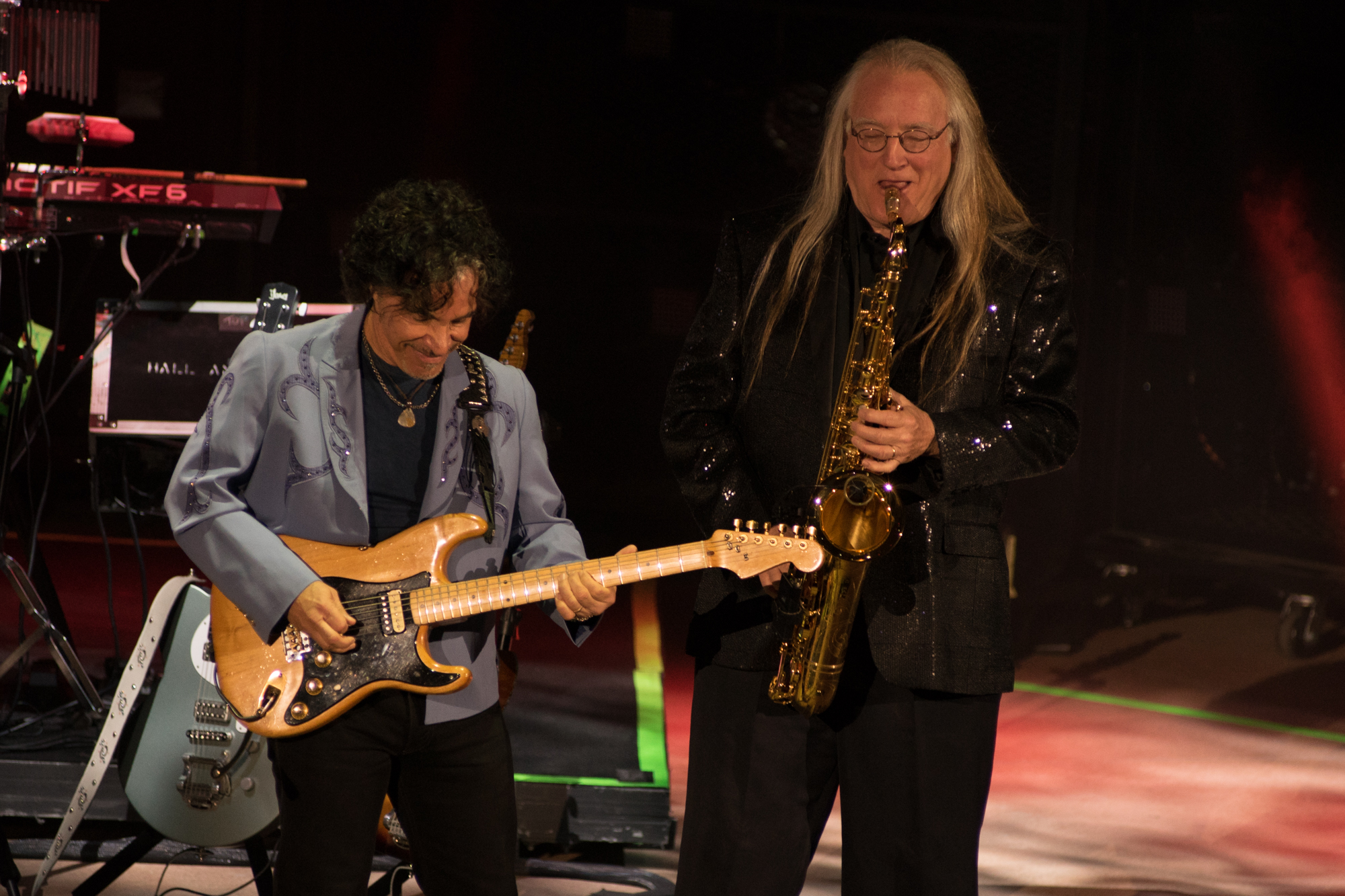 "These songs are all about honesty, man."
And the honesty of these ballads shone through, despite the monotony of the delivery. Their voices, though gravelly under the cruelty of age, derived moments of nostalgic bliss. But while delivering on the promise of non-stop radio hits, the night rarely deviated from the motions. And with decades of performances under your belt, it's often we see seasoned artists grow weary of the theatrics that once played a large role in cultivating a star persona. That being said, if you're still willing to charge for tickets, you should work on looking less aggrieved by performing your own songs. At the very least, Oates did appear quizzically surprised the entire show, if only a byproduct of facial renovations.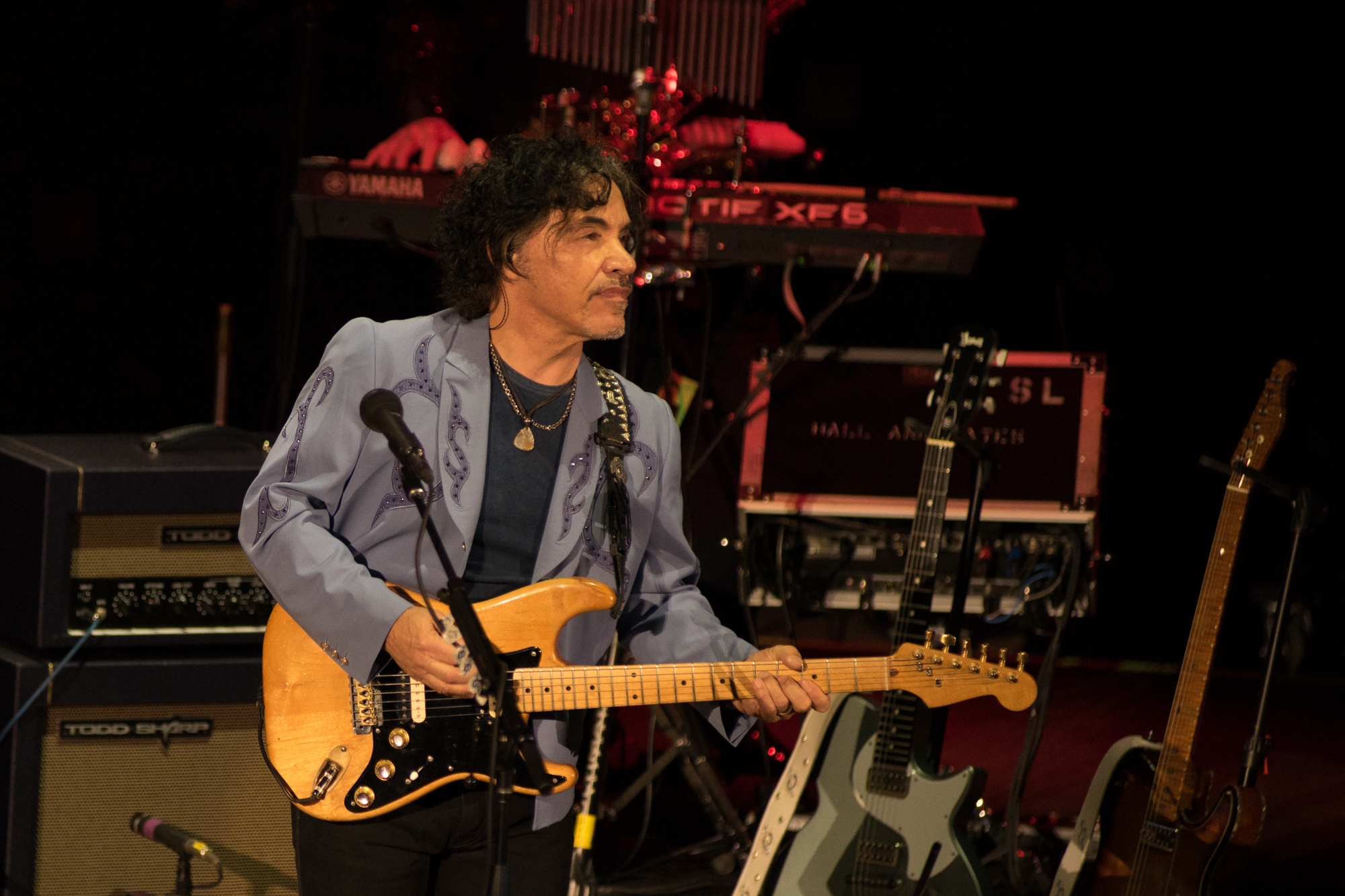 Their first encore delivered a one-two punch of multi-platinum hits "Rich Girl" and "You Make My Dreams" followed by a second encore featuring chart-topping singles "Kiss on My List" and "Private Eyes."
Despite the lack of showmanship and gusto, the show still delivered intermittent moments of sincerity. And for a fan who crooned along to their R&B-infused singles since childhood, finally catching this popular duo bred feelings of wistfulness. The most impressive thing to me — by far — was the fact that each man has managed to keep his flowing locks for so long. Whether by the grace of a Higher Power, or simply an overpriced medical procedure, Hall and Oates have maintained the feathered coifs and tight curls we've come to expect from this fair-haired front man and dark-tressed tempter.
But hair can't extend your career, and counting Hall hair flips becomes tedious after thirty minutes. Having seen artists like Fleetwood Mac and Billy Joel perform in Denver fairly recently and completely shatter all expectations, I was disappointed by this performance, as much as I tried not to be. Perhaps the duo's hits are better left to rest in among the radio waves.