It's hard to pinpoint what makes ARISE Festival so unique. From August 5 – 7, 2016, there was a plethora of music, yoga, workshops and strangers befriending one another freely on Sunrise Ranch outside of Loveland, Colorado. Perhaps the festival is special because it was created by a community, rather than a corporation. Or perhaps it was the intimate connection that arose from musicians to crowds, or maybe it was the focus on giving back to our land. Whatever it was, it was hard to say goodbye.
Arriving Friday afternoon, I quickly felt overwhelmed by all the choices given to me as to what activities to attend. Being a fan of Elephant Revival, I hiked over to the Sunrise Dome and settled in for their hour-long workshop. What happened next was something I did not expect. With around twenty or so people in the room, lead singer and washboard enthusiast Bonnie Paine introduced the band and proceeded to tell the background of the song "Will Carry On." Based on a connection the band formed with a young girl who passed away, Bonnie was standing on a bridge when a feather floated by her. Being an artist, she took these two experiences and formed the lyrics, "I wanna be like a bird / or just a feather / that you place into your hair / for the wind that picks it up / and moves it to and fro in the air / like a river that it floats along / like a song will carry on." The band continued the rest of the hour as such, explaining a variety of songs then quickly jumping into them. It was an experience I will not likely forget, and they even allowed the audience to ask them questions to further bring out personal stories from the instrumentalists.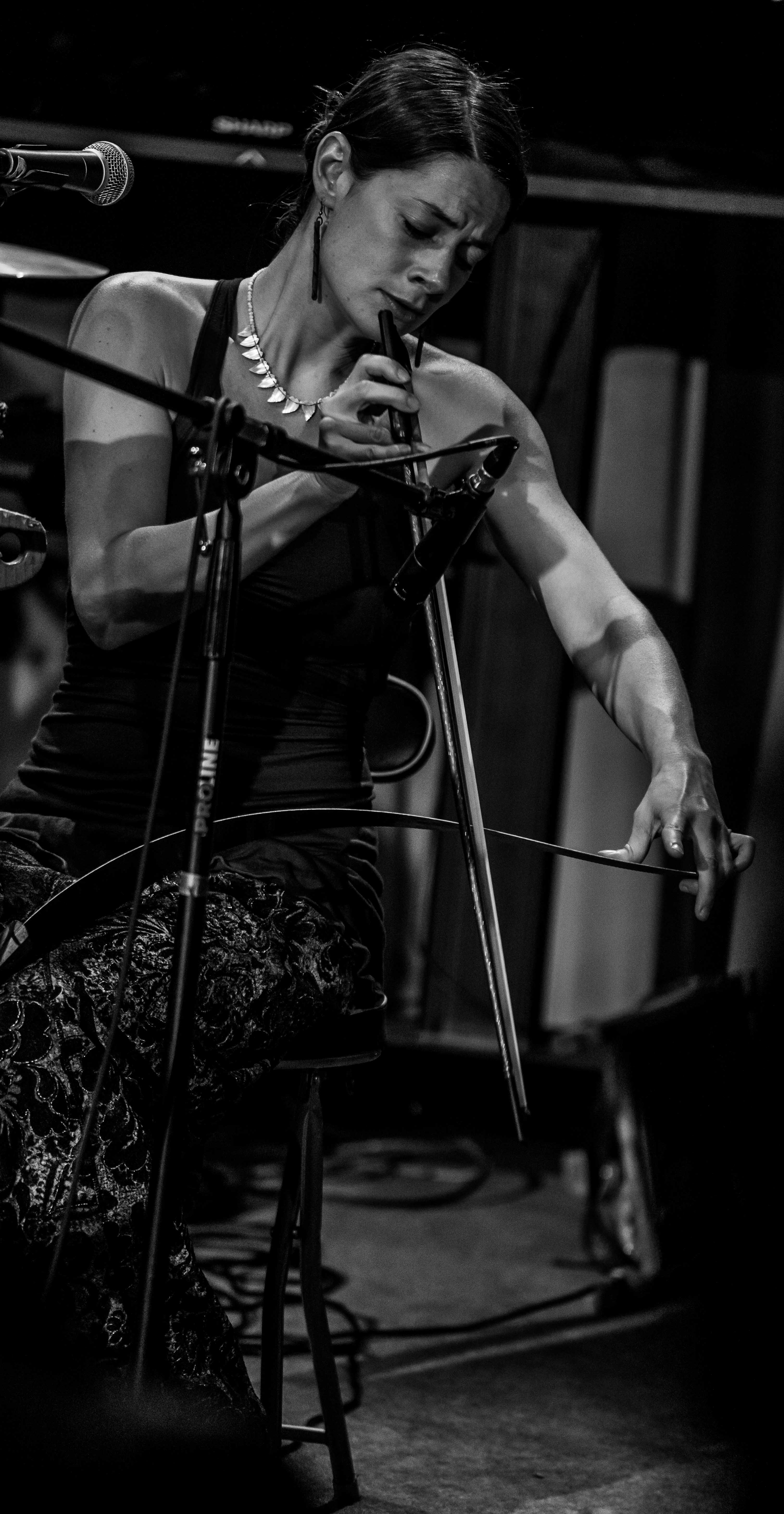 Exiting the dome, I noticed the parades of style that jutted out from every festival goer — flashes of tie dye and smiles, bared and painted breasts, billowing dresses intermixed with galactic latex. Although it was an extremely large festival, it had a small group vibe, clearly felt through the workshops held by different musicians and artists. With the night settling in, acrobatic dancers stepped up next to the main stage for a performance. Their bodies twisted into ropes, muscles shining in the moonlight (and strobe light), ramping the crowd up for Jurassic 5. The J5 performance was everything I expected it would be — a call to political action, performance art with the crowd and straight-up humor.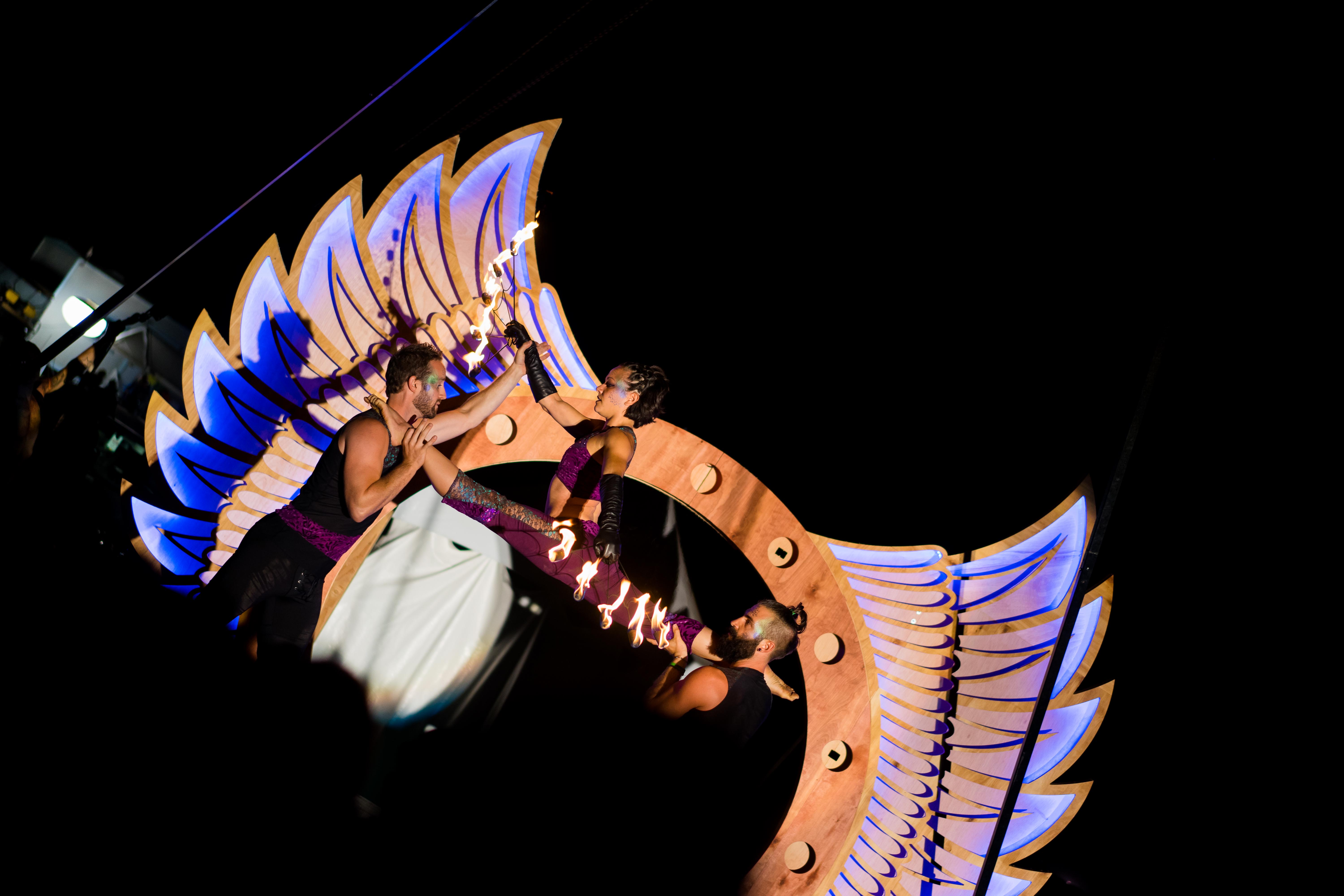 After they exited, Wildlight strolled on around 12:30 a.m. In between acts, it was easy to entertain oneself, as there were art pieces that scattered throughout the acres, some lit with fire, others circulating bright lights. Tents were popped up near the yoga sanctuary and they were supposed to represent your "Chakras." Now, I don't really give way to knowing much about one's chakras, but it sure was peaceful to step inside one of the tents and laugh and gaggle with your pals. There was also an art installation near the Chakra set-up, with flowing white blankets reading positive quotes and splattered with paint. You wore three-d glasses in the installation, and it was a spiral pathway of good energy.
The voice of Alya Nereo drifted out, and I returned to the main stage, eager to hear her fluid voice intermix with the Polish Ambassador David Sugalski's beats. Her stage presence was that of a mythological goddess — there really is no other way to describe her as her vocals called out to an energy beyond her. She gave out yodels similar to that of a wolf call and performed well-known songs such as "Twirl Me," "Conversations Between" and "Live Between a Dream." They frequently brought out other musicians, such as Bridgette from Elephant Revival, and took breaks to orchestrate mini-dances between the two. Even though it was late into the night, the energy was fresh and sultry, the crowd couldn't help but to draw in closer to the stage. Nero gave a solo performance the following day at the Star Water Stage, a more intimate atmosphere where Chloe Smith and Leah Song from Rising Appalachia performed with her. During that set, Nereo performed her own pieces, including "Life-bound Friend," "From the Ground Up" and "Let It In." She was constantly looping her vocals, allowing for a cascade of earthly feminine sounds to enter the space.
Some other noteworthy performances were the Chimney Choir, a Denver-based folk group that incorporates big band sounds into their sets, The New Mastersounds, who performed before Papadosio and carried the crowd into jam band waves, and Xerephine, a U.K. vocalist who experiments with ambient technology and space-filled songs. The way the festival was situated on the grounds, it was easy to meander into one artist's circle of sounds, then carelessly drift into another. There were jokes made about the Area-51 stage being the haven for EDM and up-and-coming DJs, but every stage provided a different experience.
On Saturday, the two sisters of Rising Appalachia orchestrated a workshop of "sound." Gathering strangers together in a tent, we were given instruction to make as many noises and sounds that could erupt from us. In the end, we sang several different songs, our out-of-tune voices pleasantly coming together. The band gave a performance on the main stage early Friday night, and again on Saturday on the Star Water stage, creating a more intimate experience and a lively dance party. All ages attended and got down to their signature world music. They played well-loved songs such as "Spirit's Cradle," "Wider Circles" and several gospel-based hits. They even pulled Nereo onto the stage, giving an acapella performance that I'm sure had everyone (not just me) star struck.
From artists workshops featuring Martina Hoffman, Randall Roberts and Morgan Mandala, to painting classes, yummy food trucks to a surplus of craft beer, there was always something happening at ARISE — you'd do best to sleep only from the hours of 3 a.m. to 8 a.m. With Elephant Revival and Ziggy Marley ending the experience on Sunday night, I felt oddly sad to be leaving all these strangers. I fell in love all over again when Elephant Revival ended their outdoor set with a cover of "White Rabbit" by Jefferson Airplane. Although this was not Woodstock and it's not the 60s, ARISE served us well in the department of hippy-loving vibes. Marley gave an ode to cannabis during his set, hitting us with "One Love." A communion took place this past weekend, and ARISE will continue to grow as the years pass over, settling itself into the hands of a community bent on giving back to the land.
Attended ARISE 2016? Find yourself in the photo gallery here.