While the temperatures might still be mildly sweltering down in Denver, up in the mountains the first snowfalls have already hit the chutes. We all know that one of the biggest perks of living in Colorado is the proximity and accessibility of the mountains and all the winter activities they have to offer.
A good number of us are able to hit the slopes at least once during the season, but there are those select few, the ski bums, who maintain a mountain residency year round, and who know the ski lines like the back of their hand. They're the locals, the ones who are able to call the mountains home, and no Coloradan wants to look like a tourist in their own backyard.
Here are 5 ways to make sure you look like a local on the slopes.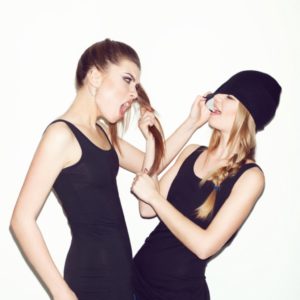 1. Leave your sleek locks in the city.
The locals are typically more preoccupied with being first on the gondola than with having a perfectly coifed 'do. No one has time to curl, spray, straighten or do any other time consuming grooming practice when there's fresh powder waiting to be shredded.
Let your natural hair texture do its thing and pull it into either a low side ponytail or braid. Top it off with a beanie for a total snow bunny look that still lets you tear up the mountain as hard as the boys.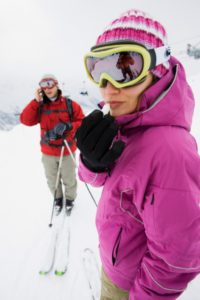 2. Keep Chapstick on hand.
Lipstick looks fabulous and glosses might moisturize enough down in the city, but when you're at the top of a run you want nothing more and nothing less than chapstick. I fully understand the desire to seduce a mountain man with your perfectly kissable pout, but as soon as that wind hits your lips you'll be thinking less of those bearded boarders and lusting instead after some basic balm.
Nothing says "I don't hang out on mountains a lot" like having a pocket devoid of Burt's Bees and a cracked and chapped smile.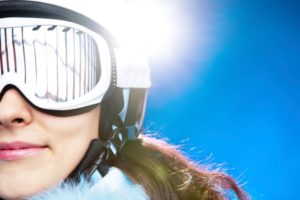 3. There's a fine line between a goggle tan and a goggle burn.
We're all on that hunt for the goggle tan – that facial proof that we've paid our dues on the slopes for the year. But skin damage is never cool, and neither is having to miss a day skiing because you're rubbing aloe vera on your tomato of a face. Apply at least SPF 30. If you really are paying your dues, you'll still get that sought-after goggle tan.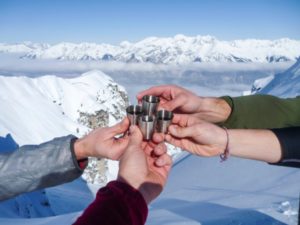 4. Keep a Rosy Glow in your Cheeks.
It's already hitting below thirty up there in the mountains, and if there's one thing I've learned in my time in Vail, it's that the real locals keep warm and happy by keeping a shooter or two of Fireball on them at all times once the mountain opens.
Nobody likes the pale-faced, hypothermic look, and a shot of the good stuff will have you looking and feeling healthy. Keep your cheeks rosy and your attitude fun with a swig every now and then while riding the gondola. Keep in mind, however, that if you're getting too wasted to even pizza-pie your way down the mountain, you'll brand yourself a tourist and irritate the real locals.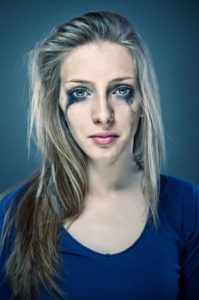 5. If you do wear makeup, go waterproof
The fact of the matter is that when all is said an done, at times the most anyone will be able to see of your face is your nose. So if you have no desire to wear makeup, then by all means go au naturale.
That being said, if you want to wear makeup, that's your divine right as a strong, independent Colorado woman who don't need no man. However, ladies, if you do choose to apply cosmetics, make sure they won't be running down your face by the end of your second run. Choose a light-weight tinted moisturizer and waterproof mascara and keep the black diamonds under your skis, not your eyes.