What: Craft cocktails with a focus on time-honored, pre-Prohibition recipes.
Where: 1543 Champa Street, Denver
Neighborhood: LoDo
When: 5 p.m. – 2 a.m., seven days a week.
Pro: Well-balanced, reliable drinks at a reasonable price.
Con: The small space can only accommodate 49 people; this hasn't been an issue yet, but you can be sure it will be soon.
Alcohol has always been the lifeblood of the American way. It is no exaggeration to say that the consumption of spirits, from our country's colonial beginnings through the 19th century, played a role in almost every aspect of social and political life. While the 18th Amendment, the "noble experiment" commonly known as Prohibition, did not put a full stop to drinking as intended, it did effectively mark the end of at least one chapter: that of the growing science of mixology, which had been informally developed throughout many of pre-modern America's most important benchmarks. For some time, Mike Huggins, owner of the Arvada Tavern in Olde Town, had wondered what it might be like if a bar were to recapture the essence of American cocktail culture before the curtain of Prohibition fell…
The Concept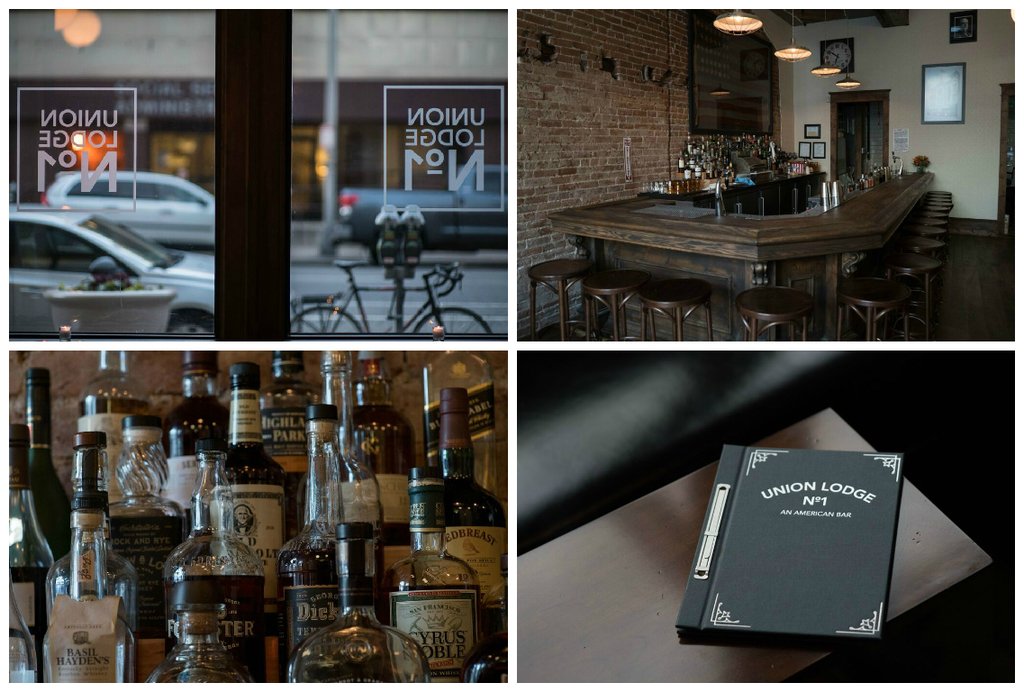 Union Lodge No. 1 — named in honor of the building's initial designation — opened quietly May 1, catering primarily to friends and patrons of Arvada Tavern. Huggins and Alex Daniluk, who came over from Arvada Tavern to helm the bar, took a two-pronged approach in the seven months it required to get the concept off the ground. While Huggins worked on securing and redesigning the space, Daniluk pored through centuries worth of history to track down the best cocktail recipes he could find. "We wanted to best reflect what an American bar was like back then…our intention was to celebrate each cocktail," said Huggins.
Taking cocktail craft cues from Jerry Thomas' seminal "The Bartender's Guide" and "Imbibe" by David Wondrich, Daniluk also spent some obligatory time in the bellies of the beasts: the well known and hideaway bars of New Orleans and New York. Union Lodge No. 1 ultimately became a synthesis of the two cities' styles in terms of décor and stylistic approach.
In addition to procuring a 38-star flag and a contemporary cash machine, Huggins outfitted the space with simple wood finishes on the bartop, high-tops and stools, and a patent leather sectional couch. Forgiving the slightly hard-to-find front entrance, Union Lodge No. 1's overall aesthetic is a triumphant blend of historical precision and modern taste.
The Drinks
As far as the cocktail program is concerned, Union Lodge No. 1 stays true to the tenor of the times it intends to capture: there are no wines served at the bar, no spirits that weren't readily available back then (e.g. Vodka) and Tivoli is the only beer on tap (according to Daniluk, it was Colorado's first). Other than bar nuts and a daily selection of neighboring City Pop's freshest kernels, Union Lodge serves pure firewater.
Daniluk concedes that Angostura and Peychaud's bitters have their territory clearly marked, but he is proud of the fact that the rest of the bar's bitters, syrups and juices are crafted fresh in house. Furthermore, there are no hidden ingredients and, noticeably, no overprotective snobbishness set up between bartender and customer. In fact, Daniluk is happy to share the secrets behind Union Lodge's recipes, down to the last drop.
Even without extra help, the hardcover menu, artfully designed by Steven Parisi, a close friend of Huggins,' makes the ordering process a well-informed breeze; each cocktail has a description and a brief history where appropriate. Crack open one of these menus and you will find 18 distinguished cocktails — each is served in its own unique vessel and has its own unique garnish.
On our initial visit, we tried the Whiskey Cocktail a.k.a. Old Fashioned ($10), the Ramos Gin Fizz ($15) and the Red White Blue Blazer ($16). The first is a well-executed exemplar of the go-to favorite, the latter two faithful renditions with an out-of-the-box, experiential value that more than makes up for the higher price point. Which is to say the actions that bring the drinks into being are almost as enjoyable to behold as the booze itself (especially with the blazer, lit on fire in deference to its origins at the hands of a bona fide showman).
Of course, if 100-proof liquors and pyrotechnics aren't your sort of thing, one need only answer a few questions and Daniluk or co-bartender Casey Zuhlke can summon their considerable knowledge to build an off-menu cocktail tailored to your preferred flavor profile.
While Huggins hopes to attract the loyalties of industry folk, Union Lodge No. 1 will satisfy anyone who can appreciate the artistry of a good drink. Since Denver is among the most prolific beer producers in the country, and no doubt what keeps so many big drinkers parked here, you may consider hushing the beer beer beer mantra to be an unimaginable feat. But don't: if you've ever left a bar with a bad taste in your mouth due to costly trial-and-error cocktail samplings, rest assured that won't happen at Union Lodge No. 1. These recipes are tried and true, absolutely deserving of the high regard in which they are held.
 All photography by Kyle Cooper.