Living in the healthiest state in the nation comes with many perks: lots of gyms to choose from, cute workout clothing stores, friends to try new classes with, and multiple fitness events hosted to inspire us. But 303's favorite? All of the odd balls who come out of hiding to get their sweat on.
Here are 8 types of outrageous people you will find exercising in Colorado…
1. The Red Rocks Warrior
Most of us have to stop and catch our breath as we try to double-fist beers up the stairs at Film On The Rocks – not these people. They can be spotted in their natural habitat sprinting up over 380 stairs, while pausing for Colorado Core Climber Crunches. You go, Glen Coco.
2. The Highlands Hippie
That person who rides their bike (even in a snowstorm) to the raddest yoga studios while toting an organic mat, while wearing hemp cotton clothes: the Highlands Hippie. This person also does not believe in deodorant. They will judge you severely for your earth-killing yoga mat purchased at Target and BPA-filled Nalgene bottle (commence moving to the edge of the room).
3. The Homegrown Healthy Hottie
With so many people flocking to Colorado, these natives are more challenging to spot. These male and female hotties do not stay fit from sunrise yoga sessions or barre for bros. They can most likely be found tearing up the slopes, playing volleyball in Wash Park, or chopping wood for a mountain fire.
Dead giveaway of a native hottie: They usually destroy the efforts of their workout by indulging in a post-exercise beer (Coors or Colorado craft of course).
4. The People Who Are Clearly Only There To Wear A Weird Costume
What 5K? They just wanted an excuse to wear a tutu and troll wig. Play on, player.
5. The LoDo Bro
Although not confined to the Lower Downtown region, these are the fellas who only own bro tanks, wear snapbacks at the gym, know how to do a perfect bicep curl, and talk exclusively about protein shakes and gainz.
6. The Cap Hill Couple
…they know themselves as #swolemates. You know them as the inconsiderate assholes using half of the equipment and making out in between reps. They see PDA as "Partner Deadlift Assisting" while you just want to vomit.
"Umm can you wipe that bench down after you use it? Thanks."
7. The South Pearl Selfie-er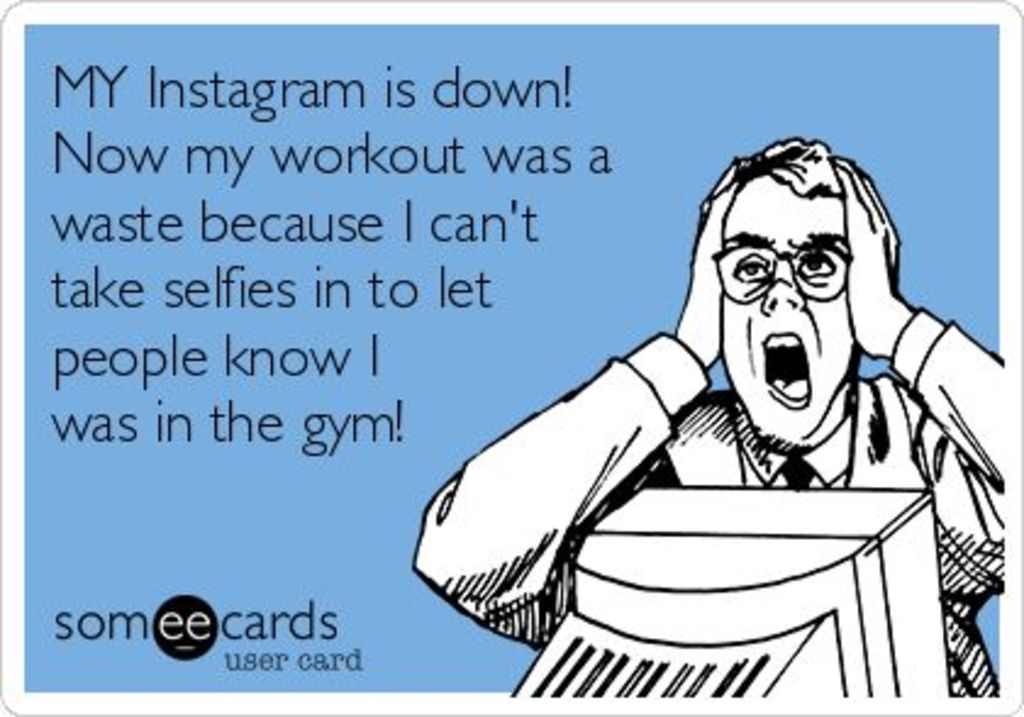 These are the people that full-length mirrors at the gym are made for. They spend more time documenting their time exercising than they do actually working out. They are not confined to a certain area of Colorado. Although sometimes stealthy, you can likely spot them at any fitness related establishment. It doesn't count if you don't put it on Instagram, right? "Umm can you move so I can use the mirror for my squats?" #GymIsBae
8. The People Who Play Sports That Probably Originated From Drunk College Nights
Take a stroll around Wash Park and you will notice those people playing sports that look questionably like what would be going down in a frat house after a night of binge drinking.
Dart throwing tournaments, bike polo, even sledding down the hill to the Colorado State Capitol on a lunch tray are just a few examples of where you can spot these types of folks. These are the people who show up to work with a weird injury, that you just do not feel bad about because you know it was their own fault.
Outrageous or not, we love all of our Colorado fitness family.