As Men's Fashion Week comes to a close we can't help but think ahead. We've seen some amazing and controversial looks on the runway, but will we actually see them on the streets?
With February quickly approaching we want to see what's hot for spring, yet still practical for winter. As the great Peter Drucker once said, "the best way to predict the future is to create it." So we're looking ahead at the tricky winter spring transition and taking cues from our favorite street style looks.
Make it Pop
Color is always void during the winter months but why is that? We all have this preconceived rule that black, grays and browns are only appropriate for the snowy season. But let's take it up a notch and throw in some pops of color.
While it may seem strange to wear bright yellows and oranges, do it in moderation. Dress up in your daily head-to-toe black but add some spice with a cobalt blue hand bag. Keep it minimal by using accessories as your color anchor. Shoes, hats, jewelry – do whatever you're most comfortable with. Or take it a step further by adding those eye-catching colors through jackets and blazers.
Hippie Chic

It has already been reported by Vogue, Harper's Bazaar and Style.com that fringe will be big for spring, so why not get a head start on this hippie chic look? It may be too cold for fringed leather jackets and vests so try out some suede and fur. A goat hair look will be especially popular these winter months for its resemblance to fringe. These pieces should be easy to find with the season in full swing. Pick up one from your favorite designer boutique, Forever 21, or even your local thrift shop. Don't be afraid to pump up this look with your favorite silhouettes or dress it down with jeans and skate shoes.
Focus on Accessories

The transition from winter to spring is confusing enough as it is, so why not have some common ground through your accessories? Look for great graphic pieces that will not only last the season but last the year. Ditch the idea of "basics" and get something that echos "wow."
If you're going for a black or brown bag make sure it has some shine with avant garde hardware or add that pop with some key fobs, a huge trend for 2015. Be brave and sport colors and prints year round on your shoulder. Whichever bag you choose for 2015 make sure it'll make a lasting impact.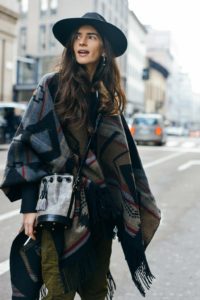 Blanket Poncho 
The blanket poncho is here to stay. Coming into popular culture through Burberry, many thought that this trend would fade, but it looks like this must-have piece is still going strong. Along with the hippie chic trend of fringe the blanket poncho gives you comfortably without sacrificing style.
Another great feature of this piece? Just about anyone can sport it. Be a wallflower and select this piece in navy or black. Amp it up with a couple of prints or go full out with loud colors. The blanket poncho is also a great piece to throw on during those cold spring nights.
Men's Time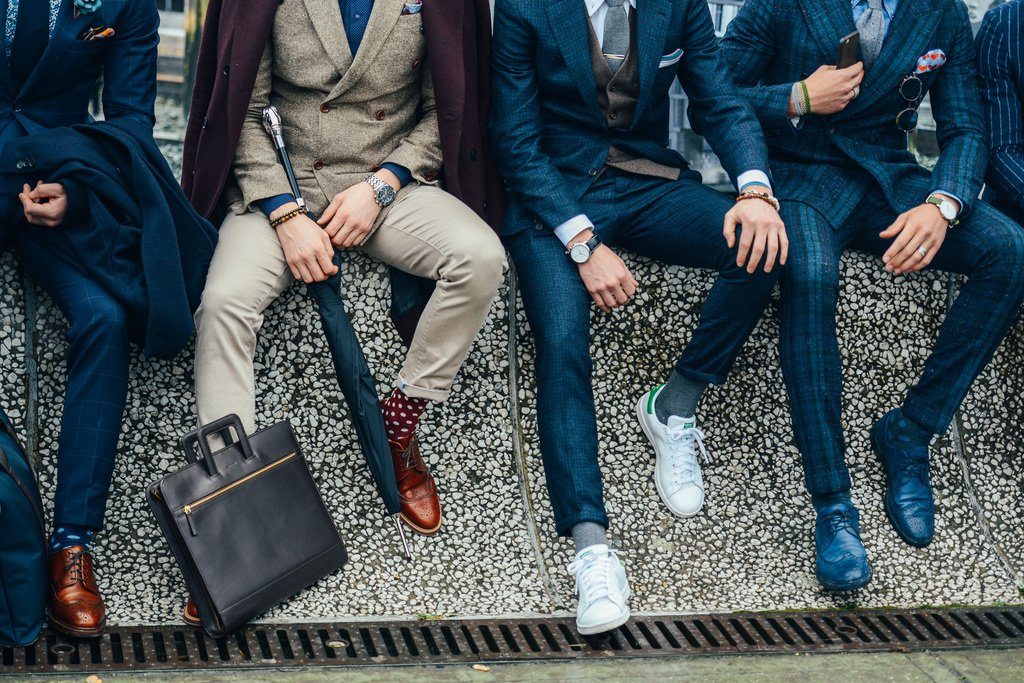 Guys, it's 2015 now, which means it's time to develop some personal style. While womenswear is centuries ahead of menswear it's simply no excuse to wear t-shirts and sweats 24/7. Take cues from your favorite artist, designers and looks on the street to help you develop a look.
Not into suits and blazers? Dress it down with trainers or converse. Or add some spunk to your routinely boring workday ensemble with fun socks and accessories. Develop your look by find inspiration in areas where art and fashion meet.