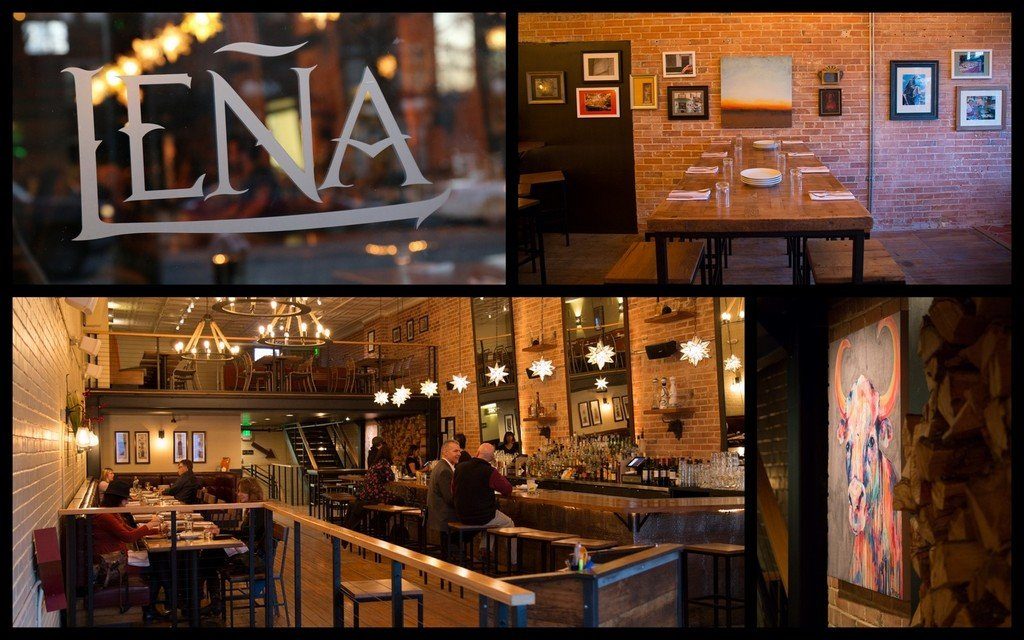 What: Drink specials & small plates filled with bold Latin American flavors
Where: 24 Broadway, Suite 104, Denver
Neighborhood: South Broadway
When: Happy hour is available Monday-Friday, 4 p.m.-6 p.m.
Pros: Leña doesn't skimp on flavor or service. The chimichurri alone is reason enough to visit this restaurant often, and the staff is welcoming and excited to chat about their favorites on the menu.
Cons: The happy hour selection is limited to just the basics. Those basics are done right, but the menu here is filled with so many temptations that it's tough to stick to just the specials.
On a block that's chock full of popular bars and restaurants, Leña (a relative newcomer to the neighborhood after opening last August) stands out for all the right reasons. The space is open and warm thanks to the tall ceiling, original hardwood floors and an expansive bar just begging you to pull up a chair and settle in for some cocktails. And fittingly, Leña (which means "firewood") has a wall lined with fuel for its oak fire grill, a welcomed sign for all the meats that'll be cooked over its open flame.
The drink selection at Leña is filled with Latin delights like the spicy, mezcal-based Chupacabra ($10) and classics like the Pisco Sour ($8) and Paloma ($8). The down side, though, is that most of the drinks here are not part of the happy hour offerings. Does that mean you should skip these libations? No! Fork over the extra few bucks and order at least one round off the regular bar menu. It'll be worth it.
Don't worry, though, you can still get a great buzz on the cheap here with 12oz. pours of draft beers like Left Hand's Milk Stout ($2.50) along with well drinks ($3), and house red & white wines ($4).  The best boozy deals here, though, are the red or white Sangria ($5) for some fruity easy-sipping and the $5 House Margarita. Salt? Yes, please.
So you have a margarita in one hand – now all you need is a taco (or three) in the other. With corn tortillas that are hand made fresh every day and filled with tender meats, the tacos are definitely the star attraction at this happy hour. Mix and match three options for just $3 each. They all have distinct flavors so don't try to decide – just order all three.
For a classic flavor combination, go for the Pescado made with chili spiced sea bass and topped with a sweet mango salad, cooling bits of cojita cheese and a crema spiked with naranjilla (a South American fruit with a citrusy kick).  Goat may not be a go-to protein in Denver yet, but is has been popping up on menus around town more frequently lately (Work & Class' roasted goat is a popular dish). Leña's got its tender goat in a tortilla with the Barbacoa de Cabra (aji rubbed local goat) served with a crunchy squash slaw and roasted Anaheim crema. The Carnitas de Bisonte rounds out this trio with slow roasted bison short ribs, estofada (stewed) salsa, refreshing jicama slaw and creamy queso casero.
Beyond tacos, the next best item on the happy hour menu are the Empanadas ($2.50) which are accompanied by a chimichurri that should basically be eaten on everything – as long as you don't mind garlic breath. Going meatless? Fill up quick with the Ensalada de Quinoa ($5), a heaping serving of the protein-rich grain dotted with edamame, mango and red onion and topped with a light orange dressing.
Leña's hapy hour eats are rounded out with the Ensalada de Palmito ($5), a hearts of palm salad that's like summer in a bowl with watermelon and apple, and the Llapingachos ($5), small fried potato cakes that were lacking in flavor when compared with the rest of the offerings.
When I walked out of Leña, my thoughts wandered to what I'd be ordering on my next visit. This is the sign of a successful happy hour – one that leaves you excited for more. I got the feel for the restaurant and its culinary vision (plus a nice buzz) for a good price. And what will I be ordering on my next visit? House made sausages & the octopus ceviche are definitely on the short list. Plus brunch will be launching in the coming weeks, giving everyone just one more good excuse to visit Leña.
All photography by Brent Andeck
­­­