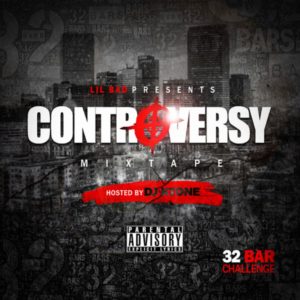 Earlier in the third quarter "controversy" was the name of the game. MC's from Denver were releasing freestyles left and right that encompassed what they deemed to be controversial content. We talked with Lil Bad, the rapper who started it all with a 32 bar freestyle, and he let us know there would be a mixtape of the best tracks for compilation. Last night at "Over There Off Hampden," for DJ Ktone's "Toned Out Tuesdays" hip-hop night, the release party went down.
First of all, only DJ Ktone is going to get a roomful of people to party like it's Friday on a Tuesday. The only focus was the music last night. The dance floor was full, MC's were making their way through the venue, giving props to each other, nodding their heads to the music and generally being merry. There were different factions, crews and artists in the building and it was all mutual respect.
DJ Ktone kept the party going by making announcements, playing the hottest hip-hop records and facilitating the performers who were set to take the stage. Since Lil Bad started the whole movement, he opened the show with a performance. His performance was great but his wardrobe did all of the talking, flanked in chains with electric blue embellishments as the theme.
There's this misguided sentiment among some of the MC's in the scene that you have to act too cool for school to churn out a good performance. This isn't the case with KL Tha General who was the best on stage. He rocked his "Controversy" verse like his life depended on it. He brought up a bunch of his friends on stage to help him out and they added to the energy and stamina.
The most hilarious aspect of being at a show where a bunch of rappers took shots at each other on wax was watching these rappers perform those tracks live in front of the people they targeted. It got super awkward when Trev Rich, AP and DJ Squizzy Taylor walked in as ambassadors of their "Squizzy" crew. Trev, in particular was a name heard throughout most of the freestyles. He didn't perform, though and took all dissing in stride, shaking hands and conversing with people in the crowd.
The "Controversy" mixtape is available for download here. There's rumblings of a part two, which might be a good thing, especially because there were more artists who put out freestyles than there was room on the mixtape. DJ Ktone and Lil Bad are at the helm of curating the songs, beats and voices that will make up the second part.