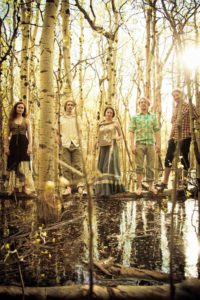 Elephant Revival is on the move.
They just returned home to Colorado after playing a surprise show on November 3 for lucky passengers aboard a Southwest flight from Portland to Denver to promote the new partnership between the airline and Beats Music, which will be providing passengers with free music streaming on all future flights (videos coming soon to an Internet near you).
This weekend, Elephant Revival will be playing back-to-back shows at the Boulder Theater (Saturday night is already sold out!) for their "Birds of a Feather Autumnal Ball," featuring opening bands Horse Feathers and Paper Bird, respectively. There will be costume contests held both nights, providing yet another glorious reason not to stash away those Halloween costumes just yet (as if we needed another a reason to dress up). The doors are scheduled to open at 8 p.m. and tickets cost about $22-27.
Then they're back in Colorado Springs just after Christmas for two nights of music at the Stargazers Theater on December 27-28 before jetting over to Salt Lake City for New Year's Eve. Next they're booked for a six day (vacation?) stint on the one and only Jam Cruise from January 6-11, with friends Umphrey's McGee, Lettuce and Pretty Lights. And it'll be February before we know it for WinterWonderGrass in Avon.
Don't miss your opportunity to see this charming and dynamic bluegrass band while they're home in Colorado.
As the New York Times has said, "If Elephant Revival doesn't make you smile, something is wrong with you."
Check out 303 Magazine's interview with Elephant Revival's Daniel Rodriguez from this summer, just before their first ever Red Rocks appearance.
Elephant Revival performing "The Pasture" off of their latest album, These Changing Skies.