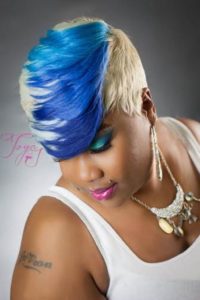 Toya Johnson began doing hair in high school after realizing every style done by her professional hair dresser, she could duplicate herself. She says she used to have visions of styles and intricate designs, wake up the next day and try them out on her friends. Originally from Marshall, Texas, Johnson honed her natural born talent, eventually parlaying her success into her own accomplished business.
Now, she is continuing her philanthropic intentions by providing custom sewn wigs to cancer survivors. Right on time for Breast Cancer Awareness month, we sat down with Toya Johnson to discuss style, innovation and the importance of giving back.
Most people who are hair stylists have been doing it forever. Is that the same for you?
I used to practice on my Cabbage Patch dolls, my sister, anyone whose hair I could do, I would do it. I just love doing hair and creating a new style. I follow the style and trends and then dream of ways to make it different. I got accepted to Grambling State but wanted to own my own hair business.
How do you stay up on the latest trends and styles?
I travel a lot. That's one thing I think is important is education. A lot of stylists don't understand you have to continue learning about different styles and trends as they come up. You also have to know what you specialize in, whether it's color, cutting, or what. Having the education on the styles and trends are most important. Then you can know what changes and when.
Of all the places you travel, where are the styles the most intricate?
Detroit is the hair capital. I'm thinking, though that Florida kind of flies under the radar but when it comes to braids and weaves, a lot of our techniques come through other stylists. We put a spin on them that gives it a special touch but Detroit has the hair game on lock.
How do you paint that vision of beauty for every client?
I think a lot of people come into the salon and they want to just come in for the environment. [laughs]. I'm more of a therapist in a way. As long as they feel comfortable and relaxed, they leave feeling even more refreshed.
You've been doing hair for more than 14 years.  Who is your longest running client?
Her name is Gloria Lee. She started with me 14 years ao and we've been together ever since.
Philanthropy is important to you. You provide styling pro bono for high school students during prom season and graduation. Why is it important to you to give back?
[laughs] I don't know! It's just all I know. I try to take the extra time and passion to make everyone feel like they're a celebrity. I'm an everyday working person, too and everyone wants that extra special feeling. I like to take care of my clients because we trust each other and they always come back.
Each year you give away custom sewn wigs to cancer survivors. How important is it for you to continue this work?
To see someone happy and to know that they might come in with their head down and leave feeling great is just a joy to me. I make each wig myself and I love giving them away. It's so great to see people feel like they couldn't try a certain style again or that they wouldn't have the 'crown' that is their hair, it makes me happy.
How do you build our own style?
I've never been scared to step outside the box. I style clothing, too. I might go into a store and find a rack of something no one else likes. By the time it's done, it's been hot glued, rhinestones, anything. I can make anything look brand new.
Do people come to you typically with the styles they want?
Pretty much everyone says do whatever I want. I know a lot about what the client wants as soon as they sit in my chair. You don't go to the doctor with the prescription already, you gotta let him check you out first! [laughs] Sometimes you gotta re-posess that ponytail and start with something new!
If people want to enter the giveaway for custom sewn wigs for cancer survivors, how do they enter?
They just send me an email to [email protected] telling me their story. I choose the winners and they come in and I make the perfect wig for them. They always love it, and I just love doing it.
What motivates you?
My kids motivate me. I just want the best for them. The best education, everything.
What's next for Toya J. Style?
My longterm goal is to open a beauty school here and in Texas. That's how I really want to give back. Through education and passing on what I've learned. 
Check out more from Toya Johnson at toyajstyle.com.