What: Marley Coffee
Where: 1536 Wynkoop St. (Inside the Alliance Center) & 16th and Larimer on the 16th Street Mall
Pros: Marley Coffee is a great way to get fresh, organic coffee on the go, with a full espresso menu, organic teas and smoothies.
Cons: Their K-cups are not yet recyclable, but Marley intends to be using only Eco-cups by spring of 2015.
It may come as no surprise, but Marley Coffee is as smooth and soulful as the Marley name itself. The company is the heart and soul of Rohan Marley, the son of visionary Reggae musician, Bob Marley, and lucky for us, they've decided to make Denver their home. Coming from Kingston, Jamaica, Marley Coffee will be servicing the downtown area with custom designed Bike Caffes, which are self sufficient, low emission coffee shops on wheels, pedaled by the barista themselves. You can find them dotted around the Denver area in places like the 16th Street Mall and the Alliance Center lobby on Wynkoop St. Since their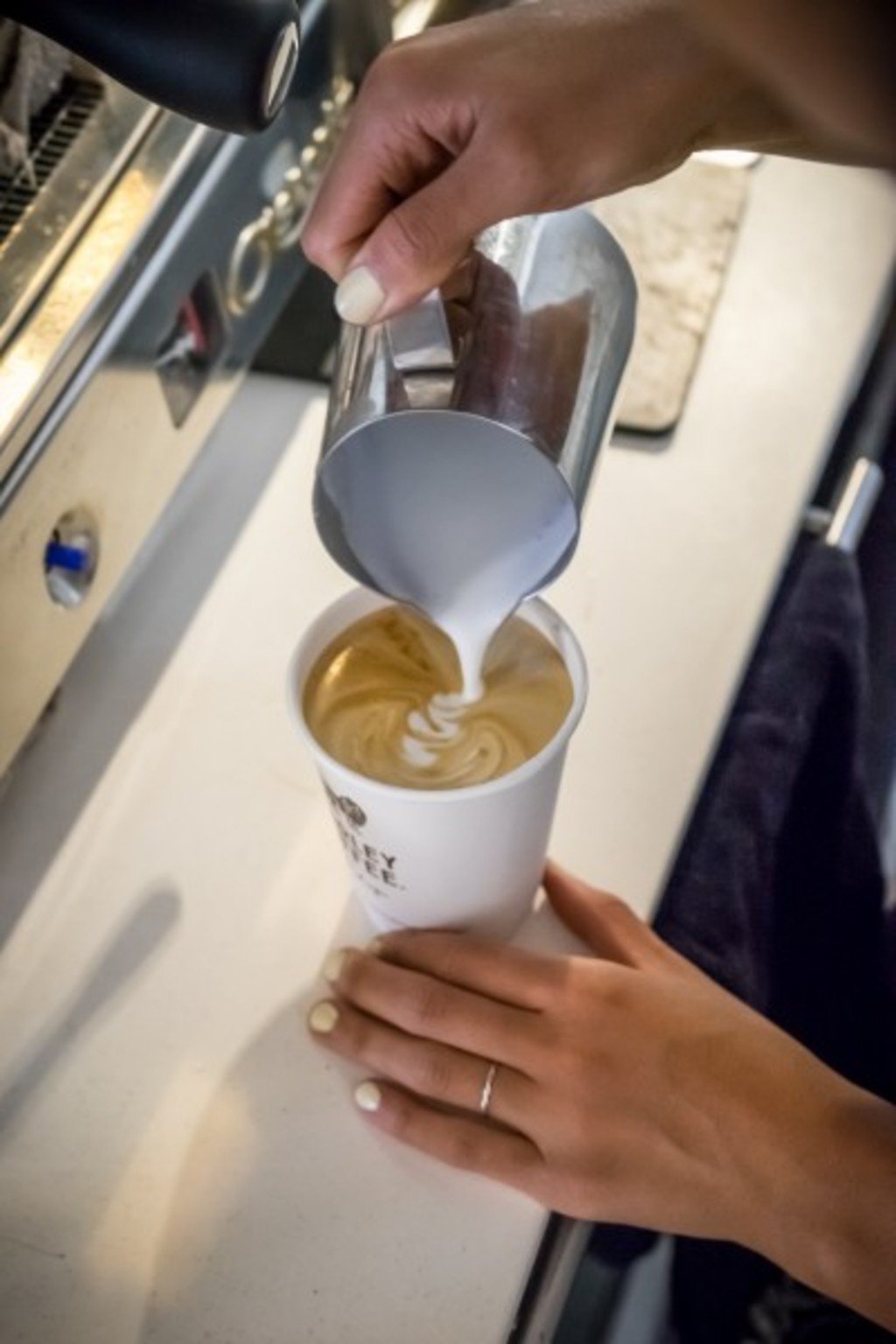 water heaters are powered by clean-burning propane, don't be surprised to find a Marley Coffee Bike Caffe sitting in the lobby of various office buildings around Denver, ready to serve fresh espresso directly from the cart all year long. The vision comes from Rohan Marley himself, who wants to keep the spirit of his father alive by farming in the same region of Jamaica where Bob Marley came from. Unlike most products with a celebrity name, Marley Coffee doesn't just use its namesake as a marketing tool. The farm where much of the coffee grows is the homeland of Bob Marley and carries the essence and soul of the legendary musician's legacy in every sip.
Be sure to try any of their 100% Organic and Rainforest Alliance certified coffees, sold in K-cups and poured fresh right on the sidewalk, giving you a hot cup of organic coffee on demand. With several blends available, including the legendary Jamaica Blue Mountain, there is no reason why coffee drinkers of all kinds shouldn't be able to find an acceptable cup at Marley Coffee.
"We want to have coffee for everybody," says CEO Brent Toevs. "Nothing is easy, and we take the extra effort to make sure we offer blends of coffee that appeal to anyone."
Marley Coffee intends to do this, not just by offering multiple roasts, but by only roasting coffee beans that are 100% organic or Rainforest Alliance certified. Another way Marley plans on taking the extra effort, is by packaging all their single serve capsules in recyclable Eco-cups by Spring of 2015.
"10 billion single-serve capsules will be thrown away in one year," says Toevs. "We'd like to reduce that as much as possible by packaging our coffee in recyclable capsules and keeping them out of landfills."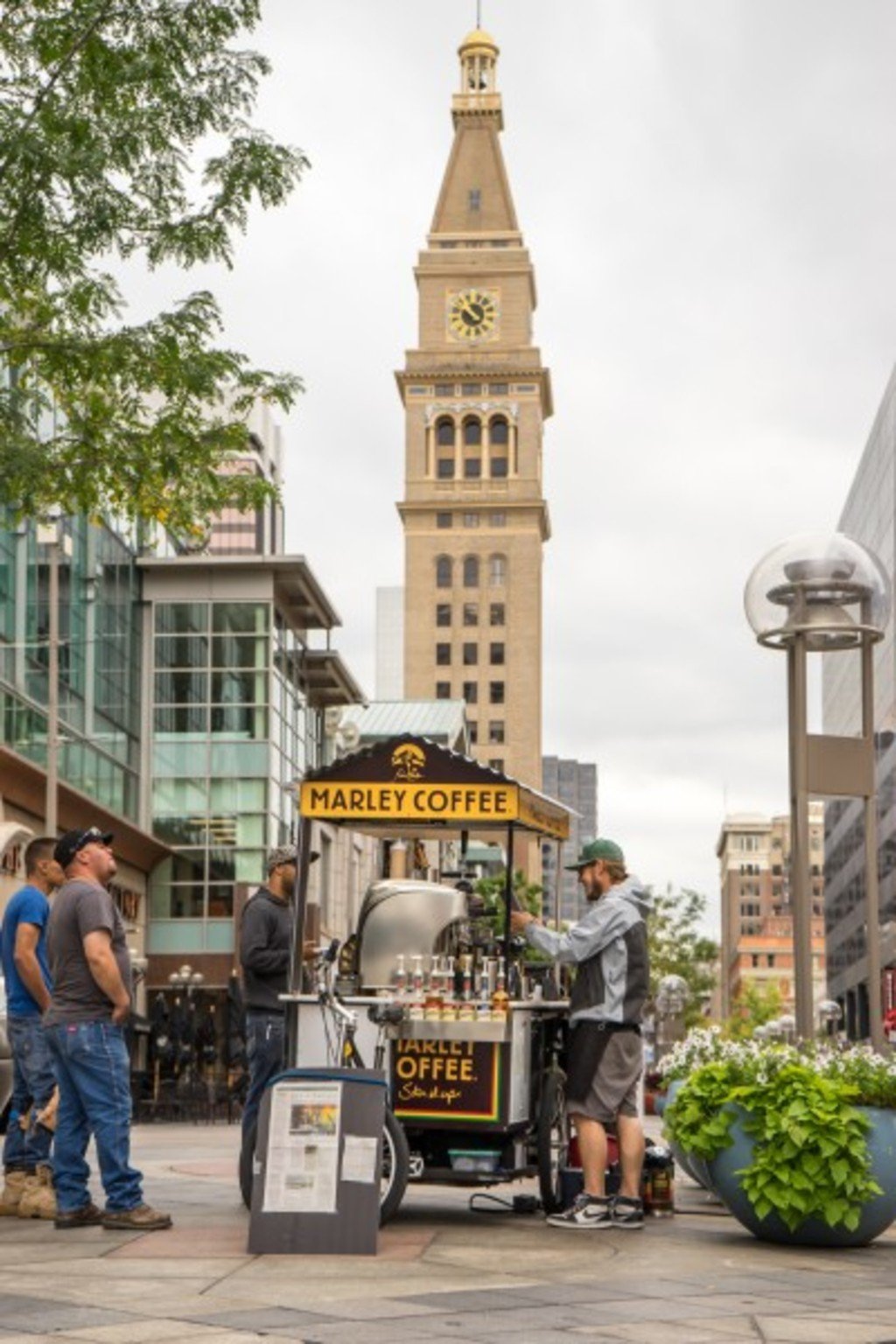 But don't stop at Marley Coffee just for a fresh K-cup, their custom designed Bike Caffes are equipped with top-of-the-line espresso machines that equate for 80% of their business, serving fresh steamed espresso drinks like lattes and cappuccinos right in the heart of the city. Their baristas are also Bike Caffe engineers who monitor weather and atmosphere changes, adjusting the grind and pour of the espresso with the changing conditions, making sure you get the best shot possible, regardless of weather. And if coffee and espresso are not your thing, Marley Coffee always has a selection of organic teas, smoothies and tropical juices, bringing a little Caribbean breeze all the way here to the Rockies. Be sure to look for Marley Coffee at your favorite Denver Sporting event, too. They're an official sponsor of the Broncos and the exclusive coffee company of the Colorado Rockies. Marley's delivery business has also grown from 500 to 6,000 locations in the past year and a half, so it won't be long before their beans are available at retail locations nationwide. Be on the lookout for great things to come from Marley Coffee in the future, stop to marvel at the genius behind the Marley Coffee Bike Caffe, and enjoy the finest coffees from all over the world, right on the sidewalks of Denver.
All photography by, Roman Tafoya.