Legendary jam-rock band, moe., will be headlining the LOHI Music Festival tomorrow in the Denver Highlands. They'll be playing two sets, between 6-7pm and then from 8:15-10pm, on the BD Stage. Tickets for the festival, which kicks off at noon, are about $50 and that includes admission to the late-night after party at Cervantes', which features the Everyone Orchestra with members from moe., the Motet, Pimps of Joytime, Lotus, and more. A small price to pay for a whole lot of funky good times.
moe. is also playing tonight at the Mishawaka Amphitheater in Fort Collins at 8pm under the very full, once-in-a-century honey moon. It ought to be a magical experience.
303 Magazine got a chance to catch up with moe.'s Chuck Garvey to welcome him to colorful Colorado and to ask him some questions about moe.'s new album No Guts, No Glory. Read on below to gain some insight into moe.'s song writing process, their experience with producer Dave Aron, their latest music video shot by the famed Jay Blakesberg, their upcoming Tropical throe.down Festival in Jamaica, and more.
303: Before you began recording your new album "No Guts, No Glory," moe. had the original intentions of making an entirely acoustic record. How did you end up changing your mind? Were there acoustic songs that didn't fit into the context of "No Guts, No Glory" that we can expect to surface in the future?
Chuck: Well, with the last album "What Happened to the LA LAs," we recorded the whole electric album and, as a bonus, we really quickly made acoustic versions of all the songs. Just as a bonus for the people who were interested. And we got a great response. So we thought with the next studio recording that we'd make something with more acoustic flavor.
We were all set with that and then the plan kind of fell apart. It wasn't in the cards, I guess. We started writing the album with the acoustic album in mind, but those songs were adapted to be more electric rock songs. I guess that material was just taken in another direction. But there aren't outtakes- no B-side tracks- from "No Guts, No Glory." 
303: There are a lot of hard-rocking moe. tracks on the new album, like "Annihilation Blues," "White Lightning Turpentine" and "Same Old Story." What was the inspiration behind such heavy writing?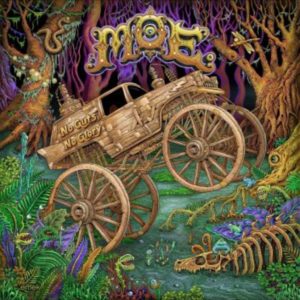 Chuck: You know, anything can happen when you write a song. If you keep an open mind- and we've been lucky enough to see this happen a few times- they can just about go in any direction. For example, a song like "Annihilation Blues," I wrote it on an acoustic guitar. The initial recording had some power to it, but it was still just an acoustic guitar. I think there is a lot of acoustic music out there that can feel really heavy, even if it's not loud electric guitars. You can still get that emotion across. 
It's about what you want the end result to be and how the song can be treated to make it something different and unique. I think all of the songs on this album were written in a really basic way, you know. Just with acoustic guitar and vocals, as scratch ideas. Any of those ideas can be adapted into any number of styles- either harder rocking stuff or something that's really sparse and acoustic. At first, we thought it might be difficult because we had that acoustic album in mind, and I didn't think that we could really do it.
But when it comes down to it, as long as you figure out how to convey the message of each song, it doesn't matter what the presentation is like. You can hopefully make a good song sound great in any number of ways. You can think of the final result or take your initial idea and, usually with the help of someone else, get the inspiration to go down a different path.
303: On "No Guts, No Glory," you worked with producer Dave Aron. How would you compare making this record with a producer to your previous self-released albums?
Chuck: It was actually very similar. Dave is a really laid back guy and his whole thing was not that he was going to try to impose his vision and style. He was familiar with the band. It was almost like he was a sixth member of the band. We would all kind of vote on certain things that we were working on. Whether we thought something we were pursuing was valid or not, and we would all weigh in on it. He was just another guy in the room with an opinion. He would tell us when he thought we could do something different and better.
The process was good in that we had the flow of just the band working and trying to make headway without a producer really saying to completely scratch things and do something different. It was very easy and he provided something for us, which was just another voice and another perspective. Which is important. Especially a few weeks into it when you're working really hard, and you just have no perspective.

303: Your song "Billy Goat," also featured on "No Guts, No Glory," exemplifies and preserves the classic moe. sound. How does a nine-minute epic like that come to be? Does it all come from jamming, taking individual grooves and gluing them together? Or does it start with lyrics?

Chuck: A long time ago, there was a lot of jamming. We would rehearse a lot and just try to put ideas together and spontaneously create things. Then the things we liked, we would just work into songs. That was kind of our initial way of making the longer, more sprawling songs. Rob wrote all the "Billy Goat" lyrics and had the whole basic foundation of the song in mind, and I think what happened was that the whole thing was pre-composed.
So there are a lot of parts, but all of those parts are all the same length of time. There isn't a lot of improvisation, but the individual musicians improvise within that structure.
When Rob brought the song to us, he had most of the song in mind. After most of the verses were done, we went through more detailed changes that happened eventually, we worked on together. Rob had quite a bit of that worked out, but then the whole band really jumped on it and fine tuned it and added parts here and there. That's how that song was created.

Some other songs, for example Rob's song "Rebubula," was very similar. Rob came up with parts of the song he wanted to go through. The rest of the band may have added some things to it, but he had the idea of the journey of the song. It's a longer song that- hopefully- goes somewhere. Partially composed, partially improvised. So each song is kind of different the way we approach arrangements. Sometimes we leave it more open to chance and improvisation.

Listen to an epic 12-minute "Billy Goat" from Albany, NY in 2012:

[youtube:https://www.youtube.com/watch?v=66fo-TxFqN4]

303: You guys just announced Tropical Throe.down in Jamaica for January. How will this compare to other moe. festivals, such as Summer Camp, moe.down, and snow.down? What are you most looking forward to about that? 

Chuck: The first time we did it was in the Dominican Republic. It was really fun and we wanted to go back, but it's kind of tough to have a lot of destination events like that. The really cool thing, when you go to a place like snow.down and go to Killington, you get to enjoy the mountain and that lifestyle and then see shows during the day and at night. It's a great road trip event to do that for a couple of days. Especially for people who love skiing and snowboarding- and putting it together with music is always a win-win situation.

It's also very attractive to take a Caribbean vacation and see live music that you really care about. We've actually done two cruises, just with moe.,  on Norwegian. And we finally did Jam Cruise last year, and we've been talking about doing another island thing for a while. The people who do Gov't Mule and Rat Dog's Caribbean getaways are doing this with us, and they've got a great spot. They've really got it dialed in, so we're very happy to go there and put ourselves in their hands. It ought to be a great, relaxing event.
It's definitely a work-vacation for us. There's no way that we're going to say no to that. A lot of our fans are pretty excited.
303: I heard a rumor about the resurrection of Ha Ha The Moose at Tropical Throe.down. Could it be true?


Chuck: That appears to be true.

See Ha Ha The Moose (moe.'s bastard baby pseudo-side project) perform some weirdness at Summer Camp in 2012:

[youtube:https://www.youtube.com/watch?v=9o-DMbtP2oE]

303: moe. just debuted the official music video for "Blond Hair and Blue Eyes." Tell me about what it was like shooting the video and about your relationship with famed music photographer Jay Blakesberg?

Chuck: Jay has been coming to Summer Camp and moe.down and many of our shows for years. Jay is just a great guy and we knew that he had been doing some video work for a while. We had talked about having someone come into the studio while we were recording the album to shoot some still photography of what we were working on. Someone came up with the idea to actually have him do a very quick video shoot running through one of the songs that we were working on. That was the song, by chance, that was kind of ready to go.

So we made an in studio video for the song, just like a teaser for the album. We just spent a couple hours on it and Jay was great and did a great job. We were coming to the end of the recording process and we were discussing what radio stations would be interested in. And it seemed like the label and a lot of people were leaning towards "Blonde Hair and Blue Eyes."

So we did it again, with more concept to it. And Rob and Jim and a couple of the guys had a bunch of really crazy ideas, some of them were really funny. The song is about Rob's daughter, Emma. So we got her and all of her friends and some other kids who live up in Maine together with Jay and his videographer, Miles, who flew up there. We shot the whole thing in about two days. Jay worked his ass off on it, and I think he did a really great job. Everyone thinks it's really funny.

Check out Jay Blakesberg's new video for "Blonde Hair and Blue Eyes":

[youtube:https://www.youtube.com/watch?v=wdEUSftJp8U&feature=youtu.be]

303: Describe moe.'s relationship with Colorado, as a primarily East Coast band. Do you find the moe.rons of the West Coast to differ at all from those on the East?  

Chuck: We love Colorado. We've always had a great response here. I don't know if it's because there are so many transplants in Colorado… I don't know what it is exactly. There are just these pockets in the country where it's all just above and beyond. Fort Collins was one of the first places that we've played out here. A few people knew of our recordings and we just played in small venues at first, but it just grew really quickly. There was just this kind of love shown for us here, and I don't know if it's because we're this band that jams or if it's because we have a bit of bluegrass elements or because we're just harder rocking.
I don't know if it's the musical taste or what, but there's just something about the way that people have responded here. 
303: What can we expect from your two sets at the LOHI Music Festival this weekend? I have to admit, having moe. play a full show right in my very own neighborhood almost makes up for missing Summer Camp this year (but not really).        
Chuck: We love coming out here and I think every time that we come to Colorado, there's something different in a lot of different places that we go. It seems like the audience gives back a lot.
When people ask us questions like "what're you going to bring tomorrow," it's like "well, what's the audience going to bring?" A band can't just go up there and be great in a vacuum. There has to be an audience and a listener and a musician at the same time. We definitely feed off that kind of energy, and I don't think they'll be any problem achieving that.