Happy Springtime, Denver. As the snow melts and the rivers run high, let us rejoice: our signature bluebird skies stay bluer for an extra hour, the birdies are chirping, and the lines at the ice cream shops are starting to get longer.
Ah, spring has sprung.
This means that Colorado's best music festivals will soon be in bloom: Snowball, Telluride Bluegrass, Sonic Bloom, Arise… but how about something more local?
Founder of Denver's annual LOHI Music Festival, Paul Brown, took the time to answer some questions for 303 Magazine to give you an exciting preview of one of the best, most convenient, and most fun local Denver music festivals. Taking place right here in the Denver Highlands, the crew of Highland Tap & Burger puts on the LOHI Music Festival to provide the locals with a neighborhood party that encompasses local flair, features local bands and sponsors, and (in true Colorado fashion) encourages dressing in your whackiest party attire. Read on to find out more about this year's festival line-up, after party information, and what makes the LOHI Music Festival unique.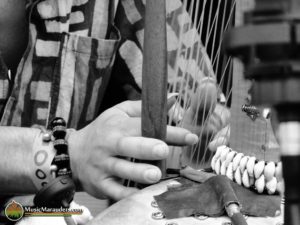 303: There is such an abundance of music in Colorado- especially in the spring and summertime. The LoHi Music Festival seems to be a smaller-scale, more localized, neighborhood gathering- with big band names. Tell me a bit about how the LoHi Music Festival got started.
LOHI: When we (there is a group of six of us) opened Highland Tap & Burger, we collectively wanted to produce a street festival.
The thought was if we brought good music to the neighborhood, folks would enjoy it and new friends would be made.
I had experience from being a part of 4 Peaks Music Festival in Bend, OR so it was natural for me to take the lead that first year in 2011. Since then, we have all learned and shared in watching the festival grow each year. Here we are- almost four years later- and that vision has grown into one of the largest and most reputable city festivals in Denver.
303: This year, LoHi Music Festival's headliners include some rock and roll, funk, some world music, and a slew of local talent. How do you go about choosing the bands for the event? There are so many talented local musicians to choose from.
LOHI: Yes, Denver is a nucleus of very talented musicians. When choosing bands, we are always working to create a good mix for the festival fans to enjoy.
Moe. is headlining this year and that is very exciting for us. This preeminent, progressive rock band has been rocking major venues in Denver (Red Rocks, Fillmore, Ogden) and across the country for years.
Pimps of Joytime are very funky but bring an artful blend of musical styles, including elements of afro-beat, salsa, and electronica. The Chrome Drones (Members of Signal Path and Tiger Party) are very disco oriented and will keep everybody moving. Joey Porter's Vital Organ (Members of the Motet & Kyle Hollingsworth Band) are a funky organ driven machine that bounce around all genres of music. Tiger Party is a revolving line up of musicians that "throw a party" everywhere they play. Genetics comes with heavy composition and improvisations that can take you from reggae to rock an roll to electronica in one song. Lastly, the Everyone Orchestra conductor Matt Butler will be the MC at the festival, who brought some surprises last year. (See below for more about the Everyone Orchestra.)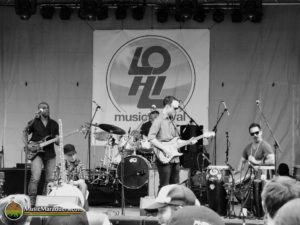 303: This is your 4th Annual LoHi Music Festival. Tell me about what do you have in store for us this year.
LOHI: This year's festival will play host to an increased footprint, larger stages, larger VIP area, and our biggest headliner to date: MOE. for 2 sets.  In addition, we have some creative surprises that will be shared by all.
303: Do you know who will be performing at the Late Night Cervantes show after the festival (which is included in the price of the ticket via "Late Night Bundle" option)? Or is it top secret?
LOHI: Yes, there will be a late night at Cervantes that is only admissible by buying a festival "Late Night Bundle." Everyone Orchestra featuring LOHI All Stars (and special guests) plus Pimps of Joytime will play another set.  After hosting Everyone Orchestra- LOHI All Stars last year- people will remember the late night is not to miss.  EO is a conducted improvisational music buffet. Basically, a conductor (EO Matt Butler) takes a myriad of musicians through songs and improv. Last year we had over 25 different artists play through out the 2.5 hour set. Amazing.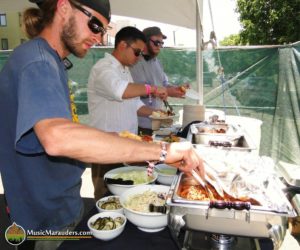 303: Tell me a bit about some of your local sponsors of the event.
LOHI: This year, "Beverage Distributors presents LOHI Music Festival." This is very exciting for us to have a presenting sponsor. They have brought so many brands to the table. Spirits for our regular bar will include Tito's, Reyka, Three Olives, Sailor Jerry, Tin Cup, Mile High Spirits, Tullamore Dew, Maestro Dobel, Milagro, Hendricks. The spirits for our VIP bar include Hanger One, Ron Matusalem, Kraken, Maestro Dobel, Balvenie, Glenfiddich, Stranahan's, Hudson, Solerno, Hendricks. The beer selection includes Avery, Odell, Great Divide, Imperial, Magic Hat, Genesee. Wine will include Barefoot and William Hill. Dispensary sponsors are The Releaf Center and Pure Medical dispensaries. Word & Roger are our Graphic Design sponsors. And of course there is Music Marauders, a music focused PR agency.
303: What do you think sets apart the LoHi Music Festival from other Colorado festivals?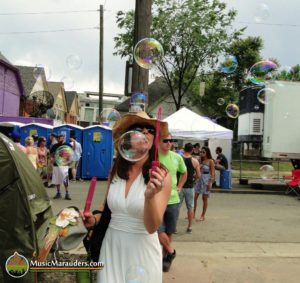 LOHI: The vision of combining a full scale music festival with the comfort of it being in your own neighborhood. There is something fun about being able to say "moe. is playing in the street out front of your favorite bar," that makes people smile. For many, it's just a short walk to a day of fun with all of their friends! This year we have a feeling that there will be a good amount of folks flying in to check out what all of the excitement is about in Denver's Lower Highland as well.
303: What do you think sets apart Colorado festivals from other music festivals throughout the country?
LOHI: The accessibility of local talent that in most regions would be considered national talent. So many musicians live in Colorado that when it comes to piecing together a line-up, a lot of calls go out to our friends who play in national touring acts. Also, the volume of people seeking music in Colorado is staggering. Right from the beginning, a festival stands a better chance of success just based on the demand for music in this market.
303: Your site says to make sure to bring festival clothing and fun costumes to wear. Do you have a crazy outfit planned for this year's event yet?
LOHI: I always dress with flair and encourage festivarians to do the same. The fans make the festival what it is and it could not be done without them, so I love when they come out "dressed" for the occasion! Ideas include feathers, sparkles, glitter, crazy hats, lights, boas or anything else that inspires…
Save the date: LOHI Music Festival takes place on Saturday, June 14 from noon til 11pm, with a late-night after party at Cervantes'. The festival location will be right near Highland Tap & Burger, at 32nd & Vallejo in the Denver Highlands.
For ticket information, visit the LOHI Music Festival's site: http://www.eventbrite.com/e/lohi-music-festival-2014-tickets-8704638809 
This ain't your mama's block party.
All photos provided by LOHI Music Festival's website, courtesy of Music Marauders.