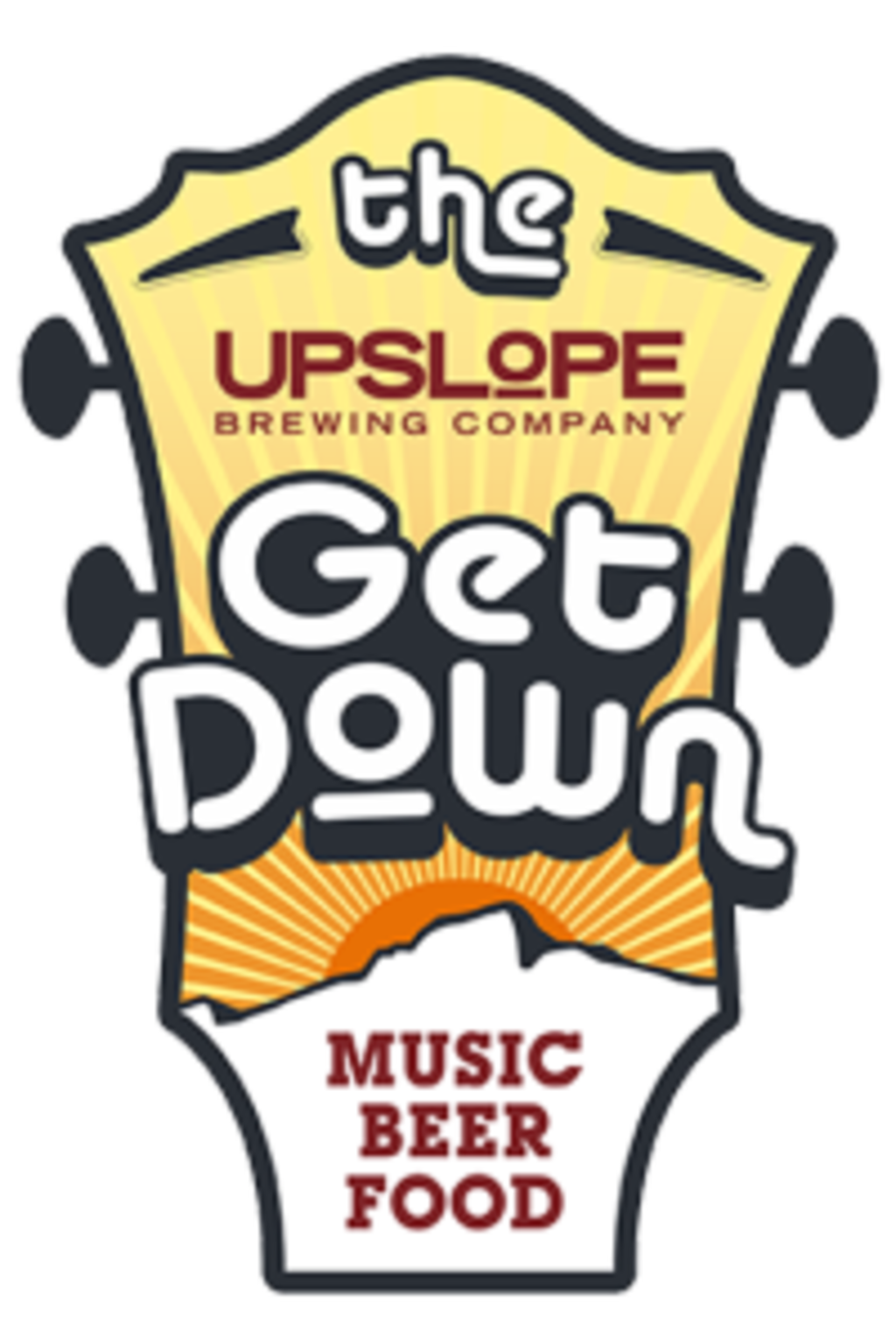 What:  Upslope Get Down Music Festival

Where:  Upslope's Flatiron Park Brewery, 1898 S. Flatiron CourtBoulder, CO80301
When:  May 17th from 2:00pm to midnight

Pros:  Interesting new beers and amazing tunes on a beautiful spring day.

Cons:  Complex beers might scare off more timid drinkers

Amazing Tunes and Interesting Brews
As a beer journalist, it's always great when I stumble across an event that's been perfectly executed.  The Upslope Get Down Music festival ticked off every single box on the great party list:
Great music
Plentiful craft beer
Amazing food
Fun games
Awesome turnout
Outdoors with great weather
I arrived just as the festival was opening and there was already a crowd.  Beer tents and food trucks formed a circle around the action, offering familiar Upslope beers and locally made chow by Rolling Tomato Catering, Blackbelly, Tacos Del Norte, and Heirloom.  At the center of the venue was a handful of outdoor party games like cornhole, Frisbee, and 4 square.  With the light breeze and sparse cloud cover, it was the perfect environment for an afternoon of boozy fun.  The VIP tent was tucked against the main stage with access to a menu of new Upslope beers and a fare courtesy of Illegal Pete's.
But the best part of having VIP access was the view of the bands.  The roster of musicians kept the party going as Hot Soup took the stage, with Gipsy Moon and Good Gravy coming next.  These were followed by Rocktin Grove, the Movement, and Rowdy Shadehouse, and the night ended with Fox Street and Eufórquestra.  My surprise favorite band of the afternoon was Gipsy Moon.  Their bluegrass, au naturale music blended with the blue skies and white clouds to provide the perfect soundtrack to a Boulder party afternoon.  Their lead singer reminded me of Stevie Nicks, but with a strong artistic flare that gave her an vocal feel all her own.
But let's be honest, you didn't come to a guy with tinnitus for a music review.  Given the quality of their past work, it's obvious that the new beers that premiered at the event were all great.  Some of them might have a bigger flavor than some drinkers are used to, but each of them has something interesting to bring to the world of brewing.
Thai Style White IPA
This is not a beer for the faint of heart.  With a cloudy straw color and nice head, it appears to be your typical "Asian" beer that tastes just like everything else on the shelves but has characters on the bottle.  But it attempts to balance big hops flavor with malty sweetness and an herb mix that includes Thai Basil, ginger, lemongrass, coriander, and (I swear I tasted it) star anise.  Honestly, the malt gets overwhelmed by the hops and herbs, but the flavor profile is unlike anything I've ever tasted.  Many suds junkies may think it has too much going on, but adventurous drinkers will be glad they added this to their master list of libations enjoyed.
Pumpkin Ale
Easily the prettiest of the beers on tap at the VIP tent, its perfectly clear amber brown color was topped off by a light brown head that lead to delicately stubborn lacing destined for a photo shoot.  It brings a lightly spicy flavor that deftly avoids the pitfalls of "Pumpkin Pie beer."  It has an aroma that reminded me of roasted pumpkin seeds, and the combination of gourd flavor and malty sweetness made this the most dangerous beer of the festival (at 7.7% abv).  Not necessarily a session ale, but it was worth going back for more.
Rye IPA
I've had a number of "ryes" in my day that taste like normal beer.  But with the lightly citric hops flavor paired with the liquid rye bread malt flavor, this beer reminded me of toast and marmalade in a way I found very enjoyable.  With a great yellow amber color and great head and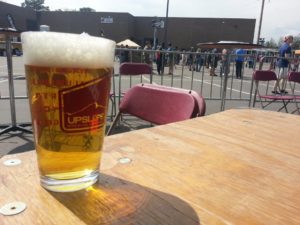 lacing, it's also a very photogenic brew, but the balance between the hops and the malt accompanied with light hints of whiskey is the star of this show.  I want to say that it would make for an amazing breakfast beer, but I don't want to give the wrong idea about my drinking habits.
Jalapeno Lager
In my Bootstrap review, I talked at length about the simple brilliance of their chili beer.  Upslope took this idea even further by taking their lager and adding a halved jalapeno to each can.  While this was an interesting idea, I wound up with a lot of floating seeds, one of which got caught in my throat leading to a coughing fit I could've done without.  Don't let me trick you into thinking I didn't like it, because it brought a nice, light spice to a beer I already love.  What they've done here is make a chili beer where you get to decide the amount of spice in your beer by "aging" the cans, which is an absolutely fascinating concept.  I hope it catches on.
New Saison
With a cloudy straw color and little head, I was expecting a great deal of yeast flavor when I put this pint to my lips.  What I got instead is something I didn't think was possible–a more refreshing beer than Upslope's Lager.  It has a pleasantly sweet flavor balanced with a lightly sour Belgian undertone and a quick finish that leaves you feeling refreshed and clean.  At 6.6%, seasoned craft brewers will find this a nicely sessionable beer perfect for a day in the sunshine.  While I hope all the brews at Upslope Get Down get put into circulation, if they have to pick one, this is it.
While I'm not what you'd call a music expert, I consider myself to be something a connoisseur of drinking outdoors, and the Upslope Get Down Music Fest is as good as it gets.  Between the music, the food, the people, and the beers, even a torrential downpour could not have ruined the good time.  But the weather cooperated and everyone had a blast.  Keep an eye out the next time Upslope decides to throw a party–it will be an event you'll want to attend.