What:  Upslope Brewing Company's beer selection
Where:  1501 Lee Hill Dr, Boulder, 1898 S. Flatiron Court, Boulder, and liquor stores through Colorado
When:  Both taprooms operate all week long, 2:00-10:00pm
Pros:  Accessible beers that pair well with almost any meal.  A pale ale and a lager that go with almost any occassion.

Cons:  Somewhat mild flavors may not be enough for those looking for intense flavors in beer.
Operating out of Boulder since it was founded in 2008, Upslope has offered beers to cater to any palate, ranging from lagers to stouts.  The owners, Matt Cutter and Dany Pages, seek to show their love for the Colorado spirit in their brews.  Their beers come exclusively in cans, both for portability (easier to take on hikes, ski trips, or other outdoor activities) and for ease of recycling.  They also recapture water used in the brewing process, and even go so far as to deliver their beers in a natural-gas powered van.  They have two taprooms now, both of which can be found in Boulder.  Here is a beer-by-beer breakdown, including two of their seasonal offerings, so those new to Upslope can know what to expect: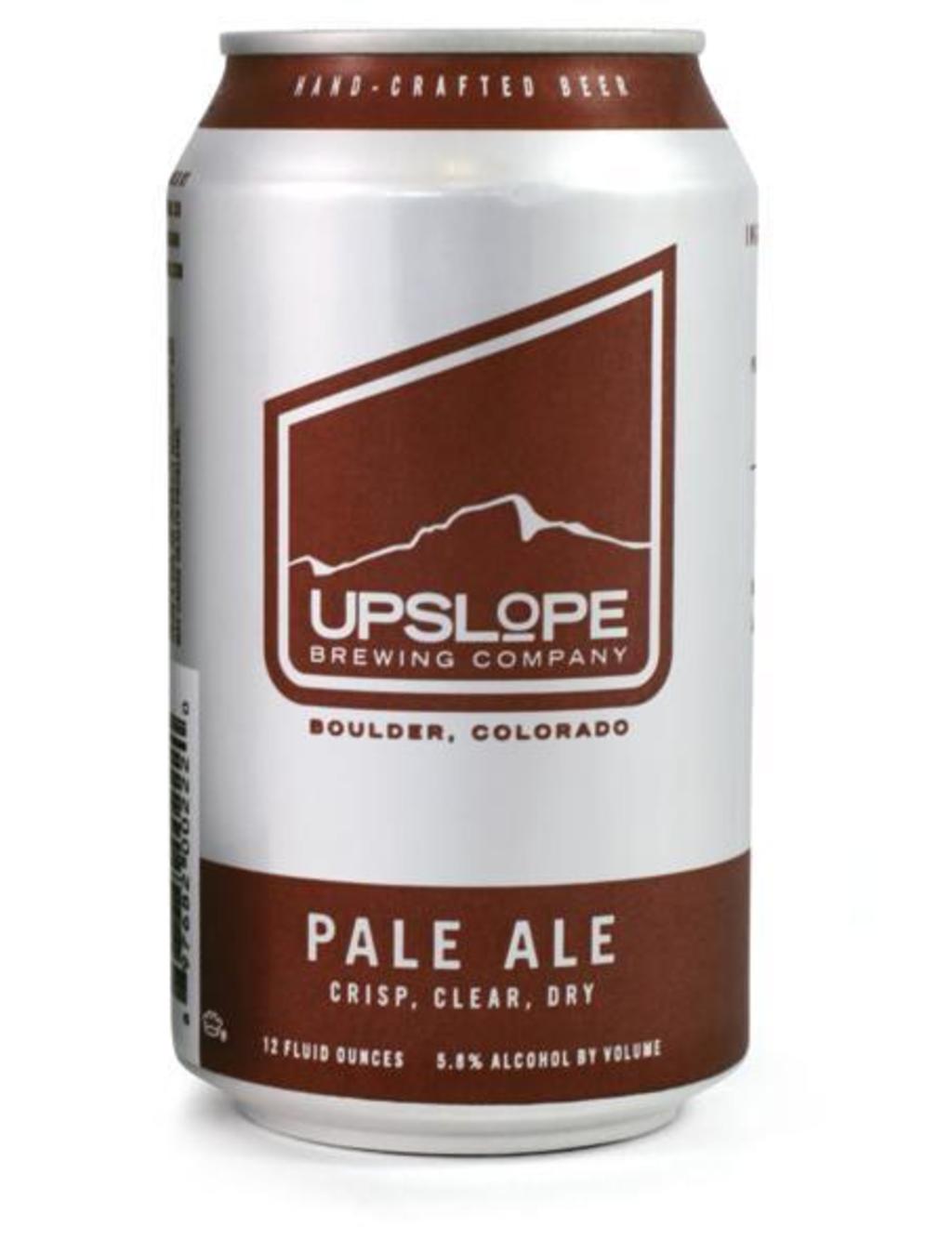 Upslope Pale Ale:  Don't be frightened by the slightly off-putting cloudiness of this ale, as its good head retention gives you a wonderfully floral aroma as the glass comes to your lips.  The bitterness of the hops is nicely counterbalanced by the sweetness of the malt and gives a nice little kick in the tongue.  And although it doesn't have the citrus I personally like in pale ales, its complete lack of a bitter aftertaste means you have can more than one before mouthnumb sets in.  While it has more body than the Upslope Lager, it is still highly drinkable and would pair wonderfully with big flavors such as darker seafood or sweet barbecue.
Upslope Brown:  Excellent head retention and lacing makes this easily the most photogenic empty glass that Upslope offers.  It's not as bitter as a lot of browns, featuring nice malt sweetness, slight coffee undertones and almost no aroma.  If you're not a "dark beer" kind of person, don't be intimidated by this beer as its dark color turns bright red when backlit, explaining the lack of bitter flavor.  This is the perfect brown to ease yourself over to the dark side.  Upslope's Brown would make a great sidekick to heavier meals like hamburger, steak, or lamb.
Upslope Lager:  This is one of the Colorado beers that taught me that lagers could be delicious.  Its straw color belies a robust flavor based primarily in its light bready backbone.  While it has a good body, it is highly drinkable and does not stick to the tongue the way a lot of flavorful beers do.  The good carbonation and light hints of citrus make for one of the most refreshing beers you'll find on the market.  I feel it's not an exaggeration to say that this lager would pair well with almost anything, but would probably bring the flavors out of chicken or white fish in a very pleasant way.
Upslope Belgian Pale Ale:  While I tend to shy away from American-made Belgians, this ale has brought me back across the Atlantic.  Its slight banana smell belies clever yeast selection while the inclusion of coriander gives it a slight orange kick similar to what you usually find in witbiers.  The malts are wonderfully sweet which, combined with the coriander and the very fine mouthfeel of the carbonation, make a somewhat creamy beer refreshing and easy to drink.  I would pair this with something slightly more mild like chicken or pork, but it also wouldn't go amiss with a steak dinner.
Upslope IPA:  Another ale featuring a nice balance between malt and hops, this IPA also brings a very subtle black licorice taste that I enjoyed despite my hatred of black licorice.  The dark amber color was delightfully surprising, and though it brings good head-retention, it has a remarkably mild aroma.  While this is probably not an IPA for hop-heads, it is still wonderfully bitter although the flavor does not linger the way most IPAs do.  The bigger flavor of this IPA would pair absolutely great with spicier foods.
Upslope Foreign-Style Stout:  I have to confess that this beer was not included in the pack Upslope offered for this review, but having tried it for the first time several weeks ago, I felt it had to be included.  A slight banana bread smell creeps in under the toasted-bread malt, both of which are topped off with distinct chocolate in the head.  This gives a wonderful preview for the taste, which is like liquid bread pudding.  But what separates this stout from most is that it is absolutely refreshing!  Most stouts are like a meal unto themselves, but this offering has a remarkably light body that doesn't sit as heavily in the belly as most dark beers.  A stout for the beginner and the seasoned fan alike, this would pair with almost anything but is probably best with a starchier, heartier meal like Beef Wellington, pot pie, or shepherd's pie.
While these beers have a mild flavor that veteran microbrew fans may find unchallenging, each of these beers brings something special to the table, and many of them can go quite a ways towards introducing beer drinkers to a style of brew that they're otherwise unused to.  I had to finally reverse my opinion on lagers in America because of the Upslope Lager, and their Foreign Style Stout should bring many a drinker over to other side of the Lovibond scale.  Big flavors may be new and exciting, but there's nothing like experiencing the balance of flavor highly skilled brewers can produce.