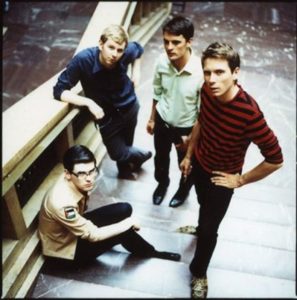 It's been a decade since Franz Ferdinand stormed out of Scotland and lit up the charts with one of the catchiest guitar riffs and recognizable melodies of all time. "Take Me Out" became an instant classic, embedded in video game soundtracks, movies and even playable in your living room on Guitar Hero. The song helped indie rock reach mainstream status, and catapulted the band's self-titled debut album sell 3.6 million copies worldwide.
The foursome followed up the success with several more contagious singles and another chart-topping album a year later in 2005 — proving their talents were worthy of more than one-hit-wonder status. But their recording cycle would hit a lull, and while having moderate success in 2009 with the dance-floor friendly Tonight: Franz Ferdinand, a four year gap between album releases slowed the band's momentum.
Still, Franz Ferdinand continued to tour on the strength of their name, playing major festivals around the world including Glastonbury, Coachella and Lollapalooza. Despite letting another four years pass between studio recordings, the band released its fourth album Right Thoughts, Right Words, Right Action in 2013. Praised as being "confident and freshly energized," their latest effort has received acclaim from Rolling Stone and NPR.
Catch Franz Ferdinand live at Gothic Theater on Monday, April 21 and reflect on the last ten years and all that's changed since "Take Me Out" became a household track. The boys from Glasgow have also proven they know something or two about how to make a dance floor move.
To see what the band looks like in action, watch the video below from a recent performance on Late Show with David Letterman.