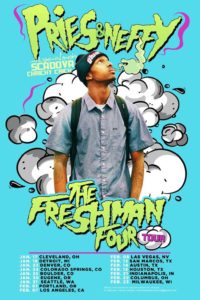 Pries is a hometown hero. Nothing is more important to the Denver native than creating a space "on the map" for the town that made him. Evolving from the kid who was "late for class," into the hit-making determined MC he is today; we have seen the different phases of Pries. He's opened for artists like Lupe Fiasco and held the crowd in the palm of his hand. The risks he takes with his artistry are prevalent in the music. Take William, for example. Pries employs a staunch vulnerability that fans latch onto; just check his Twitter. He engages fans in a unique and captivating way. When the dates launched for "The Freshman Tour 2014," his fan base lit up with excitement. Now, having rocked shows in cities including Detroit and Pittsburgh, Pries will touch down at home for a live headlining performance at Cervantes Masterpiece Ballroom. We caught up with the "Willie Bandana" rapper to check the happenings since he's been on the road and the latest with the new album, Revenge of the Nerd.
303 Magazine: You're bringing The Freshman Tour home to Denver. What should we expect from the performance since you've been on the road?
Pries: It's a show that people are going to see with old music, new music and the latest from Revenge of the Nerd. It's going to be different than any of my other performances. More about the fans and the audience than just me on a stage.
How does it work when you're performing new music in front of audiences that might also be new?
Well we try to just give them good Pries music. There's no conventional way of getting it done but we wanted to pursue it in a different way. It's not a lot of me talking, but going in with the DJ and really holding down the music.
When does Revenge of the Nerd Come Out?
It's tentatively scheduled for a second quarter release. It's a story of fun, heartache and it's really cool. I'm very proud of it. My goal is to show people who I am and where I'm from. Even if I'm in Detroit or any other city, I'm from Denver and I want them to understand where I come from.
How do audiences perceive your music since you're from Denver?
It's funny because weed is legal in Denver so at the shows people like to smoke weed because I'm from Denver. The show in Detroit was really underground hip-hop which was really different because I have a lot of pop songs. It was great to have them rocking with me though because I have those songs as well. That real hardcore hip-hop feel; I do that as well, and they were rocking with me.
How excited are you to come home?
Man. I can't wait. I just can't wait to see all the fans on Friday night and recreate those moments on the road right here in Denver. That's where it started for me. I'm so thankful to all the fans for continuing to represent my music, I couldn't be happier to play Cervantes in front of my hometown.
Watch "Sunrise Martini" below: