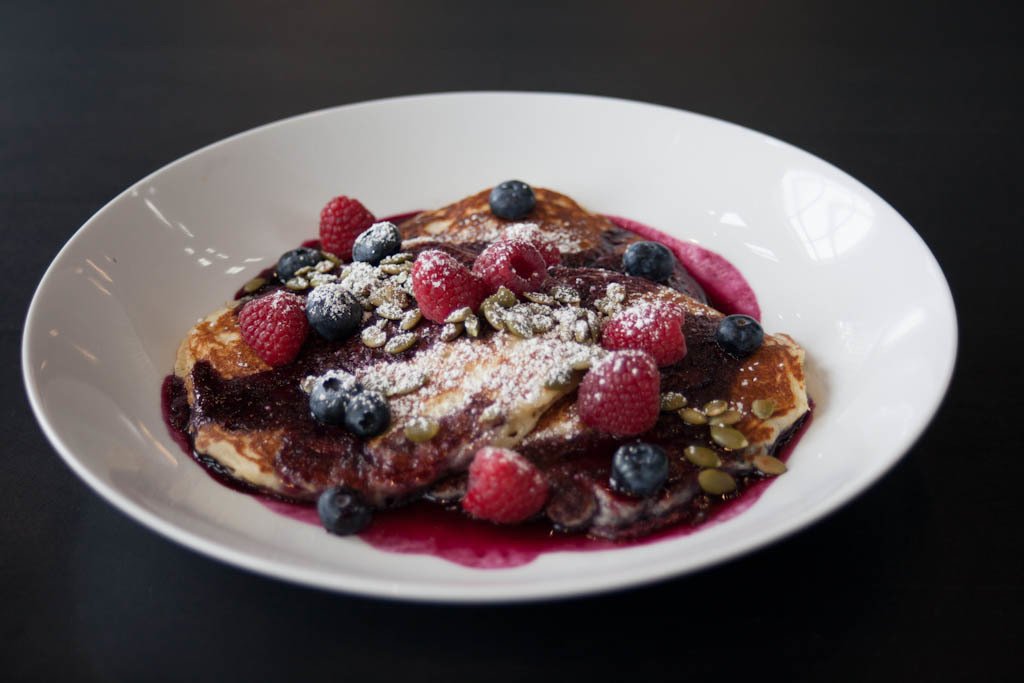 What: Brunch filled with the flavors of Mexico with a healthy Southern influence
Where: Insdie RiNo's artisan market, The Source, at 3350 Brighton Blvd
When: 9am-3pm Sundays          
Pros: If you haven't checked out The Source yet, brunch at Comida is the perfect excuse to get over there and explore the community of food and drink
enthusiasts that is forming. Comida itself offers food that is familiar enough to be comforting but playful enough to make dining here a unique experience. The staff is a major pro too as they proved the day I visited: a frigid, snowy morning on which their pilot light had gone out. Despite the chill inside, the staff's positive attitude (and plentiful cute hats) kept me smiling.
Cons: While many of the menu items sound interesting, the flavors didn't always hit the notes I expected. The Lemon Queso Fresco Pancakes, for example, were tasty in many ways. However the blueberry jalapeno syrup that accompanies them was missing the spicy, smoky notes I was hoping it would add and instead tasted simply sweet.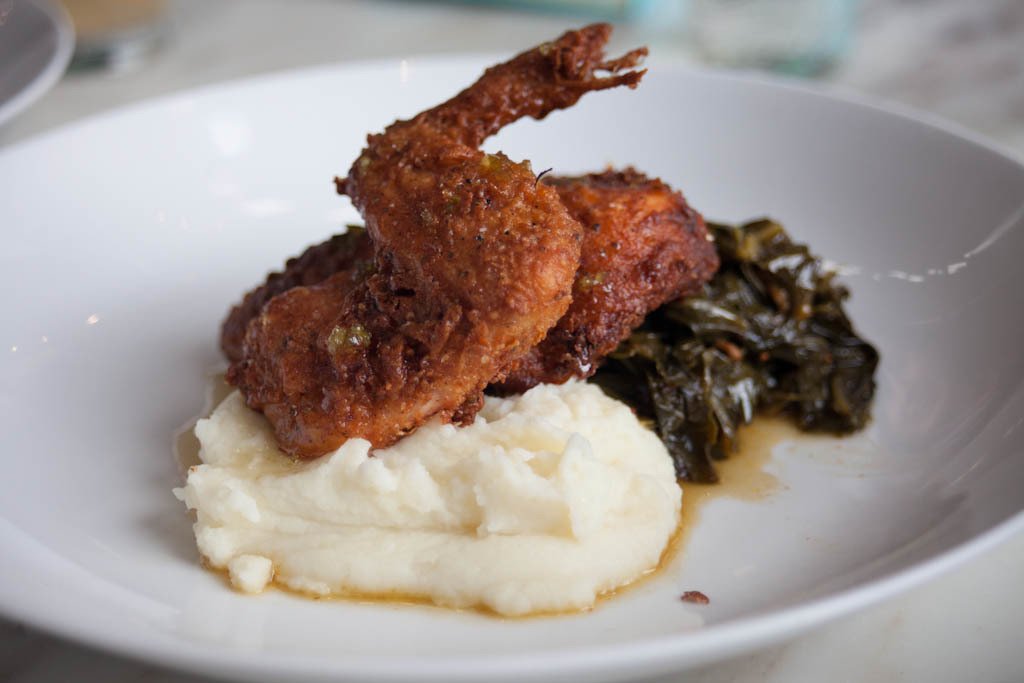 Denver first got to know Comida by way of a big pink truck. The brightly colored taco truck has been serving up eats along the front range since 2010, and their location at The Source is their second stationary outpost. Like their mobile munchies, Comida's food is influenced mainly by creator Rayme Rossello's culinary experiences in Mexico. Brunch, though, gives a twist to those flavors by incorporating the influence of another place Rossello spent her time before coming to Colorado: the American South.
With options like Grits and Eggs and, the standout dish on my visit, The Fried Chicken Option, the Southern influence here is apparent from just a quick glance at the menu.  It was my first bite of the collard greens that accompanied the fried chicken, though, that convinced me that the Southern flair is more than just an attempt at crowd-pleasing. The Fried Chicken Option is the real deal, and there's even the unexpected bonus of it being gluten-free with a coating made from chickpea flour and corn flakes. With a spicy coating of jalapeno bacon jelly to amp up the flavor, this dish is a fresh interpretation of a down home tradition.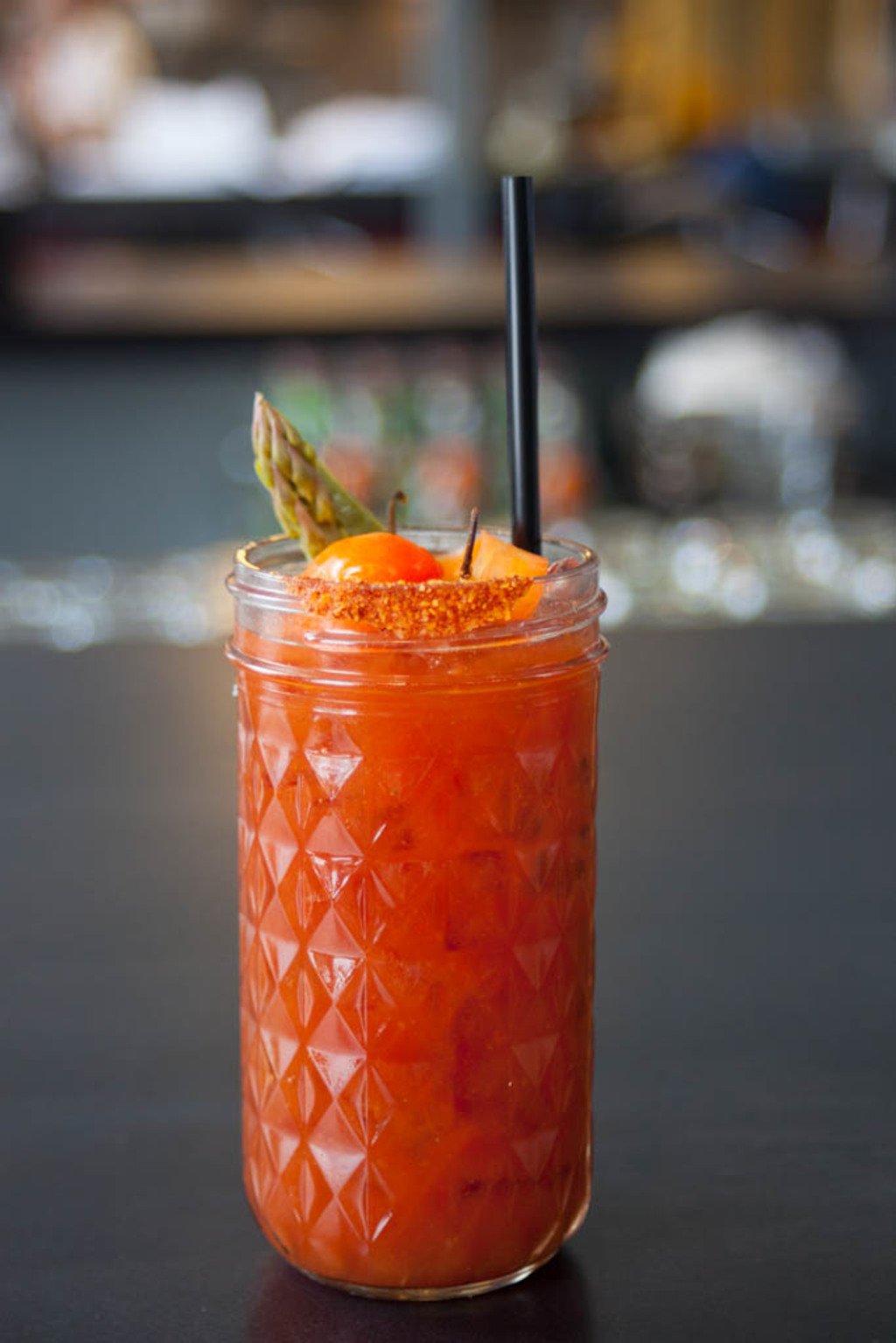 The Comida Benedict served on a biscuit with an option of Tender Belly spiral ham, fresh avocado or house cured tequila soaked salmon is another solid option, though not every element was as spot on. Like many of the selections I sampled at Comida, this dish fell a little short on my flavor expectations. Here it was the chorizo hollandaise which, while brightly colored and beautiful on the plate, lacked much chorizo flavor.  Despite this fumble, the dish was still enjoyable and thanks to the fluffy biscuits, perfectly cooked eggs and tasty, high quality ham.
With brunch being served only at Comida's Denver location and only a handful of these Sunday services under their belts, this newcomer to Denver's brunch scene is trying to find its own unique place among the plentiful benedicts and pancakes in town. Their location is a great start. The Source is a large open area with many artisans dolling out everything from craft beer to specialty cheese and freshly butchered meat. It's a community approach to business that has plenty of perks, like the fact that Comida's neighbor at The Source, Box Car Coffee, provides the caffeine fixes for Comida's customers. There are also plenty of alcoholic brunch options from Comida's bar including a Spicy Bloody Mary and a Bottomless Comosa, their refreshing specialty brunch cocktail with sparkling wine and grapefruit ginger syrup.
Though the food at Comida would be enough of a draw on its own, the experience is enhanced by the energy of the space and the other businesses of The Source. There's an excitement about the growth of Denver's food scene here, and this brunch lets you experience that firsthand- with a side of delicious Tender Belly bacon.
All photos by Jackie Collins