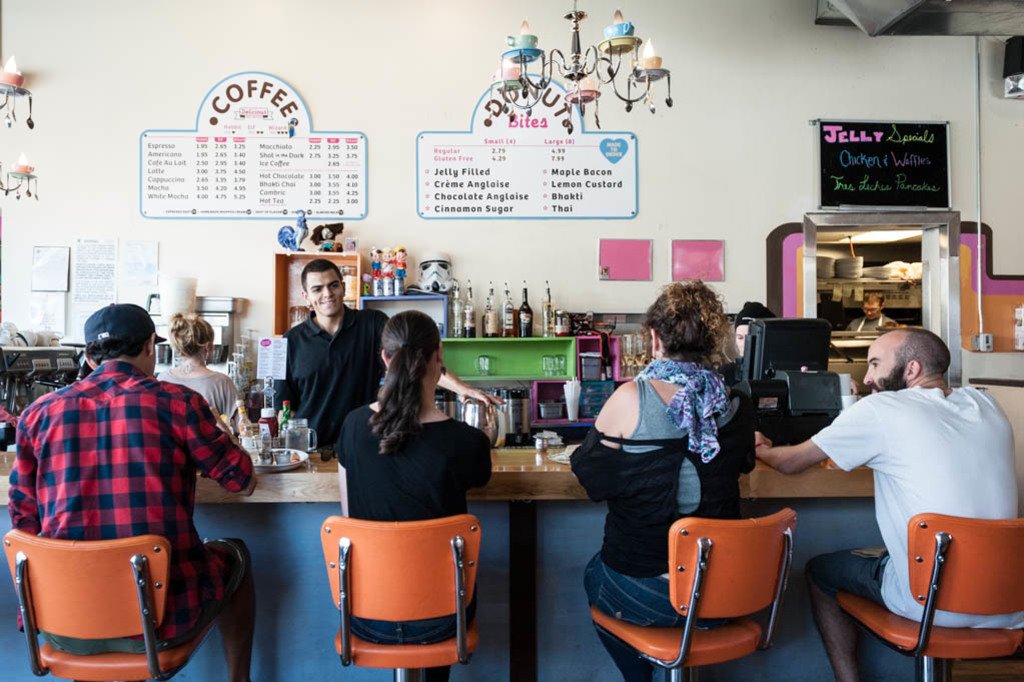 What: Our pick for the best brunch to enjoy during Denver Fashion Weekend
Where: Jelly in Cap Hill at 13th and Pearl (they also have a second location, JellyU, at 1700 East Evans)
When: 7am-3pm everyday
You've got to try: Their donuts. These tasty little bites come in a variety of flavors like maple and bacon and jelly-filled(of course).  Cut the sweetness with a drink from the full bar and you'll be more than ready for DFW.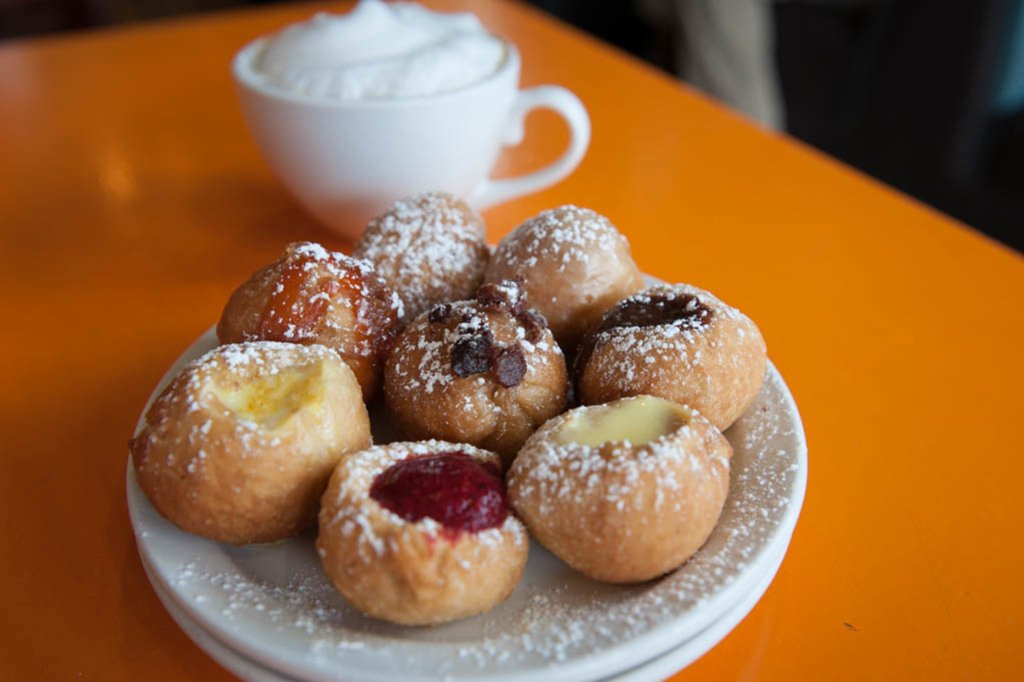 On the corner of what has been called Denver's Punk Rock Block in Capitol Hill, Jelly is a colorful, retro-tastic brunch spot with made-from-scratch eats and some seriously delicious cocktails. That's why it's featured in our soon to be released print issue as the place to start your DFW adventures. With twists on all the morning munchies and a stocked bar, Jelly's snazzy décor and a laid back atmosphere make this place pure brunch fun.
The walls may be filled with cereal boxes featuring all your kid-self's favorite characters (remember Strawberry Shortcake cereal?) but Jelly's bar is adults-only. They've got a killer Bloody Mary and the requisite Mimosa, but to make your experience really special, opt for one of the unique cocktail creations. The Suckerpunch, a mix of Smirnoff vodka, grapefruit Izze, pineapple juice Old Tennessee Cheery Moonshine, will knock the sleepiness right out of you. Jelly likes to change it up too, so the seasonal cocktails are also a must-try before they disappear as winter descends on Denver. The Crimson Bullet includes Bulleit bourbon, simple syrup, OJ, Bordeaux cherry syrup and a champagne float, making it a unique and boozed-up way to get your celebratory champagne in for the day.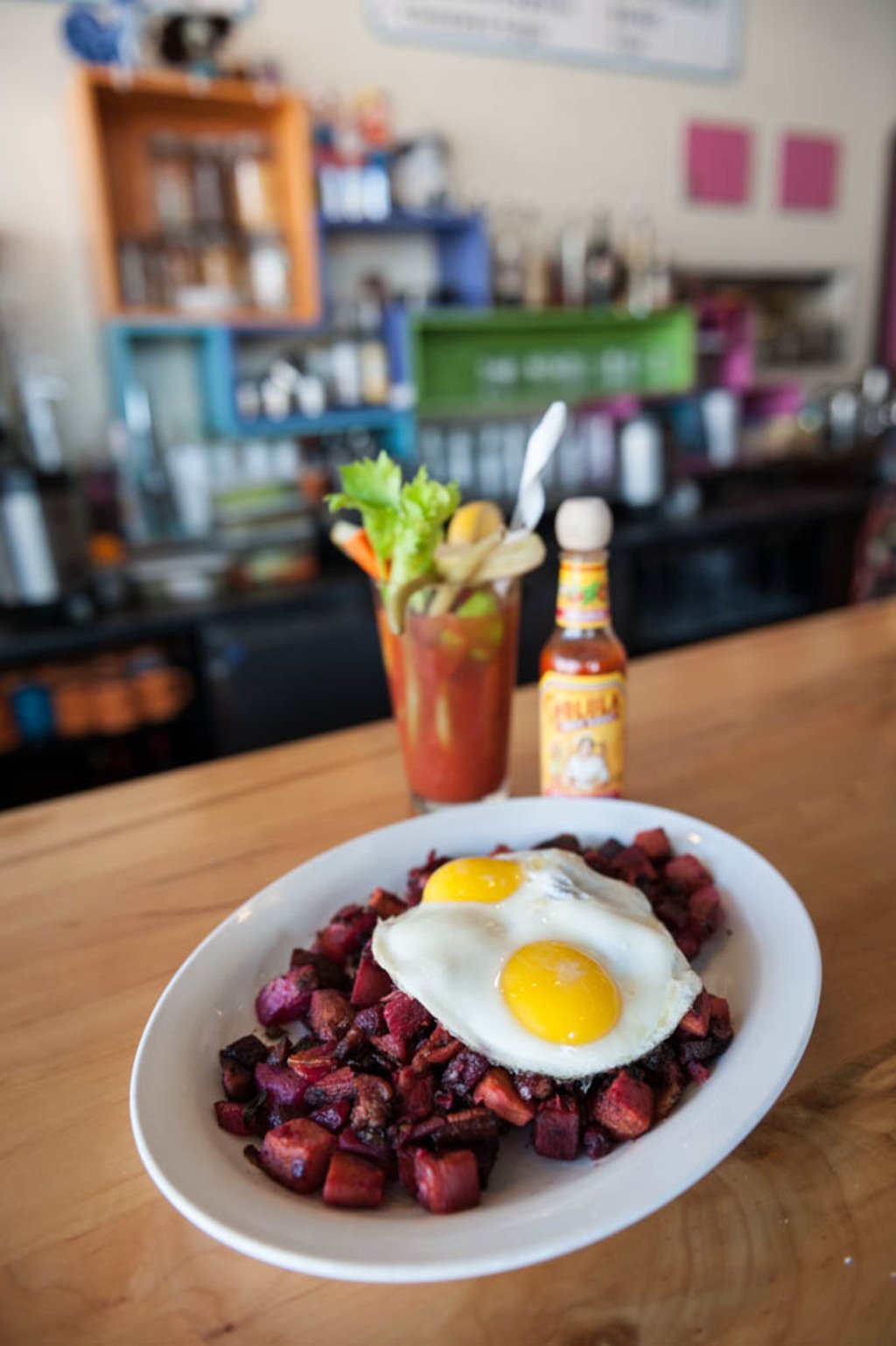 While there are tons of alcohol-laced reasons to head to Jelly, the food alone is enough to check out this Denver favorite. Their specialty, Donuts in the form for pop-able bites, come in many tempting varieties so mix-and-match to try them all. This restaurant's raspberry jelly is made in house and is more tart than sweet. When stuffed inside a fluffy-donut, it gives a nice balance. The chocolate anglaise-filled variety is another tasty choice. With a creamy inside and just the right dose of sweet cocoa flavor, this donut is just what you need in the morning.
Those with a sweet tooth will find plenty of choices here, but it's the savory side of the menu that really got my taste buds excited. DFW is all about street style this year, and Jelly's menu is filled with items that represent the simultaneous simplicity and creativity of street food. This is most apparent in the hashes. A traditionally "one-skillet" meal that makes prep and cooking a breeze. Jelly's hashes offer a unique mash-up of flavors that push this classic into new flavor territory. I particularly enjoyed the Sweet Potato Hash with house-made, chili powder-heavy chorizo and roasted poblanos. The sweet potatoes balance the spice nicely and with over-easy eggs on top, this is a filling meal that will wake your mouth up in no time.
Another choice that has me craving Jelly weekly are the Breakfast Sliders. You can order them in twos or threes (pick three, there's no other way) giving you the chance to try out the options and find your favorite. My top pick was the Savory mini-sandwich with a mini goat-cheese frittata, bacon and the best part, a spinach and walnut pesto that gives this slider a boost of fresh flavor.
Each time I've visited Jelly I've left with a full stomach, a smile, and (to my delight) a nice buzz. And I haven't even tried out the lunch side of the menu yet. This place may be a relatively small diner tucked in a busy downtown block, but the atmosphere is relaxed and welcoming and the eats have a great balance between comfort food and innovative flavors.  So grab your tickets for DFW and let Jelly ease you into one of Denver's most exciting weekends.
All photography by Glenn Ross
Don't miss the 2013  fall Denver Fashion Weekend on November 9 + 10 – buy tickets HERE