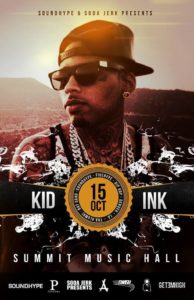 Kid Ink will perform live in Denver for the first time in over a year at Summit Music Hall on his "Spaced Out Tour."  The event will take place October 15th, 2013 starting at 9pm with the tickets being $25 at the door.  The opening acts will be KR, Myke Charles, Kid Vegas, and Unit 27.
The Los Angeles native producer and rapper had a tireless independent run in 2012, but the dedicated Kid Ink has had an eventful 2013 signing with 88 Classic/RCA Records and continues to show signs of a promising path to success. This past spring Kid Ink released his ALMOST HOME EP with rave reviews. Additionally, he was the only west coast artist to perform at New York's HOT 97 annual Summer Jam Festival Village stage.  Being that I grew up closer to the East Coast, I know what a big deal that accomplishment is due to the strong regional love of hip-hop.
Kid Ink also has a huge social media following, boasting over 375K loyal Twitter followers, 380K Instagram fans, 850K Facebook "likes" and over 100 million video views on Youtube, in addition to countless mixtape material that trails back to 2010. To top it all off, Kid Ink runs a thriving clothing company called Alumni Clothing.
If you have been living under a rock and haven't heard of Kid Ink, check out Jon Hart's 'Slip N Slide' featuring Kid Ink and Kid Ink's 'Show Me' featuring Chris Brown to get an idea of his sound.