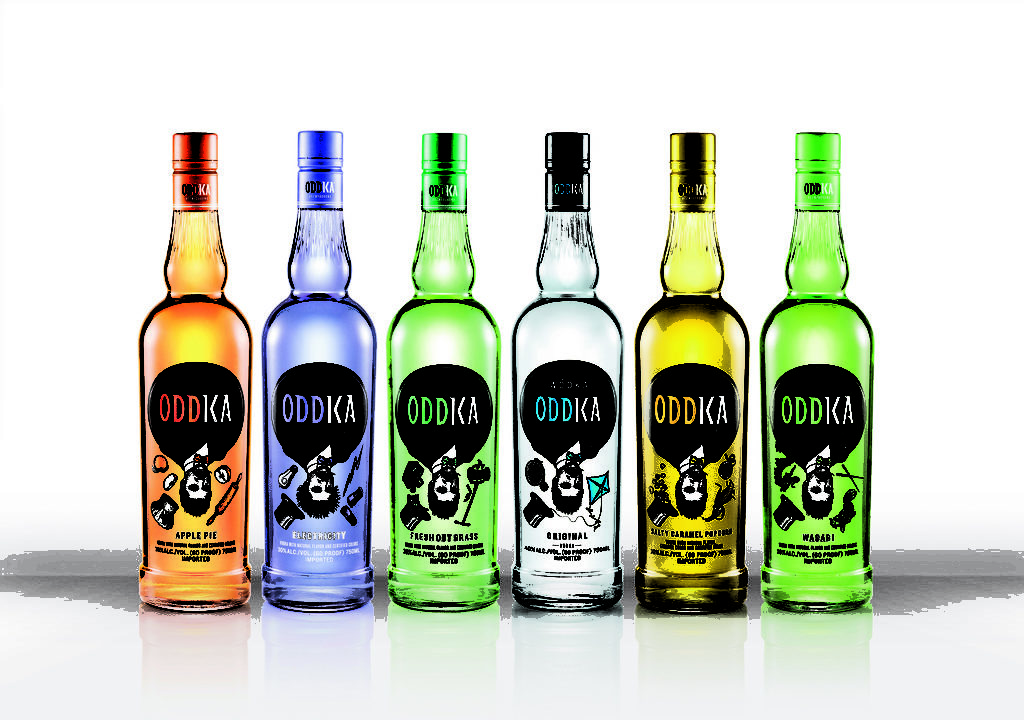 We have so many great happy hours in Denver it can be hard to choose. But even when you love happy hour as much as I do, sometimes you get happy hour fatigue. When this kicks in, the only cure is to stay home and make your own delicious concoctions. Here's the problem: I want restaurant quality cocktails despite my lack of bartender training. What's a girl to do? Fortunately, there are some great spirits out there that turn out top-notch cocktails with little effort. A dash here, a shake there, and voila, you can have the drinks you crave without leaving the comforts of home.
In my quest for finding the best liquor for homemade cocktails, I found ODDKA Vodka. I'm actually not the biggest fan of flavored vodka, but ODDKA opened my eyes. Frankly I was tired of the standard flavors from vodka giants like Smirnoff and SKYY. All of the cherry and lemon vodka flavors seemed to blur together into one large hangover headache. But at a tasting of ODDKA, I sampled flavors like Wasabi, Fresh Cut Grass, Apple Pie, and Salty Caramel Popcorn. Apprehensive at first, I was pleasantly surprised with the quality of the vodka and the depth in these frankly bizarre flavors. With Fresh Cut Grass, for example, I feared a taste similar to licking the lawn mower blade. Instead, there was a strong grass smell balanced with citrus and a crisp, clean finish. Salty Caramel Popcorn was a bit sweet for my taste, but would probably go great with Kahlúa. I really liked the Apple Pie flavor, appreciating its delicious smell and even better taste. Sipping Wasabi I wondered how it would translate from my sushi plate to my shot glass. After tasting it in a Bloody Mary? I am now a Wasabi vodka convert! If you're looking for a special vodka for your next party, and plan to do shots, try the Electricity flavor. It's so hard to describe this flavor, but let's just say it's shocking! The vodka finishes with a pleasant tongue-tickling burn and I couldn't stop thinking about how great this would be in a shot glass rimmed with pop rocks.
Each flavor is unique and will appeal to different tastes. But if you want to try some new recipes that will please most any palette, check out the recipes below.
The Windy Sling: A refreshing, not-too-sweet drink perfect for late summer.
Ingredients
2 oz ODDKA Fresh Cut Grass
1 oz Lemon juice
3/4 oz Simple syrup
1/2 oz Vinegar syrup
8 Mint leaves
Soda Water
Cucumber for garnish
Pour all ingredients, except soda, into a shaker. Shake with ice and strain into a highball glass with ice. Garnish with mint and thin slices of cucumber. Top with soda.
Simplification: Skip one of the following ingredients: Vinegar syrup, Mint leaves, Cucumber
Grannie's Apple Pie: A delicious apple drink that is perfect for fall.
Ingredients
2 oz ODDKA Apple Pie
1 oz Lemon juice
3/4 oz Simple syrup
1 oz Cloudy apple juice
Egg White
Cardamom bitters
Pour all ingredients, except the bitters, into a shaker. Dry shake first then shake with ice and strain into a chilled cocktail glass. Garnish with bitters.
Simplification: Skip one of the following ingredients: Cloudy apple juice, Cardamom bitters.
Bloody Mary: A twist on a classic. It doesn't get any easier than this.
Ingredients
2 oz ODDKA Wasabi
Your favorite Bloody Mary mix
Fill a highball glass with ice. Pour 2 oz of ODDKA Wasabi, add the Bloody Mary mix, and give it a stir. Garnish with a celery stalk.