The Denver Broncos Cheerleaders traded in their pom-poms for racing helmets last Saturday at the 5th annual Race To Keep Kids On Track. The charity event, which was held at The Track at Centennial, was paired with their annual calendar release party with all funds  benefiting a dance program at the Boys and Girls Club of Metro Denver – led and run by the cheerleaders.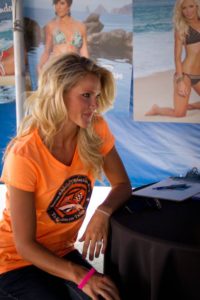 This year's calendar was shot in Cabo. But the squad made sure to bring some Mile High to the Mexican paradise. Both of the Toni's featured on the cover were wearing Broncos-decor swim suits while standing in front of a signature orange "Broncos sunset".
"Everywhere we go people know who the Broncos are" Teresa Shear, 20th year Director of Cheerleaders said.  "And I couldn't tell you how many fans came up to us on the beach and showed us their Broncos tattoo. We brought Broncos Country to Mexico."
Rookie Kendal Bortles talked about what it was like to see herself in a calendar for the first time:
"It's pretty crazy. You start preparing so many months in advance, so that moment when you get to see how it comes out – it's indescribable."
You would think that practice sessions lasting 4-5 hours would be enough to keep the girls in shape before the calendar shoot right? Not necessarily. I was curious to learn what the girls' secret was to getting that bikini-ready bod.
"It is more so about eating healthy and working out versus dieting" third-year cheerleader and 2014 front cover holder Toni Damico said. "I do a lot of yoga too. It is all about feeling your best so you are most confident going into your photo shoot."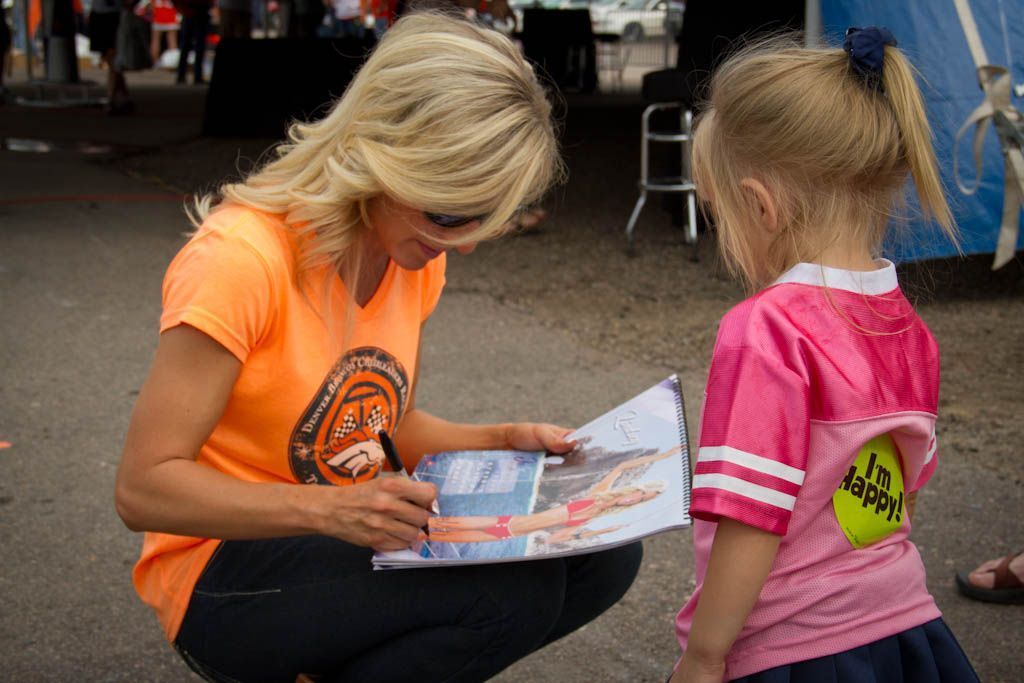 When asked whether they indulged in a donut or Big Mac after their photo shoot is done? Both Bortles and Damico laughed and admitted they treated themselves after their big shoots had finished.
"Oh yeah" laughed Bortles. "Where we stayed there was an all you can eat buffet, so all of us girls – depending on what day you shot definitely hit the ice-cream bar and the dessert stand."
"I think what is so unique about this program is that we get to work with kids who might not necessarily have the money to take dance classes"
Ticket holders to the event had the opportunity to be the first to see the 2014 calendar, as well as get it signed by all 26 ladies. While people were not busy mingling with some of Colorado's most beautiful, they were enjoying food and booze provided by sponsors like: Yogurtland, Mile High Spirits, Rio Grande, Del Frisco's, and Happy Cakes Bakeshop. Although I did not see many of the cheerleaders spending their pit-stops at the ice cream station…hmm maybe that's why I am not on the calendar?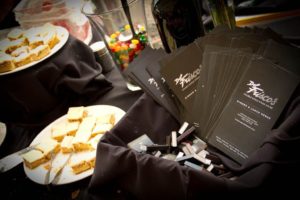 All of the money raised from this event went to fund a dance program led and run by the cheerleader's with the Boys and Girls Club of Metro Denver. The dance studio for the program itself was just completed a few months ago, but the girls have already been getting involved teaching the kids.
"I think what is so unique about this program is that we get to work with kids who might not necessarily have the money to take dance classes" Damico said. "Like all sports – dance classes are expensive. It is such a wonderful opportunity, and it is cool that the money we have raised through this event goes towards the dance studio where we actually go and teach the dance classes. It is something we are all very proud of."
Broncos football alumni like former defensive end Ebenezer Ekuban could be found on the guest list. Even Miles the mascot made an appearance for the hundreds of fans who made their way to Dove Valley.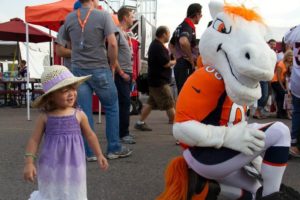 And if you think the girls' high kicks are fierce on the field, you should see them behind the wheel of a 60 mph go-kart. The squad has a lot of new talent with 10 rookies making the cut from 200+ applicants who tried out in April. Just like the football team the girls have been working to get ready for season which kicks-off against the Baltimore Ravens on September 5th.
"We do have a large rookie class but everyone is very talented" Shear said. "Great fresh attitudes, energy, and personality – this is one of the best teams we have ever had."
With temperatures reaching 96 degrees it was already a hot Colorado day. But throw in fast cars and gorgeous Broncos cheerleaders? Adds up to a scorching good time benefiting a great cause.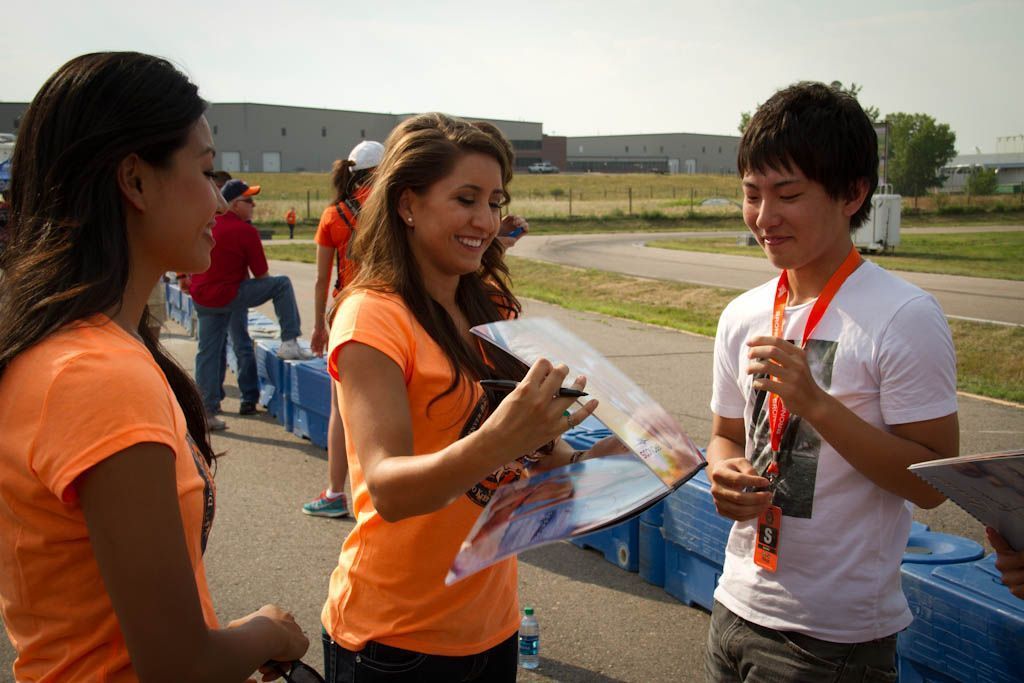 For a full gallery of event photos click here.
Photos by: Crystal Rhea — http://www.facebook.com/designercrystalrhea