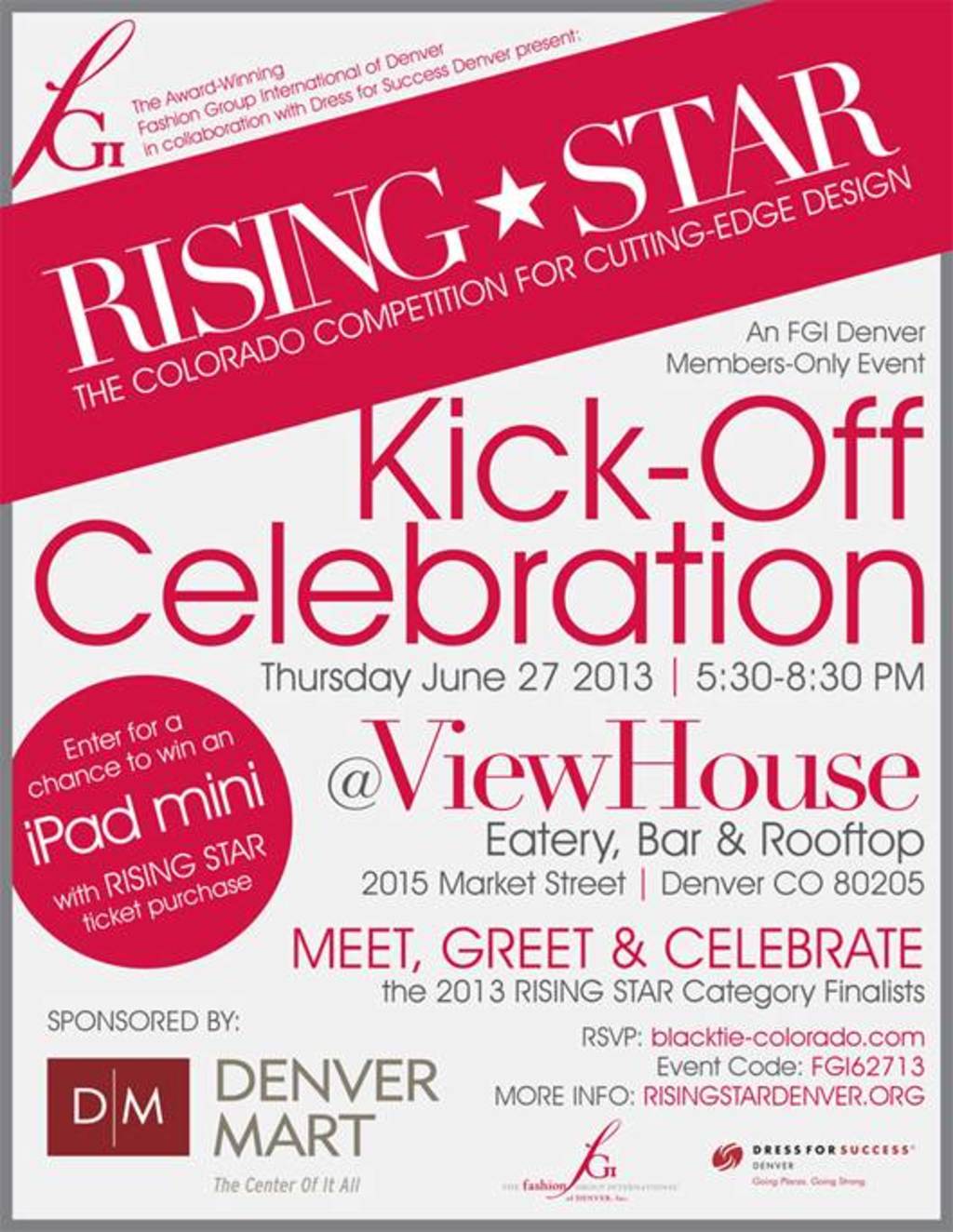 Denver's chapter of Fashion Group International announced its selection of hopefuls for the eighth biennial RISING STAR design competition in a celebratory summer soiree at ViewHouse Thursday evening.
If FGI New York's 2005 RISING STAR, Tory Burch, is any inclination of the clout winning this title means (i.e. national brand recognition), our local finalists are in good company.
"Programs such as RISING STAR are essential as we know the success rate for a designer is based upon the foundations built at the early stages," Stephanie Swimmer, executive director of the Denver Mart, said. "FGI and RISING STAR help to raise awareness, build relationships and provide financial support, all of which is necessary and will help increase the success factor for you as a designer."
FGI (www.denver.fgi.org) is a non-profit organization that has been uniting fashion industry professionals around the world since 1930. The Denver chapter is presently in its 55th year.
For the 2013 competition (www.risingstardenver.org), the list of categories has expanded beyond ready-to-wear into active wear, fragrance, interior design and retail storefronts, among others.
Candidates were judged on business planning, marketing, potential for growth and having been a young, Colorado-based business.
From Goldyn: the smart LoHi designer boutique, to Anna Festa: a collection of fun, sexy designs for women sizes four to 24 by NYC-transplant and former COO of Zac Posen, Anne Fanganello, the talent pool FGI is endorsing this year is bright and promising.
In collaboration with Dress for Success Denver and the Denver Mart, the 2013 RISING STAR will be chosen on the evening of Sept. 6 at the McNichols Civic Center Building.
The red carpet gala will include a runway show of the finalists' designs staged by famed fashion show designer Cynthia Petrus (former special events manager for Saks Fifth Avenue), a silent auction benefiting Dress for Success Denver and, of course, the awards ceremony.
Evonne Eiseman, member of the FGI board of directors, estimates at least 400 attendees for the event.
To buy tickets for the September awards gala visit www.risingstardenver.org. Buy runway VIP seats for $250, seated for $150 and general admission for $75. Cabaret tables and student pricing are also available.
_________________________
List of FGI RISING STAR category finalists:   
Deedee Vicory – D'Lola Couture – Bridal/Evening Wear
Anne Fanganello – Anna Festa – Women's RTW
Carol Ann Wachter – Carol Ann Wachter – Women's RTW
Rachel Hurst – Rachel Marie Hurst – Women's RTW
Jan Erikson – Janska – Active/Outdoor Wear
Vicki Sigg – Pixie Girl – Children's Wear
Jung Park – MetroBloom – Menswear
Ashlee Coln – Cheeky Aprons – Accessories
Susan Dillon – Kitty Mae Millinery – Accessories
Arthur Williams – Arthur Williams Design – Floral/Fragrance
Sarah Gregori – Dear Margot – Contemporary Jewelry
Vanessa Barcus – Goldyn – Retail Experience
Melissa & Jeremy Oster – Oster Jewelers – Retail Experience
Pam Kelker – Castles Home Décor – Interior Design