Just walking into the Punch Bowl Social was a true experience. I was completely amazed with the sheer size and space this venue has to offer. When you walk in off to the left sits the diner. Decorated with plush booths and regular bar tables, you tend to wonder exactly what type of food they offer?
Starting with the Small Plates menu I opted for the Spicy Edamame and the Salt Cod Fritters. Both were delightfully different. The edamame is sautéed in sesame oil, chili de arbol and garlic with a dash of peanuts added to the mix. I have never had edamame cooked that way, but would love it cooked like that all the time. The Salt Cod Fritters are something special as well. The codfish is coupled with mashed potatoes, garlic confit and preserved lemons. To top it off, dip them in the old bay hollandaise sauce for a real treat.
The new spring menu at the Punch Bowl social offers an array of entrée choices. Including two of my favorites one of which is the Cold Corned Beef Sandwich. The house cured corned beef is piled high and mixed with pickled egg, banana and jalapeño peppers and red onions. Making this sandwich stand out is the beyond amazing pretzel bun.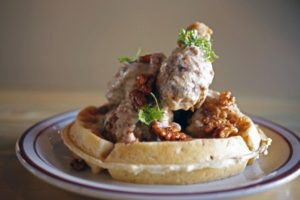 The Chicken and Waffles is succulent. The large panko breaded chicken breast covers almost the entire waffle and both are topped with real maple syrup, candied walnuts and sausage gravy!
My other favorite is hidden at the bottom of the menu but in taste should definitely be at the top. The Smoked Turkey Pot Pie. Not something you would order regularly but something you can't pass up. The puff pastry makes up the light and fluffy crust and is filled with smoked turkey carrots, parsnips. Chives and celery roots. The best potpie I have ever tasted. The sweet yet savory taste will have you coming back for more.
When you go to the Punch Bowl Social, you obviously want to try on of their fabulous punches. However, their lemonade is no slouch either! Especially the Ginger and Lavender Lemonade. I couldn't drink enough!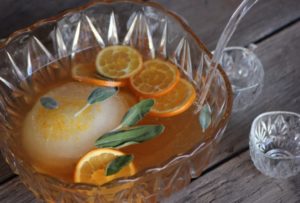 This new addition to the city is the best thing to happen to Broadway in quite a long time. When you go, plan to stay a while and enjoy not only the great food but also the wonderful service and all the fun activities!
Punch Bowl*Social
65 Broadway Denver, CO 80203
(303) 765-2695