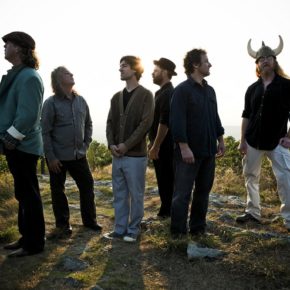 Named fondly after a Jack Kerouac story and based out of New Jersey (like yours truly- well, I was named after an Elvis Costello song- but was also born and raised in the Garden State), I feel like I know them personally. Railroad Earth is a quagmire of talent: Todd Sheaffer's song writing, guitar, and signature vocals, cheery Tim Carbone's fiddle, John Skehan picking' on the mandolin, Andy Goessling's versatile instrument assortment, Carey Harmon on drums, and Andrew Altman on stand-up bass. The band is well versed on the festival circuit, first coming together in 2001 and making their major live debut at our famous Telluride Bluegrass Festival. Railroad Earth has put out five acclaimed albums, and they are currently working on their sixth. Their lyrics are often down-home, touching, and easy to relate to ("Colorado! Summer time!"). Their musical composition is captivating and explosive. And their live shows are are good, old-fashioned fun.
Railroad Earth will be playing a 3-night run at the Ogden Friday January 18, Saturday January 19, and Sunday January 20, with doors opening at 8pm each night. Tickets are $30/night and are available here. Colorado local bands Good Gravy, Oakhurst, and the Congress will be opening for RRE, respectively, so get there early to catch all of the music.
I recently had the pleasure of interviewing Andrew Altman, RRE's bass player. Read on to see what he had to say about his experience touring with Railroad Earth, collaborating with other artists, and New Years resolutions.
303 Magazine: So, you joined the band in 2010. Since then, Railroad Earth has toured nonstop and put out their fifth album, Railroad Earth. How do you think you've grown as a musician over the past two years?
Andrew: The biggest thing for me is that I already had a pretty formed idea of what I was doing musically before I joined the band. So the biggest learning experience with these guys is making it translate to larger venues, big theaters, and outdoor festivals, etc. Figuring out what works in a bigger setting versus just you in the club has definitely been my major thing.
303 Magazine: Railroad Earth is one of my favorite bands. I think it's due largely to their song writing. Their lyrics are comparable to the best of the best's, in my opinion, like Paul Simon and Bob Dylan. What are your favorite RRE songs to play and why?
Andrew: The ones that are always enjoyable are the ones that have an unexpected part musically, that kind of conversational type music playing. Every night is different in that respect. Then there are the ones lyrically that mean a lot to a lot of people. It's always fun to watch peoples' reactions and the songs that really move them. It's nice to be a part of that.
303 Magazine: Telluride Bluegrass was a huge jumping off point for RRE in the beginning of their career. I saw you guys play at Yarmony Grass this summer up at State Bridge, which was an outstanding weekend, musically speaking. Is there anything in particular about playing in Colorado that you and the guys find especially inspiring?
Andrew: The support that we have out there makes it worth it going out there every time. People are always so excited to be a part of the show. It makes it worth everything, which is a testament to the music scene out there. People like all kinds of music in Colorado. It's kind of a hot bed for that. We feel very welcomed out there.
303 Magazine: How about when the train drove by and whistled while you were playing the song "Railroad Earth" at State Bridge! That was one of the highlights of my summer. It was so sweet and perfect and beautiful. The crowd went crazy.
Andrew: That was pretty surreal. That was one of the top moments of all time for any band's musical experience.
303 Magazine: I don't want to put Railroad Earth into any specific category, as you guys have a very diverse style. The drums and amps sort of set you apart from the traditional bluegrass bands. But your acoustic instruments make you unique. What do you think of the idea of categorizing your music? I don't want to put the band in a box, so to speak.
Andrew: When you call a band a certain kind of band, to me, that means people have spent their formative years trying to become that type of player. I like to play bluegrass and listen to it, but I wouldn't consider myself a bluegrass player. I haven't done justice trying to play bluegrass, though. I didn't grow up playing bluegrass. I've kind of approached it as a tourist. I've practiced it a little, but I spent all my years really learning and studying jazz.  We like bluegrass and we like to play it, but the influences in the band are really wide.
303 Magazine: A few years ago, I attended your New Years Eve run of shows at the Ogden. I especially loved seeing you guys bring out Elephant Revival and Greensky Bluegrass on stage with you to play a song or two. What do you like most about collaborating live with other artists and how do you think that influences the music and the crowd?
Andrew: Changing things up and having things be different every now and again is fun, especially when you're on the road all the time. When you get the chance to get together and create something with other bands or friends, it adds a new element to the mix. It goes to a place that's unique. It's hard to replicate.
303 Magazine: You guys are constantly on the move. Are there any personal drawbacks to touring so often? Anything you especially miss about being home?
Andrew: I was born in Atlanta but I grew up in Jacksonville area. And there are definitely things about the south that I miss. And things that I don't (laughs). I don't really enjoy long winters. I miss the sunshine. And all of my family is down there, too. I only see my family once or twice a year now.
"But the road that led me here has begun to disappear, sometimes I wonder who I am?"
–Railroad Earth "Seven Story Mountain"
303 Magazine: Does RRE have any grand plans for 2013?
Andrew: Getting this new record out. It's in the finishing stages right now. And finding a solid release date for it. Things always take longer than you expect. But we ought to have that out in the next four or five months.
303 Magazine: Any special personal New Years resolutions?
Andrew: It's funny, but I've never really made any. My thing is, not to be all preachy and new age-y with it, but everyday you ought to be making a resolution. You should always be setting your goals and intentions day by day. Everyday I remind myself why I'm doing something. I don't like the idea of coasting along and letting things not happen the way you want them to happen. And it takes a lot of strength to tell yourself that everyday. I don't want to wait until the end of the year, once things have fallen behind, to do something.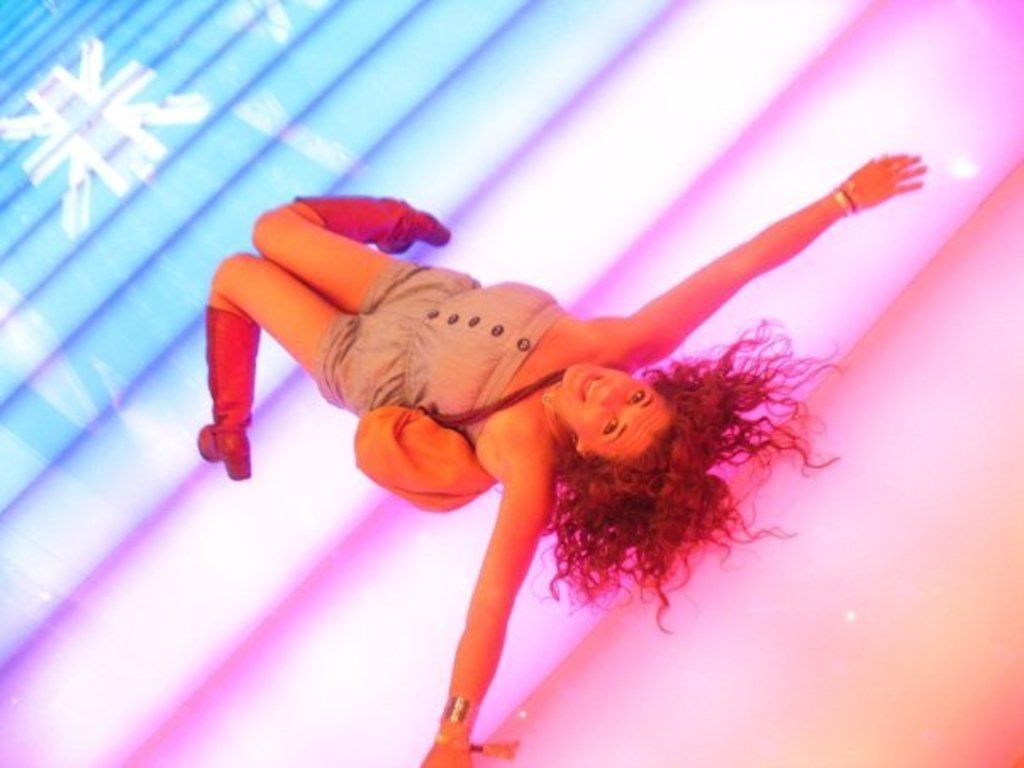 Allison Cohn loves gold spray paint and nonsense. She also has a very difficult time sitting still and keeping quiet. She can often be found dancing like a fool when she isn't hiding out in her mountain lair or gallivanting around the globe.