If you are a fan of the movie Elf, then you know the saying "The best way to spread Christmas cheer is singing loud for all to hear." If you are standing next to me then you may want to follow a different motto. I often write about caring for yourself during the Holiday Season through relaxing and renewing spa treatments and services. However, I truly believe that being grateful for what we have and giving to those in need often is the best way to rejuvenate our spirit. Giving just makes you feel good and the season of giving has begun. Ideally, we are all a little more thankful for our families, friends and accomplishments from Thanksgiving through New Year's Day. It is likely that you will be shopping sometime in the next five weeks. No matter what you celebrate, gift giving seems to be a premise. This is a good time to support the companies who give something back to the community all year long. There are many great holiday gifts that donate funds to help those in need. Here are 5 beauty products that support amazing causes.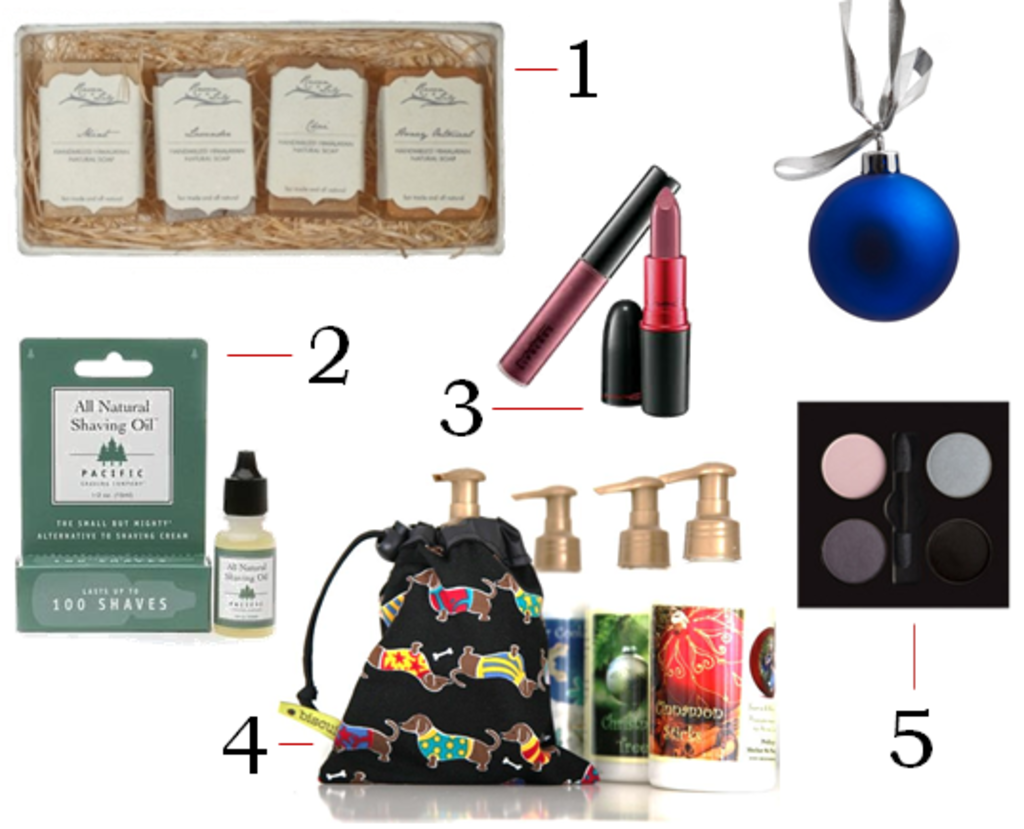 1. Raven + Lily 
Product: Soap Bars (4), $21.50
Raven + Lily provides sustainable, fair-trade jobs for HIV positive women around the world, giving them a means to pay for dire medical assistance and healthy food that literally saves their lives. This set comes with soaps in four pleasant and invigorating  scents: honey oat, lavender, chai and mint. Handmade in Northern India, these special soaps use all organic and natural ingredients including fresh spring water and locally grown herbs and spices. Proceeds from this collection go to fund literacy programs for the women artisans and children in the community. Each set includes a beautifully, handmade soap box. The four travel soaps are 1.6 oz each and are available at www.RavenandLily.com or at Kismet in Denver.
2. Pacific Shaving Company
Product: All Natural Shaving Oil, $21.99
Since 2007, Pacific Shaving Company has been working with Trees for the Future, planting a tree for every purchase made. "It's just one of our small but mighty ways of bringing sustainable business practices to the resource-heavy world of personal care products. We've already planted more than 100,000 trees!" Available at www.pacificshavingcompany.com or at Bed, Bath and Beyond Stores in the Denver area.
3. M.A.C. Cosmetics
Product: M.A.C. VIVA GLAM Lipstick and Lipglass, $15.00 each
Every cent of the selling price of these products are donated to the M.A.C. AIDS Fund. Today, December 1st, in honor of World AIDS Day, M∙A∙C will double the donation of your online VIVA GLAM purchase. Available at www.maccosmetics.com or at Macy's Stores in the Denver area.
4. The "Make A Sale, Save A Tail" Project
Product: Shea Butter Body Creams in Holiday Scents, $8.50 each
Located right here in the Denver metro area, this project was started by two sisters, currently 6 and 8 years old, with a mission to help rescue shelther animals. The two began the "Make A Sale, Save A Tail" Project in 2010 after the loss of their pug, Rocky, and give 100% of their profits to animal welfare organizations. They make and sell shea butter based hand and body creams and hand and body soaps in four holiday scents. They also have partnered with biscuit bags to offer small fabric ditty bags which are perfect for dog treats, cell phones, ipods, etc. Available at www.holidayhomeshop.com or at St. Nick's Stores in the Denver area.
5. Radiant Cosmetics
Product: Smoky Eyes Eye Shadow Palette, $38.00
Radiant Cosmetics is a social enterprise makeup company built around a vision to end human trafficking through raising awareness and funds. "20% of our profits from every product go directly to anti-trafficking organization and future safe home that we're also actively involved in our hometown of Austin, Texas. While there's a vision and a passion behind our cosmetics, we offer a full line of high quality products, love vibrant colors and believe in makeup should first and foremost be fun."  The Smoky Eyes Eye Shadow Paletter includes 4 full size eye shadows: Matte cream shadow, Shimmer Silver Shadow, Shimmer Dark Grey Shadow and Matte Black Shadow. Available at www.radiantcosmetics.org
Happy Shopping!